Top 5 Things You Need to Know about Storm Surges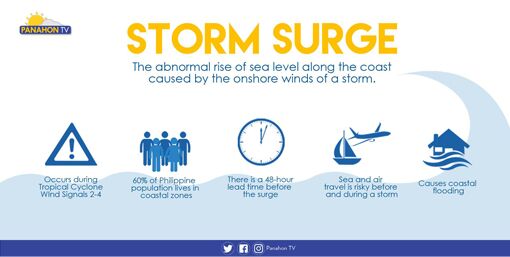 Storm surges only entered the majority's consciousness when Typhoon Yolanda devastated most of the Visayas, bringing 7-meter-high surges that claimed over 6,000 lives in Leyte and Samar in November 2013. The point cannot be emphasized enough: Storm surges can be fatal and we need to be prepared for them. Here's a primer on one of the typhoon's deadliest effects.
Top 5 Things You Need to Know about Storm Surges
1. A storm surge is not a tsunami. While a tsunami is a series of waves due to underwater seismic activities like earthquakes, a storm surge is the abnormal rise of seawater due to the low atmospheric pressure and strong winds brought about by a severe storm or typhoon. It may inundate low-lying coastal areas, resulting damage to properties, infrastructure and agriculture.
2. Storm surges can get pretty high. According to PAGASA, storm surges in our country may rise from an average of four to seven meters, which is equivalent to a 2-storey house, and may still intensify in the presence of high tide. Storm waves move as fast as seven meters per second, as fast as a golf ball driven off the tee, carrying small and large debris, which make them even more dangerous. When storm waves finally reach the ground, its speed becomes a little slower due to trees and other land structures.
3. Storm surges are deadlier in some areas than others. Studies say that storm surges may transpire in any seaboard affected by a severe storm, but the most devastating ones usually occur in our country's southern and eastern seaboards. Eastern sections are typically flat and typhoon-frequented, making them prone to the surges.
4. Storm surges reoccur, especially in an archipelagic country like the Philippines. Eastern Visayas has been experiencing catastrophic storm surges for over a hundred years. On October 12, 1897 An Australian newspaper reported about a storm passing over Tacloban, the capital city of Leyte, claiming 7,000 lives. According to the Department of Science and Technology (DOST), the 1897 storm surge reached up to 7 meters, destroying churches and communities. In 1912, the front page of an American broadsheet featured a typhoon that injured and killed 15,000 people in Tacloban and Capiz. The DOST approximated the surge at four to nine meters tall.
5. More and more Filipinos face the risk of storm surges. The World Bank estimates more than 60% of our population live in coastal zones. In fact, the United Nations emphasized the swelling population of people residing in cyclone prone areas from 71.8 million in 1970 to 120.7 million in 2012. According to the National Geographic, the poor populace of the country has gradually moved to coastal islands, making a lot more people prone to the surges.
Now we know what storm surges are, how can we protect ourselves from them?
PREVENTIVE MEASURES AND SAFETY TIPS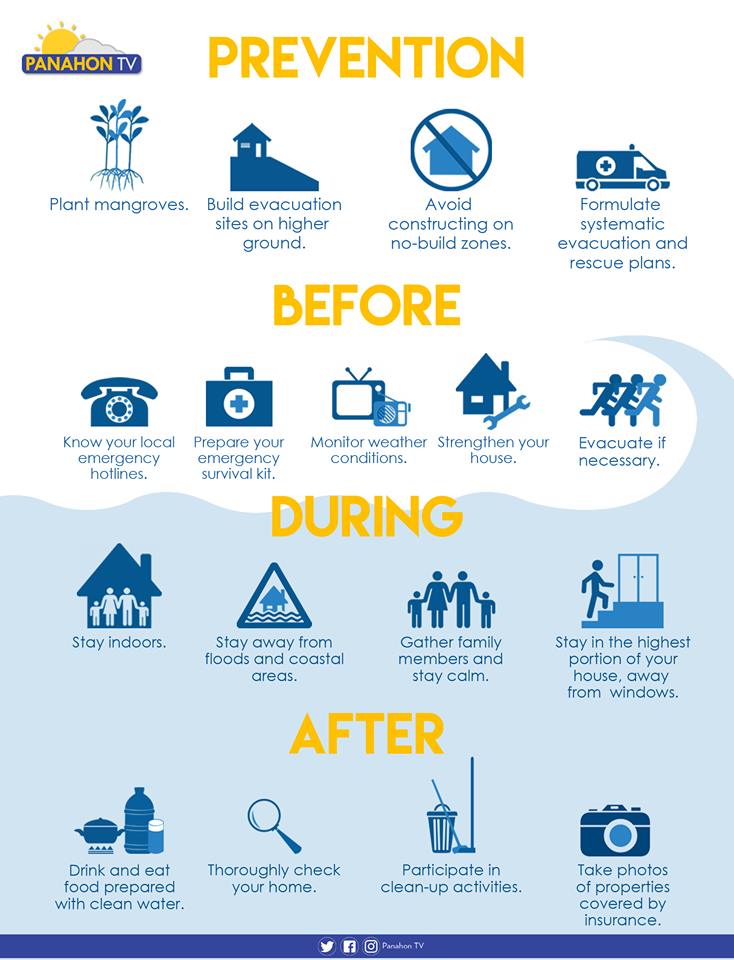 Plant trees. Plant mangroves and coconut trees along the shorelines, which may help shield the community from the waves brought by storm surges.
Avoid constructing on no-build zones. Know where the safe zones are by getting a hazard map from your barangay officers. A 40-kilometer buffer zone from the shore is advised in storm-surge prone areas.
Participate in community drills. Formulate systematic emergency, rehabilitation and relief distribution plans in your community. It is also essential to conduct a quarterly drill involving the children, youth, people with disability and senior citizens.
Plan with your family. Prepare a survival kit and a list of emergency hotlines. Discuss possible evacuation plans with your family and strengthen or fix your house if necessary.
Build evacuation sites on higher ground. Make sure that all evacuation areas are materially safe. Ensure safe routes and build directional signages going to the location.
Monitor weather conditions. Always be updated on news and announcements via radio, television and social media.
Stay Indoors. Stay in the highest portion of the house or building, away from the windows.
Evacuate if advised. Evacuate before the surge transpires, but if some members of the family have not yet arrived, call them or leave a note to inform them of your location. Switch off electricity, the waterline and gas tank. Make sure that all windows, cabinets, doors and gates are closed and locked before leaving.
Stay away from flooded areas and shorelines. Never attempt to pass a swollen river and avoid routes along the sea.
Follow the rules in evacuation sites. Do not litter, vandalize or destroy anything in the area. Observe proper hygiene to avoid illnesses and maintain peace and order in your area.
Here's what else you need to do in the wake of a storm.
Sources: PAGASA-DOST, PROJECT DINA & Project NOAH