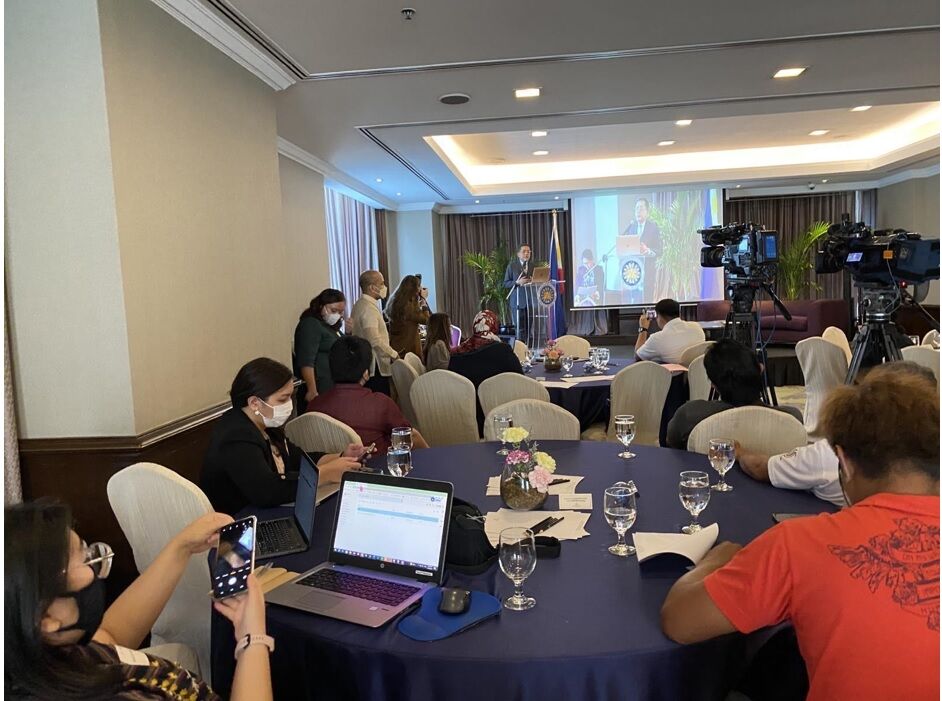 Commission on Election (COMELEC) Chair George Erwin M. Garcia, Keynote Speaker ng Beyond Suffrage: A Forum on Women and Overseas Voting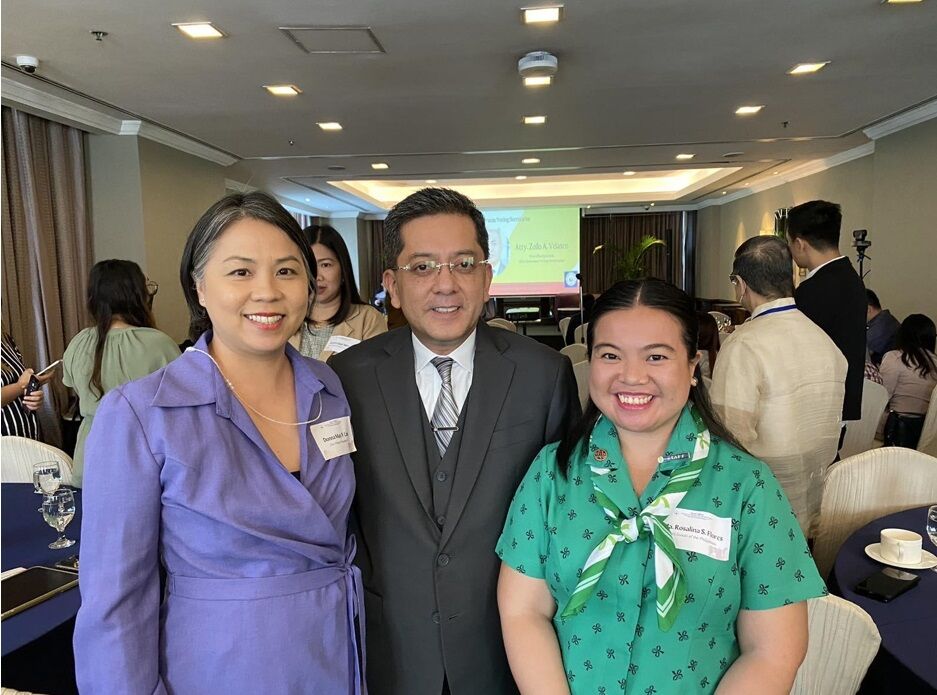 Center- Commission on Election (COMELEC) Chair George Erwin M. Garcia, Left- Ms. Donna May Lina, President, UBE MEDIA, Executive Producer, PANAHONTV and member, National Communications Committee, Girl Scouts of the Philippines (GSP), Right-Ms. Rosalina S. Flores, Program Division, Girl Scouts of the Philippines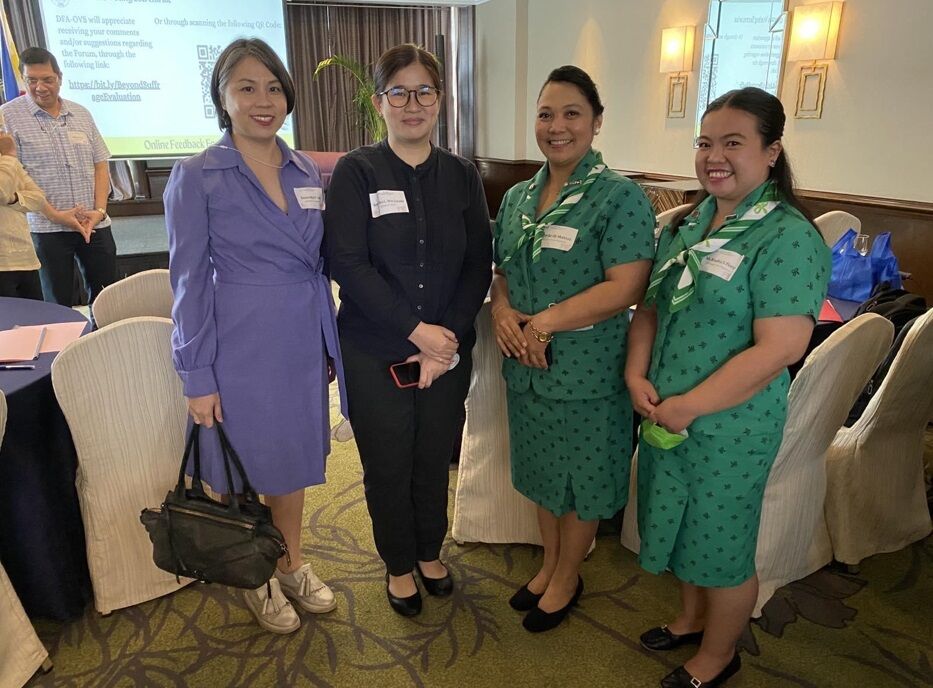 Photo Caption (L-R) : Ms. Donna May Lina, President, UBE MEDIA, Executive Producer, PANAHON.TV, Atty. Sonia Bea Wee-Lozada, Commission on Election (COMELEC) Director for Overseas Voting, Ms. Arleen Seville Monteza, International Affairs Division, Girls Scout of the Philippines (GSP), Ms. Ma. Rosalina Semira Flores, Program Division, Girl Scouts of the Philippines (GSP).
Kasabay ng pagdiriwang ng ika-10 anibersaryo ng Overseas Act (27 May 2013) at ang 86 taon ng pagbibigay ng karapatan para sa mga kababaihan na bumoto (30 April 1937), binuo ng Department of Foreign Affairs Overseas Voting Secretariat (DFA-OVS) sa pamumuno ni Undersecretary Jesus 'Gary' S. Domingo ang forum, "Beyond Suffrage: A Forum on Women and Overseas Voting" noong 23 May 2023 sa Diamond Hotel.
Si Commission on Elections (COMELEC) Chairman George Erwin M. Garcia ang nagbigay ng keynote remarks. Ayon kay Chairman Garcia, planong isulong ang pagpapatupad ng internet voting para sa overseas voting. Ito ay para mas mahikayat ang maraming kababayan na nasa iba't ibang sulok ng mundo na makaboto gamit ang mas modernong paraan.
Inilahad ni Atty. Zoilo A. Velasco, Vice-Chairperson ng DFA Overseas Voting Secretariat, ang datos ukol sa implementasyon ng overseas voting.
Inilahad ni Atty. Sonia Bea Wee-Lozada, Director ng COMELEC for Overseas Voting, ang mga hamon at plano ukol sa overseas voting. Ayon sa kanya, bawat bansa ay magkakaiba ang kinakaharap na pagsubok. Ngunit naniniwala sila na handa na ang mga botante sa paggamit ng mas modernong pagboto tulad ng internet at mobile voting dahil malaki na ang tiwala ng mga mamamayan sa teknolohiya.
Si Ms. Daniela Gil-Sevilla, Charge d'Affaires ng Embahada ng Mexico sa Pilipinas, ay nagbigay naman ng perspektibo ng overseas voting mula sa bansang Mexico.
Via Google Meet na ipinihayag ni Deputy Consul General Germinia Aguilar-Usudan ng Hong Kong Philippine Consulate General (PCG) ang kahalagahan ng mga kababaihan sa overseas voting. Ayon sa kanya, malaki ang power of remittance sa pag-impluwensya ng mga Overseas Filipinos sa pamilya nila na narito sa Pilipinas sa pagpili ng mga iboboto.
Sa naturang forum, nagbigay din si Professor Jean S. Encinas-Franco ng Department of Political Science ng College of Social Sciences and Philosophy ng University of the Philippines, Diliman, ng mga halimbawa ng hadlang sa mga Pilipinong kababaihan na lumahok sa politika at makaboto. Ipinaliwanag din niya ang implikasyon nito sa Overseas Voting ayon sa mga pag-aaral.
Nagbigay rin ng kanilang karanasan sa partisipasyon bilang mga aktibong politiko sa ibang bansa sina Ms. Jasmine Bacurnay-Lee, miyembro ng Presidential Committee on National Cohesion (former National Assembly Member, Republic of Korea) at si Ms. Rechie Valdez, miyembro ng Parliament Mississauga-Streetsville, Ontario, Canada.
Nakibahagi rin ang mga miyembro ng iba't ibang organisasyong pangkababaihan kasama rito ang Girl Scouts of the Philippines.
Tuluy-tuloy ang pagpaparehistro para sa Overseas Voting hanggang 30 September 2024. Para magparehistro kailangan lamang bumisita sa Philippine Embassy, Consulate General Mission o MECO.
Latest data from the Department of Health (DOH) stated that at least 2.6 million Filipinos have been fully vaccinated against COVID-19. According to herdimmunity.ph, this is only 3.76% of the 70-million population the government aims to vaccinate this year to achieve herd immunity. The website says that at the current average rate of 216,451 daily vaccinations, herd immunity will be reached in 1.6 years, or in February 2023. For us to achieve herd immunity by the end of the year, the government needs to ramp up its vaccination 3.3 times its current rate.
Herd immunity or population immunity is defined by the World Health Organization (WHO) as the "indirect protection from an infectious disease that happens when a population is immune either through vaccination or immunity developed through previous infection." To better understand how we can reach this goal faster, the pilot online episode of Panayam sa Panahon TV featured the experts—health reform advocate Dr. Anthony Leachon and Dr. Noel Bernardo from the Philippine Red Cross.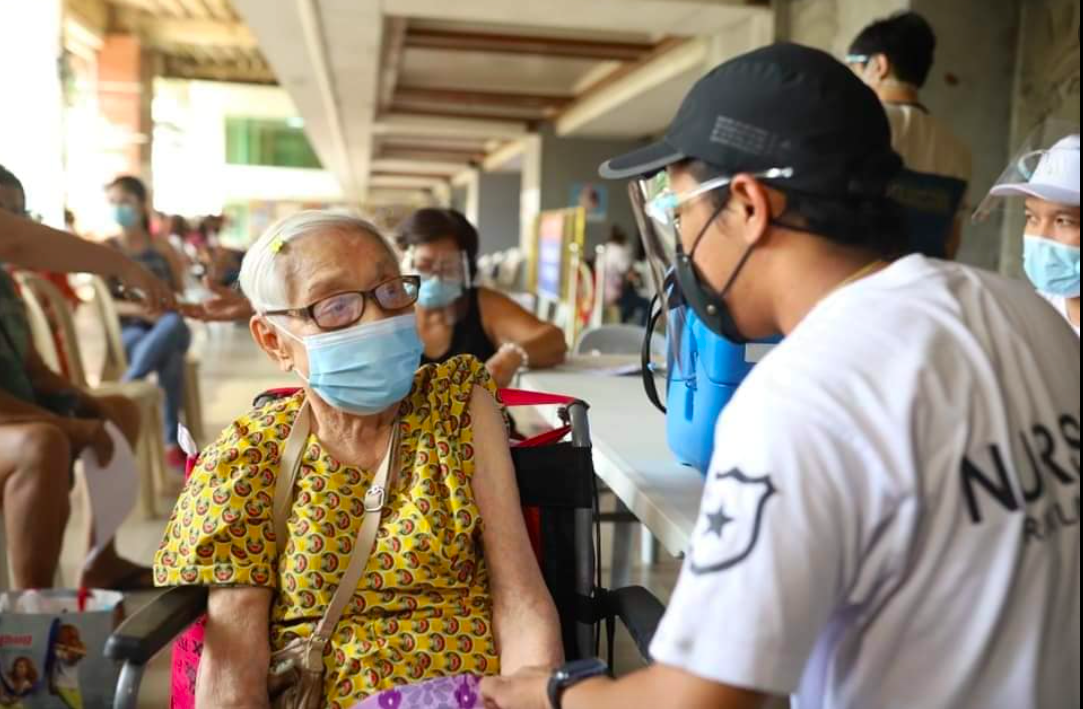 (photo from Quezon City Hall's Facebook page)
Why PH is falling behind in the global vaccination drive
When the COVID-19 vaccines still weren't available, governments resorted to lockdowns to stop the spread of disease. But now, countries like the United Kingdom and the United States have freed up their economies, thanks to systematic and rapid vaccination programs. In a recent segment of Panahon TV called Buhay Pandemya, which featured a Filipino caregiver in Jerusalem in Israel, maskless locals can be seen flocking to the streets and celebrating the return of normalcy. Israel was one of the countries that started their vaccination early, which began last December 2020.
But the scenario in the Philippines is a different story. Though cases in the National Capitol Region (NCR) have been somewhat contained, other areas are experiencing surges. Lockdowns and quarantines are still in place, keeping the economy from fully recovering. If we already know the tried-and-tested formula of mass vaccination as the main key to herd immunity, why then are we still behind in the immunization drive? Our experts chalked it up to three main reasons.
Lack of vaccine supply
Based on Our World in Data's latest report, the Philippines ranks 8th among the 10 ASEAN countries in terms of vaccine rollout. During the interview, Dr. Bernardo expressed surprise over his discovery that out of the 3,700 approved vaccination sites in the country, only 1,700 are active. "Based on my experience on the ground with the different LGUs and the bakuna centers of the Philippine Red Cross, a big factor is the lack of vaccines," he said in Filipino. "Bakuna centers don't receive enough vaccines. Other LGUs (local government units) can only operate half-days." Dr. Leachon was quick to agree. "If you don't have vaccines, it doesn't matter if you have vaccination sites. People will still have no access to vaccination."
Lack of organization
With data gathered from DOH, the National Task Force Against COVID-19, the Inter-Agency Task Force and news outlets, Herdimmunity.ph states that we currently have over 17 million vaccine doses, "enough to fully vaccinate 12.47% of the target population." If such is the case, why is the vaccination still slow?
Dr. Leachon pointed out that LGUs have varying levels of governance, with some more organized than the others. Because best practices are not adopted by all LGUs, they also have varying levels of success, making it harder for the country to reach herd immunity.
Meanwhile, Dr. Bernardo said that we should attack the issue with a "system approach". He cited how a simple step such as securing a vaccination schedule has become problematic. "People shouldn't have to walk in like chance passengers. When we schedule them, we know that number one, they fully consent to the vaccination. Second, they should know their vaccine brand so they can manage their expectations. That way, we avoid overcrowding. Third, our supply should cope with our demand. If people leave the site disappointed because of the hassle or lack of vaccine, then they will recount their bad experience to others. But if their experience is positive, others will be motivated to be vaccinated."
In January this year, a Pulse Asia Survey resulted in 4 out of 10 Filipinos not wanting to get vaccinated. According to Bernardo, the survey was repeated in March. This time, the figure climbed up to 6 out of 10 Filipinos refusing vaccination. "There must be something about the people's experience in the bakuna centers that increased hesitancy—which we must address right away. Because even if the government promised a flood of vaccines eventually coming in, will people agree to be vaccinated?"
Vaccine Hesitancy
According to DOH, 9% or over 100,000 of vaccinees who received their first dose missed out on their second dose. According to Dr. Leachon, apart from disorderly systems that discouraged Filipinos, this may be also attributed to the lack of information, leading to decreased awareness. "Maybe they don't know where they will go to for their second dose. Different vaccine brands have different durations between the two doses. Vaccinees should be given a checklist that includes all the info they need, including when they should return."
Leachon also suggested massive info campaigns on the possible adverse effects of the vaccine, and the mode of registration. "Online registration is very difficult for the elderly and the poor. Why should we make it hard for them? We need to have a faster registration process." Another common complaint among registrants is the slow response of LGUs.
Recently, the issue of vaccine brands became even more heated when hundreds of Indonesian health workers became infected with COVID-19 after being fully vaccinated with Sinovac. Recently, 10 Indonesian doctors died despite their complete inoculation with the Chinese vaccine. Until now, China has not provided large-scale data on Sinovac's effectiveness against the Delta variant. "Our life is all about choices," Dr. Leachon said. "We choose our spouse, clothes, food. So, it's even more important to choose what is injected into our bodies. When we don't give people choices, we'll have a hard time convincing them to get vaccinated."
According to WHO, the Sinovac vaccine, in a phase 3 trial in Brazil "showed that two doses, administered at an interval of 14 days, had an efficacy of 51% against symptomatic SARS-CoV-2 infection." With vaccine brands such as Pfizer and Moderna having an efficacy of 90% or more, some Filipinos are thinking twice about being inoculated with Sinovac. "About 70% of our vaccine inventory is Sinovac. What we've seen in Parañaque and Manila wherein residents flocked to the vaccination sites that gave out Pfizer is a sign that Filipinos are brand-conscious. They know their health is on the line. They value the quality, efficacy and safety of the vaccine," Leachon said.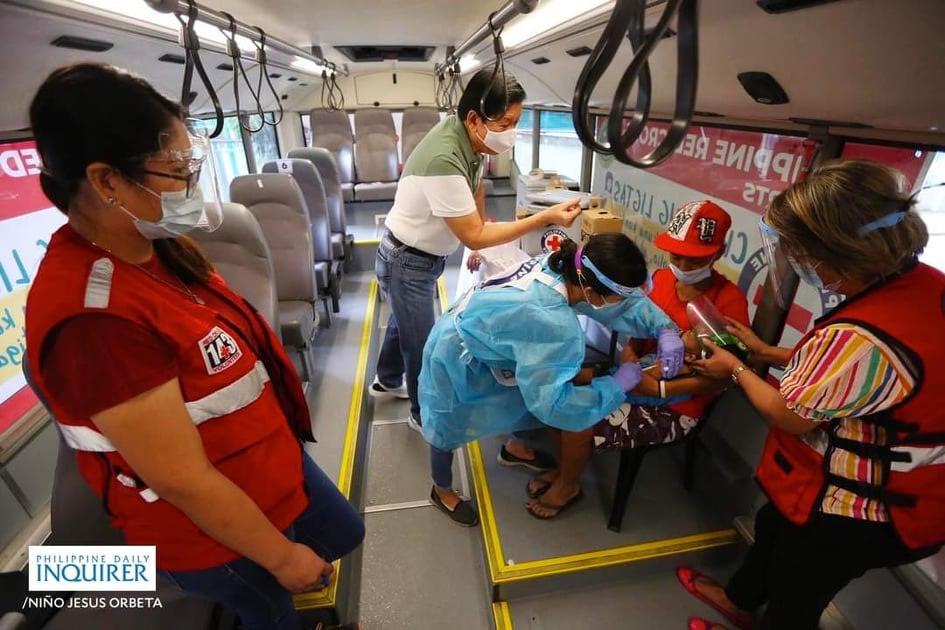 "Bakuna bus"—a partnership of the Philippine Red Cross and UBE Express
Ways to improve the vaccination drive
Once the main issue of vaccine supply is addressed, our interviewees suggested the following to ramp up our vaccination drive:
Prioritize urban areas that drive the national economy.
ABS-CBN Data Analytics Head Edson Guido recently tweeted that though COVID-19 cases in NCR are decreasing, only 7.4% of its population are fully vaccinated. Dr. Leachon suggested that prioritizing the NCR Plus Bubble can help the country achieve herd immunity faster. "We shouldn't spread the vaccine supply thinly across the country, especially those with no cold-chain facilities. For example, we're expecting 40 million doses of Pfizer, which will fully vaccinate 20 million people. It's better to prioritize super metro areas like NCR Plus, which has a population of around 26 million—and 70% of that is 18 million. If herd immunity is achieved in NCR Plus, we can open our economy in time for December 2021."
Make vaccines more accessible.
Although mega vaccination sites may work, Dr. Leachon pointed out that these are available only in selected areas. He believes that small but multiple vaccination sites may be more efficient. "Mega vaccination sites are prone to bottlenecks and may be superspreading events. Vaccination sites should be convenient for the elderly and those with comorbidities. These sites should be many and close to residents, who can be vaccinated faster because they don't have to worry about transportation. Because the crowd is spread out among multiple sites, waiting time is reduced." Dr. Leachon suggested taking inspiration from successful countries, which mobilized malls, drugstores and other convenient stores which have cold-chain infrastructure in the vaccination drive.
Dr. Bernardo agreed that the solution lies in community-based vaccination sites. "We really have to bring the vaccine closer to our people, so they will be encouraged. If every barangay has a mini-vaccination site which can only accommodate 20 people a day, that can already make a big difference." He also enjoined the government to give vaccination leaves for employees. "In bakuna centers I've visited, I asked those who weren't able to get their second dose what happened. They told me it's because they couldn't file a leave. We have to consider living factors like this."
To help more Filipinos be vaccinated, Red Cross Philippines has partnered with UBE Express in employing mobile vaccination buses to reach far-flung areas that do not have cold-chain facilities. "We are ready to partner with national agencies, LGUs, NGOs and private sectors to maximize this initiative and utilize all the logistical support that Red Cross could offer. When the vaccines arrive, we will go to places not accessible to health workers and NGOs."
Strengthen governance.
One important aspect of good governance, especially in our country, is disaster preparedness. Currently, we are in the middle of the rainy season, which may pose challenges in the vaccination drive. "First, vaccination programs are usually done in open courts, gyms and other large open spaces, which have good ventilation. But when it rains, these outdoor areas will be affected," Dr. Leachon explained. "Second, you need to separate evacuation centers for typhoon victims, isolation and quarantine facilities, and vaccination sites. Because the moment people from these areas mix, this can be super-spreading event." Another concern is power outages that may affect cold-chain facilities.
Government responsiveness is also important in gaining public trust and cooperation. "For example, we know that the reason why the cases are not going down is because we lack contact tracing. But the governments don't respond to this. The same way with surveys done by SWS and DOH, which showed the participants' preferred vaccine brands and their perceived effects. You have to execute a program based on what the citizens want, or else you will be doing the same thing all over again, but expecting a different result," said Dr. Leachon.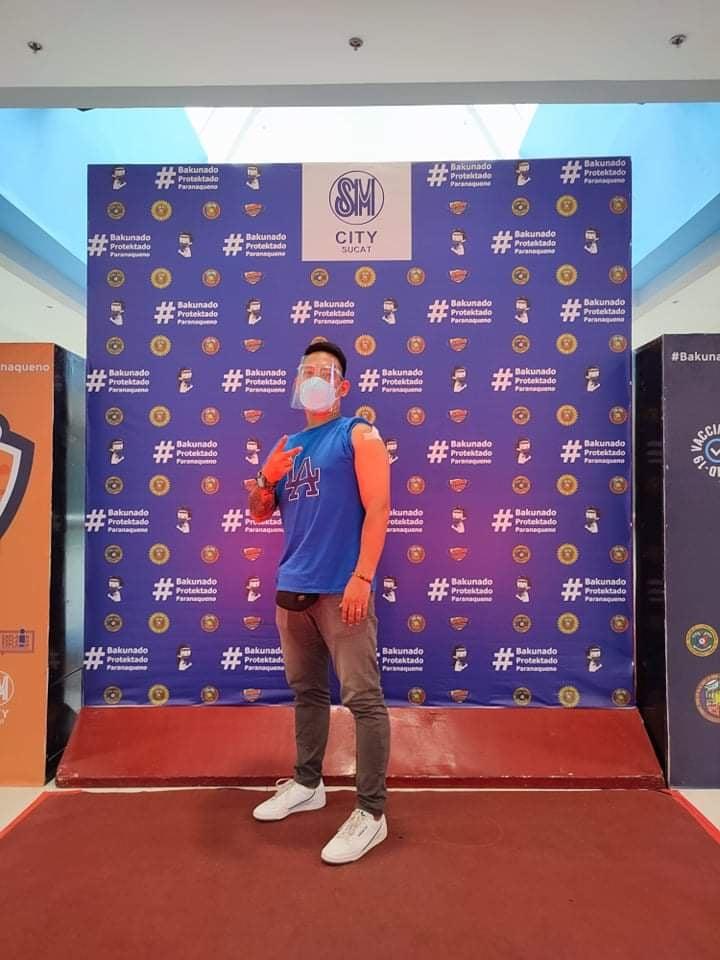 Marmick Julian, a proud vaccinee in Parañaque, displays his injected arm. (photo by Robi Robles)
Achieving herd immunity
Dr. Bernardo believes that promoting vaccine confidence is an important step toward herd immunity. "The first vaccine brand we received should've been the best and most trusted. But a lot of doubts and issues were involved in our first vaccine—which was one of the main reasons of vaccine hesitancy." To promote vaccine confidence, Dr. Bernardo stressed the need for better communicators. "There was a comms group that suggested that we relate vaccination to family. When you get yourself vaccinated, it's a sign of love for your family and friends."
As to achieving herd immunity this year, Dr. Bernardo was skeptical but hopeful. "We need 500,000 vaccinations a day if we want to have a happy Christmas this year." Meanwhile, Dr. Leachon still emphasized the importance of vaccine efficacy. "We can only achieve herd immunity when the vaccines from Pfizer, Moderna and AstraZeneca arrive. We need to step up to the plate in the next 3 months and revisit our strategies," he ended.
Watch Panayam sa Panahon TV's Herd Immunity: Kailan at Paano Natin Ito Maaabot?
During the early months of the pandemic last year, the demand for ginger surged all over the world. But due to the virus, import shipments of goods including ginger were delayed. Because the supply could not meet the demand, ginger prices drastically rose in many countries. According to this article, these include Ethiopia, wherein the "wonder root" was sold almost three times more than its original price.
The focused interest in ginger came when global health authorities were still churning out initial information on COVID-19. At the same time, social media blazed with claims of ginger being a COVID-19 cure. This prompted the World Health Organization (WHO) to nullify such claims, stating that "There is no scientific evidence that black pepper, honey and ginger protect from COVID-19 infection. In general, however, some spices are considered to have properties that may be beneficial for health."
The National Academies of Sciences, Engineering and Medicine goes further by saying that
"Viral infections spread in your body when the virus enters your cells and makes copies of itself and then those copies enter new cells and repeat the process. Ginger will not destroy the virus in your body or stop the copying process."
This article stated that during a press briefing, Executive Director of WHO Health Emergencies Program Michael Ryan acknowledged that herbal teas such as ginger are beneficial. Still, he warned against false statements that may lead to pandemic risks. "Anything that makes one feel better, anything that provides that reassurance and anything that you believe can help your health that's not dangerous certainly has a positive impact on your health, but it's a different thing to say that something is effective in treating the disease," he said.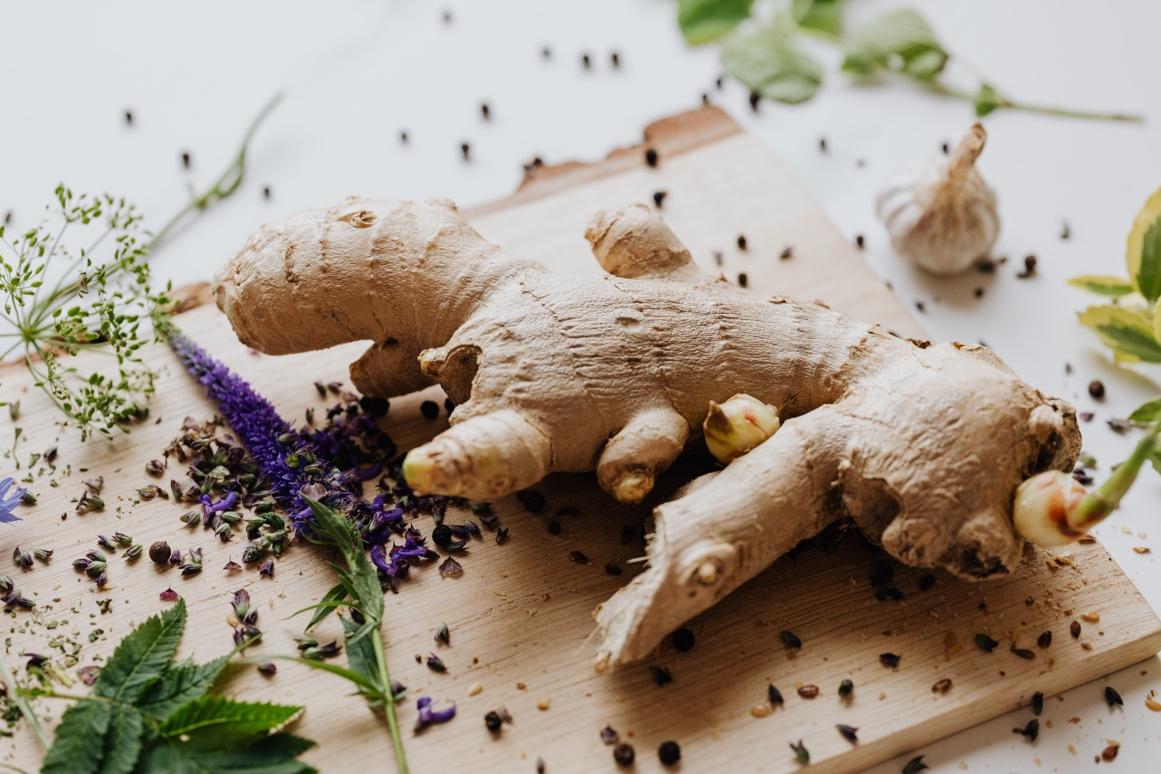 Powers of Ginger
For centuries, ginger has been an important part of Filipino cuisine and folk medicine. This comes as no surprise because ginger originated in Maritime Southeast Asia, which includes the Philippines. During the spice trade in 1500 BC, ginger even reached Europe and was used by ancient Greeks and Romans.
Ginger is a popular ingredient of our local dishes such as tinola, arroz caldo and pinakbet, and is known to effectively eliminate fishy odors in seafood-based recipes. But when it comes to home remedies for colds and sore throat, one of the most popular is salabat, traditionally made from boiled fresh ginger.
In a Panahon TV interview with Gab Labrador, a nutrition officer at the National Nutrition Council, he explained in a mix of Filipino and English that ginger became popular during the pandemic because "it helps reduce inflammation brought by respiratory diseases." In fact, a 2008 study by the Common Cold Center at the Cardiff University in Wales concluded that hot drinks like salabat can soothe "runny nose, cough, sneezing, sore throat, chills and fatigue" better than beverages in room temperature.
Labrador also shared ginger's other health benefits:
Has a good amount of fiber that's good for digestive health

Can calm an upset stomach and acts as a laxative

Alleviates dizziness and nausea

Is high in antioxidants that reduce cell damage

Boosts immune system

Reduces the risk of heart disease

Controls blood sugar levels
But is there such a thing as ingesting too much ginger? Labrador said that though the effects of eating excess ginger are rare, they are still possible. "It can lead to an upset stomach and heart burn. There may be some people who are allergic to spices like ginger. The allergy manifests through skin inflammation." He also added that ginger may interact with some drugs. "These are the anticoagulants or blood thinners. If you're taking these drugs, you might want to ask your doctor if you can still take ginger tea." To avoid complications, Labrador recommended limiting the salabat we drink to one cup a day.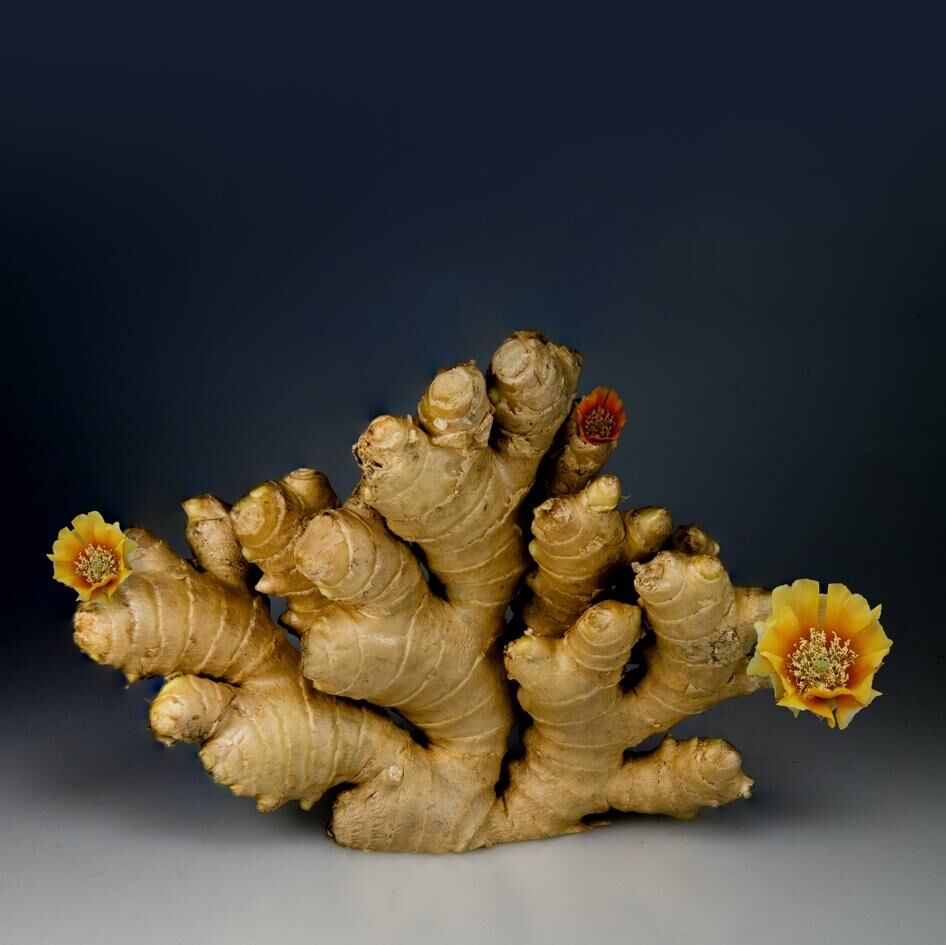 Staying Healthy During the Pandemic and Beyond
Though ginger is undoubtedly beneficial to our bodies, staying healthy this pandemic is still all about avoiding exposure to the virus. "That's basically following health protocols— social distancing, proper hygiene…and it's better for the population to take the vaccine once it's offered to them," said Labrador.
Echoing WHO, Labrador is all for taking salabat if it makes people feel better. But he warned, "It's not really good to brand natural remedy as a cure of a certain disease. So, it's still better to get proper medical action from a medical professional during these times." Moreover, we can strengthen our immune system by having a holistic approach toward health "Number one is to eat a variety of foods including fruits and vegetables every day. Prioritize natural and fresh foods over highly-processed or fast food. We also want to maintain a physically active lifestyle during these times. Just go to the internet and search for body weight exercises that you can do. That can definitely help us in improving our immune system and maintain a healthy weight which…in the long run, will benefit us."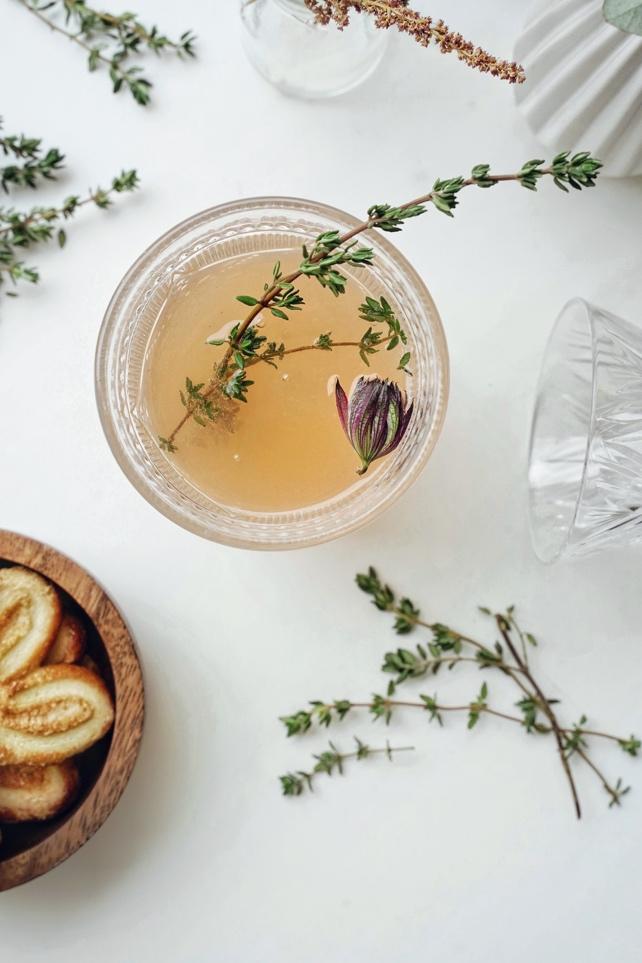 How to Prepare Salabat
Labrador gives these steps in preparing your own throat-soothing ginger tea:
Thinly slice ginger into 5-6 pieces.

Boil them in a cup of water.

Boiling time depends on how strong you want the ginger flavor to be. 10 minutes will result in a mild ginger taste, while 15-20 minutes will bring out the ginger's spiciness.
Watch our interview with Gab Labrador here.
A year after the pandemic, the World Health Organization updated its health advisory last April, stating that COVID-19 may be acquired through airborne transmission. This is in addition to the droplet transmission, which was previously the widely recognized mode of spreading the virus.
But what does this new discovery entail? Panahon TV sought the advice of Dr. Rontgene Solante, chairman of the Adult Infectious Diseases and Tropical Medicine Department at the San Lazaro Hospital, and a member of the Vaccine Expert Panel of the Department of Science and Technology.
Droplet vs Airborne Transmission
Dr. Solante mentioned that the COVID-19 virus is expelled through coughing, sneezing, or talking. The Centers for Disease Control and Prevention (CDC) adds to this list by stating that "People release respiratory fluids during exhalation (e.g., quiet breathing, speaking, singing, exercise, coughing, sneezing) in the form of droplets across a spectrum of sizes. These droplets carry virus and transmit infection."
"The droplet is composed of virus particles within the saliva," explained Dr. Solante in a mix of English and Filipino. "This means it's much bigger and heavier. When you cough or sneeze, the droplet can travel up to 3 feet. It falls quickly on surfaces." It's because of these reasons why COVID-19 prevention involves regular hand washing and regularly disinfecting frequently-touched surfaces.
On the other hand, COVID 19's airborne transmission involves the aerosolized form of the virus. "Why is it aerosolized? It's because when you cough, you expel not just droplets but also tinier particles. These particles are lighter so they stay in the air longer. This is what we call airborne."
While droplets are most infectious within a 3-feet or 1-meter distance between people, the airborne particles, which can remain suspended in the air for up to two to three hours, may infect people within an 8-feet distance.
According to the World Health Organization (WHO), medical procedures and treatments that produce aerosols may also transmit COVID-19. These include endotracheal intubation, open suctioning, administration of nebulized treatment, manual ventilation before intubation, turning the patient to the prone position, and disconnecting the patient from the ventilator.
The CDC states that the higher the amount of virus a person is exposed to, the higher the risk of infection. Through the airborne transmission, you are more likely to catch COVID-19 when the following factors are present:
Enclosed spaces with poor ventilation.

This includes air-conditioned spaces that let droplets and aerosol particles build up in the air.

Increased exhalation

of an infected person's respiratory fluids. This person doesn't need to cough or sneeze to spread the virus. He or she may simply be shouting, singing or engaged in a form of physical exertion such as an exercise.

Prolonged exposure

to these conditions

for more than 15 minutes.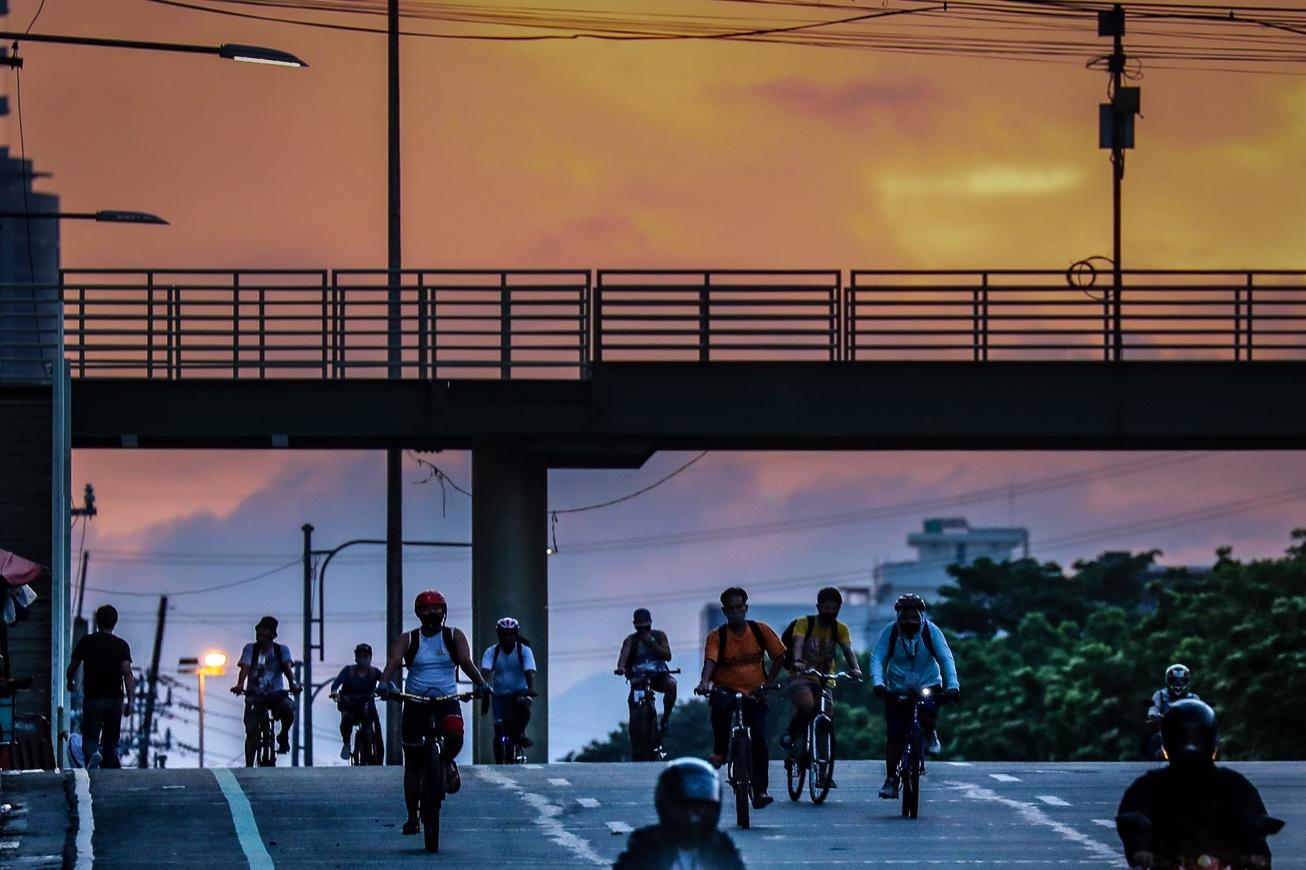 Though bikers are required to wear face masks, they do not have to wear face shields as these pose safety risks according to the Department of Health. (photo by Jire Carreon)
What Airborne Means
"Airborne diseases are easily transmitted when you are not wearing the proper face mask, when ventilation is very poor, and more importantly, when you are in a closed space," warned Dr. Solante. Tuberculosis is an example of an airborne disease. "The reason why the Philippines has a high case of Tuberculosis is because many of us live in communities with houses built close to each other. When one has this disease, he or she is likely to transmit it to family members. In a way, this is similar to COVID-19, which easily spreads within the household because of the droplet and airborne modes of transmission."
The fact that COVID-19 is airborne and may be transmitted beyond 6 feet only means that more than ever, we need to be vigilant about health protocols, and stay in well-ventilated areas. Dr. Solante said, "Chances are, if you are in a room without ventilation or with poor ventilation, the virus can stay longer— for about 3 hours. The minute you remove your face mask or face shield, then you can get the virus within 15 minutes of staying in that closed space."
But what does proper ventilation mean? Dr. Solante said this is achieved when air inside the room is able to flow out, while air outside the room is able to flow in. "Without air ventilation, the aerosolized virus can stay in the air for two to three hours. But if you open the windows, and there's ventilation, the virus will only be airborne for less than 15 or 30 minutes, as long as there are only a few people inside the room."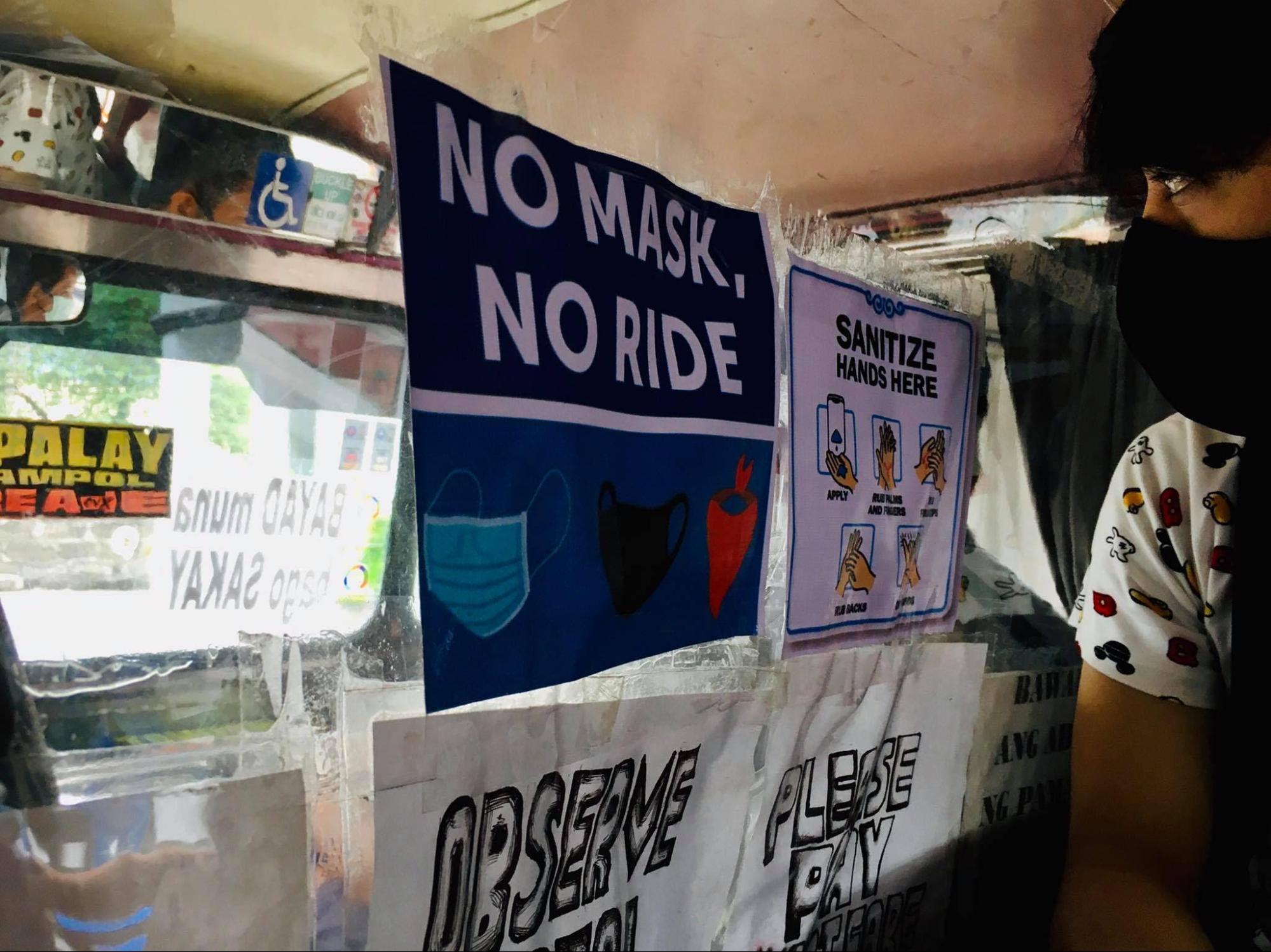 Sign inside a jeepney. This year, face shields were also required inside public transportation. (photo by Paul Michael Caisip)
How to Prevent Airborne Transmission of COVID-19
Dr. Solante offers these prevention tips in various settings:
At home
Open windows to encourage ventilation.

If the heat is too much, and you want to turn on the air-conditioning, make sure to have less conversations and interaction among family members inside the room. Wear face masks, and limit the number of room occupants.
In the office
Maintain a distance of at least six feet from other people.

Limit the number of people in the room.

Always wear your face mask and face shield inside the room. Dr. Solante doesn't recommend doubling your masks as this may make breathing difficult.

Avoid unnecessary talking. Use chats or other forms of communication that don't require you to open your mouth.

Always practice cough etiquette and regular hand washing.

If ventilation is poor in the office, Dr. Solante urges the management to consult with engineers on how to improve air flow.
In Public Transport
Always wear a face mask and face shield. Make sure your eyes, nose and mouth are covered.

Try not to open your mouth. This means avoiding activities such as eating, conversing and talking on cellphones.

Maintain physical distancing. Passengers should at least be a seat apart.
In a nutshell, Dr. Solante gives these 5 important tips during the pandemic:
Practice regular hand washing.

Wear your face mask and face shield.

Maintain a physical distance of six feet or more.

Avoid crowded areas.

Only visit places with good ventilation.
Though the airborne transmission is cause for alarm, following health protocols is still an effective countermeasure. Complying to guidelines set by health experts and being vaccinated are still your best bets in safeguarding your health and that of other people.
*interview by Trisha Garin
Watch Panahon TV's interview with Dr. Solante here.
Most of the children living in this era have forgotten the historical significance of our native alphabet. Thus, its cultural importance and possible inclusion in the current curriculum should be considered. In the pre-colonial period, baybayin was the writing script of Filipinos living in different islands.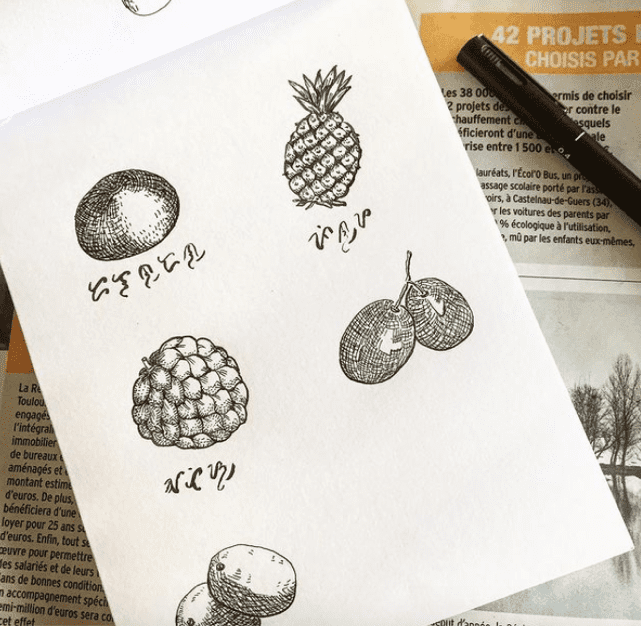 Baybayin for dalandan, pinya and atis (photo from baybayinart)
Pre-Colonial Period: The Birth of Baybayin
In ancient times, people living in the Philippines did not have any kind of writing system. Instead, they relied on oral tradition or word-of-mouth as a way of communication. However, in the 13th century, Malaysian and Indonesian cultures influenced the writing system in the Philippines, leading us to discover baybayin.
Primarily, baybayin was used by inhabitants in the Luzon and Visayas regions. As an alpha-syllabic script, its specific characters can either be a single consonant or vowel, or a syllable. In an interview with Roy Cagalingan, a historian from the Komisyon ng Wikang Filipino, he formally defined baybayin as the "sinaunang alpabeto ng ating mga ninuno na naglalaman ng tatlong patinig at labing-apat na katinig, na nagmula sa salitang baybay ng mga Tagalog, na nangangahulugang lupain sa tabi ng dagat". (Our ancestors' ancient alphabet consist of three vowels and fourteen consonants. Baybayin is derived from the Tagalog word which means land beside the sea.) This was the same observation Spanish soldier and lawyer Antonio de Morga made during his visit to the Philippines in1609.
The extent of baybayin as the Philippines' official writing system varied from island to island from the 16th to the early 17th centuries. However, in 1521, Italian explorer Antonio Pigafetta wrote that the people of the Visayas were illiterate. But upon the arrival of baybayin in 1567, the Spanish Governor-General Miguel López de Legazpi reported that "They (the Visayans) have their letters and characters like those of the Malays, from whom they learned them."
In his memoirs written in the 1600s, de Morga stated that natives from Luzon and surrounding islands wrote splendidly using the native script, and that only a few did not know how to write well. In contrast to Morga's statement, American historian William Henry Scott discovered some records stating that natives did not know how to write, even the datus or chieftains. He also made an even more surprising discovery: "A few years later (after the Spaniards sent a baybayin letter to Borneo), Tagalog conspirators hoping to expel their Spanish invaders communicated among themselves and their Bornean allies in (baybayin) writing, and even sent a letter to Japan. Naturally, none of this correspondence has survived, but the Spanish translation of a Bikolano letter En Letras Tagala, which contains a scathing condemnation of Spanish misconduct, is preserved in Franciscan archives in Madrid."
According to Cagalingan, "Kung pag-aaralan natin ang baybayin, siguro kung sa personal na karanasan, hindi mahirap lalo na kung tututukan mo siya ng kalahating araw pero kung kakabisaduhin 'yong mga pasikot-sikot, hindi kakayanin ng isang araw at medyo mahirap". (Based on my experience, studying baybayin is not difficult if you focus on it. But understanding its nuances will take more than a day.)
Spanish Period: The Emergence of Abecedario (1521 – 1898)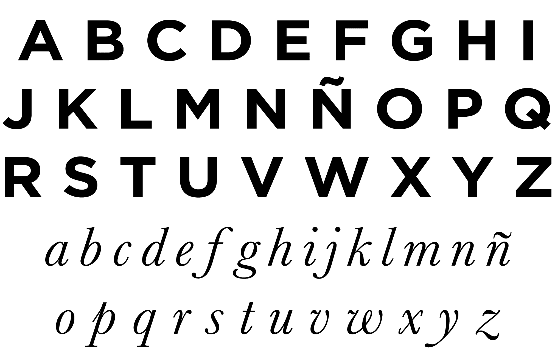 (Photo from Wikimedia Commons)
When Spain colonized the Philippines, the emergence of Latin alphabet deferred to baybayin, leading to its eventual disuse. The Latin script and the Spanish alphabet were introduced to Catholicized Filipinos. This foreign alphabelt called abecedario had 28 to 32 letters.
But after encountering an enormous number of native languages, the Spaniards felt compelled to identify the archipelago's most common languages in order to communicate with the Filipinos. After learning these local languages, the missionaries were required to teach Spanish. This is why the Doctrina Christiana, a book on Catholic Catechism, was published in both Tagalog and Spanish languages.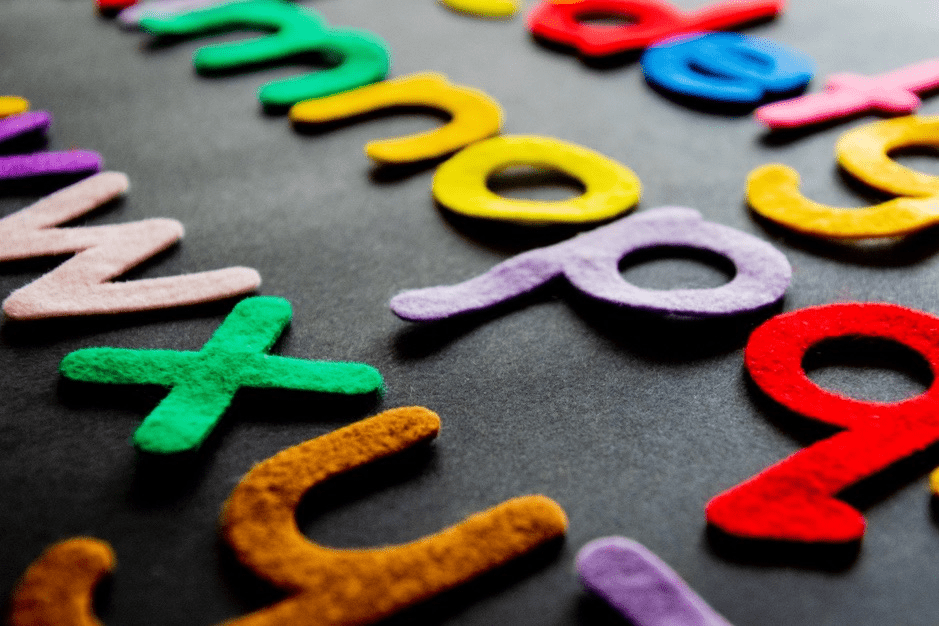 Photo by Magda Ehlers from Pexels
American to Commonwealth Period (1949 – 1960)
With the end of Spanish rule and the introduction of American-style public education in the Philippines, Filipinos were introduced to the English language and its 26-letter alphabet. Both the English-based education and Philippine nationalism threatened the use of abecedario. Following the establishment of the Philippine Commonwealth in 1937, the government ordered the adoption of a Tagalog-based national language as well as the creation of its dictionary and grammar book. In 1939, writer and former Senator Lope K. Santos developed Ang Balarila ng Wikang Pambansa, resulting in a reduction of the 32-letter abecedario to 20 letters.
According to Cagalingan, "Katulad nga ng hangarin ni Lope K. Santos na ilabas ang balarila noong 1940, kung titignan natin, may hawig pa sa baybayin yung abakada na ginawa niya na naglalaman ng dalawampung titik". (If we look at the 20-letter abakada introduced by Lope K. Santos in 1940, it still resembles the baybayin.) He also added, "Kung titignan naman natin yung ginawa niya, nakabatay siya sa reporma ni Rizal noong 1899. (If we are going to study his work, it's based on Rizal's reform in 1899.) In abakada, each letter corresponds to a syllable –which is the opposite of the English or Spanish pronunciation.
Abakada remained the national language's alphabet from 1940 to 1976. During that time, concerns were raised about the validity of Tagalog as the foundation of the official language, as majority of Filipinos spoke other native languages.
The 1973 Constitution introduced a revised definition of the national language, renaming it Filipino, stating that it is a developing language.
The Institute of the National Language approved the 1976 Filipino Orthography Reform, which resulted in a change in the alphabet. Under DECS memorandum order 194, 11 letters – C, CH, F, J, LL, Q, RR, V, X, and Z – made a comeback in the revised Filipino alphabet, reflecting the other Filipino languages that still used those letters.
The 1987 Filipino Alphabet
After more revisions, the Filipino Alphabet was again published with only 28 letters with the inclusion of "ng" and "ñ". The 1987 Constitution ordered the preservation and propagation of the native local language to protect its historical significance.
In conclusion, the evolution of the Filipino Alphabet proves that language is always evolving. As Catalagan said, "Mas magandang sabihin na ang ebolusyon ng ating alpabeto ay isang simbolo na nagpapatunay na pleksible ang hangarin ng mga sumakop sa atin, upang mapaganda at mapalawak ang ating bokabularyo". (It is better to say that the evolution of our alphabet symbolizes the flexible desires of our colonizers to improve and widen our vocabulary.) He concluded, "Nagbabago ang wika dahil nagbabago din ang simoy ng panahon kung kaya't nagiging kasangkapan ito sa pagbuo ng isang bansa." (Language adapts to the passage of time, and is instrumental in nation building.)
References:
Baybayin: The Lost Filipino Script. (n.d.). Amateurlanguager.Tumblr.Com. Retrieved May 14, 2021, from https://amateurlanguager.tumblr.com/tagged/language.-power.-narrative.
Tan, N. (2014, August 22). Evolution of the Filipino alphabet. www.rappler.Com. https://www.rappler.com/newsbreak/iq/evolution-filipino-alphabet
Toulouse, the capital of the Occitanie region in Southern France, is rich in history and culture. It was part of the Roman empire until the 5th century, and is now known for its aerospace industry, housing Europe's largest aerospace center, including the French space agency.
It had a huge role in the history of Catholicism. It is where Romans persecuted early Christians and martyred a saint, and the site of a religious riot that started the French Wars of Religion. Toulouse became the templar stronghold in the first crusades, and Saint Dominic founded the Dominican Order here. Currently, it is home to several cathedrals, including the UNESCO World Heritage Site, the Basilica of St. Sernin, Europe's largest surviving Romanesque building.
Toulouse is France's fourth-largest city, whose center's architecture is mainly composed of terracotta bricks, earning it the title, "The Pink City". This is where we find Marjorie Mosura-Dumont, who has been residing here for 3 years.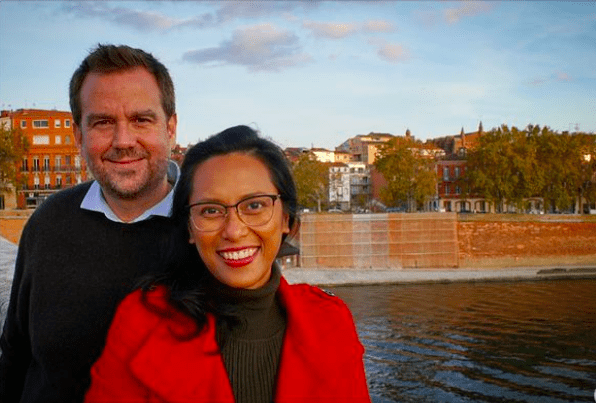 Marjorie and Henri strolling in town before the nationwide lockdown during COVID-19
After marrying Henri, my French fiancé, I moved to Paris in 2010. I loved Paris because of its beautiful architecture and buildings, but after a year, he said he was tired of its gloomy weather and gloomy people. We agreed to move to the Philippines slowly by backpacking from Paris to India, Nepal, and other countries between there and Manila.
After living in Metro Manila for five years, a lot of factors led us to decide to return to France. His nuclear family came from the north but decided to settle in the south of France, including his brother who was based in Toulouse, so we chose to live here.
Toulouse vs Paris
Toulouse is in the southwest of France, close to the Pyrenees and the Mediterranean Sea. This is perfect for us because we love hiking, and we once trekked all the way to Spain. It's one of the stops in the Camino de Santiago or the Way of Saint James, which is a pilgrimage you do on foot for a month. We're also conveniently close to another pilgrimage site called Lourdes.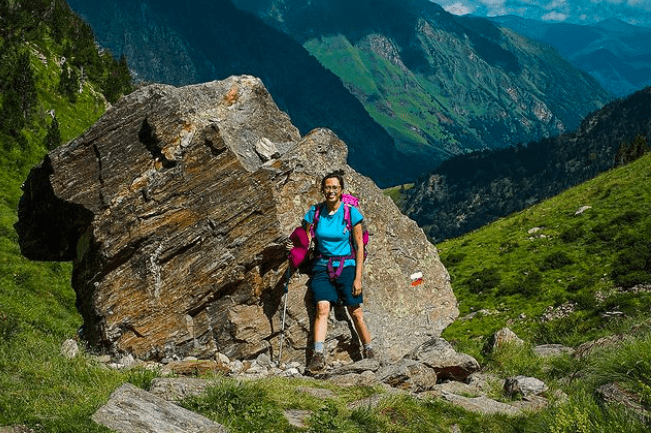 Marjorie hiking to Lac d'Espingo in Pyrenees
The city has a distinct architecture and it looks magical a few hours before sunset. It's well known for its terra-cotta bricks that glow pinkish-orange.
In terms of museums, Paris has the upper hand. Museums here are few, and mostly house roman and medieval pieces. The theater scene here is also limited, but it feels more intimate.
History is a huge part of Toulouse, which is the birthplace of Aeropostale. After World War I, the post service company delivered mail from Toulouse to different parts of the world, including Casablanca and South America. The flights were a big deal because before then, mail traveled only by boat. Because of Aeropostale, French colonies received mail much faster.
Aeropostale flights could be dangerous—something which Antoine de Saint-Exupéry, the author of The Little Prince wrote about in his novel Vol de Nuit (Night Flight). Saint-Exupéry was an Aeropostale pilot, so The Little Prince was his semi-biography. Some streets here in Toulouse are named after him.
Through the years, Toulouse has retained its "aero center" status. Now, it's famous for developing and building technology for the aerospace industry. One of the museums here is dedicated to outer space travel. The Airbus planes are also built here, which explains why there are a lot of engineers and expats in Toulouse. We also have a good amount of Irish pubs for some reason, with real Irish bands playing to boot!
Where the old Aeropostale airport used to be is now where you can find the La Halle De La Machine's giant mechanical minotaur and spider. I shot a report for a news agency when they launched it a few years back. The minotaur and the spider walked all around old Toulouse for three days and it was a sight to see! Roads were closed, people ran after it, I saw a grown adult cry. I hung from a hotel window at the main square with photographers to take video of all that happening. It was other-worldly, but it was the magic of engineering, music and imagination.
A lot of people like it here because it's warmer and less rainy than Paris, and the vibe is more chill. It's France but a little Basque. The locals like drinking, partying, and going to tapas bars. We live a few minutes by foot from the Garonne River and the historic center, and we can walk to our favorite bar across the Pont Neuf bridge. Before the pandemic, we used to drink at the bridge and enjoy the music spilling from the bar. When our drinks ran out, we'd just duck back in for refills and rush right out into the fresh air. There seemed to be an unwritten agreement for the whole city to be out at five. I think that's the best image I could draw for you about life here—seeing your friends, having a drink and watching the glow of the sun set on the pink city.
Toulouse and COVID-19
At the start of the quarantine in March, we had to print out a form indicating the date and time we left our home. For example, I'm going out on this date: March 11, from 1 to 2 p.m. We only had an hour to jog or walk the dog within a 1 kilometer radius from our address. Two household members at a time could go out of the house. For a time, the restaurants were closed, and the lines at the supermarkets were very long. Only ten people at a time could enter. But at least we were still allowed to walk and stretch outside, that helped manage my anxiety.
Back then we didn't have a lot of cases in Toulouse, but there was still a shortage of face masks and they were very expensive. I made masks for a friend who is a nurse so she could distribute them at her hospital. She said other hotspots flew their patients here because our hospitals had a lot of empty beds. It was only last August when the government required face masks in the streets. Before that, we were only required to wear them in stores. In July, travel restrictions were lifted because the cases went down, and it's too much to ask the French to stay at home during summer.
But things have changed after summer. We're now one of the hotspots for COVID cases. We had a curfew for a few weeks and then the government decided to close the bars, restaurants and activity areas to prevent the spread of the disease. A lot of businesses closed down despite some monetary help from the government because they were still paying rent for shops that can't open.
Despite the health crisis, what's good about living in France is its universal healthcare. When I had a pulmonary embolism two years ago, the firemen came at 5 a.m. and took me to the hospital. I waited for my bill in the mail but nothing came! Henri and I try not to go to the doctor for every little thing to avoid overtaxing the system. Socialism is awesome only if everybody's truly egalitarian. As a member of the middle class in the Philippines, it sucked to pay so much in taxes and get nothing in return when we needed money to treat my dad's cancer.
Pinay in Toulouse
Toulouse is a rich melting pot. I have friends from many different countries that I would never have met if I didn't go to my state-sponsored French classes. Thanks to them, I've learned a lot of fascinating things about life in South Africa, Syria, Turkey, Mexico, and the Ukraine (just to name very very few). On my end, I've introduced them to Pinoy food.
At first, it was hard to adjust to the fact that there were no Pinoy stores here, unlike Paris that has at least two. After early evening mass at St. Joseph's Church near the Champs Elysees in Paris, there's a Pinoy palengke at the church steps. In my first 4 months of living here, I didn't hear anyone speaking Tagalog.
Then one time, I was at an Asian supermarket with my Vietnamese friend and I heard someone speaking in Cebuano. So I called out: "Ate, Pinoy kayo?" She said,"Oo!" It was comforting to know I had kababayans here. If you want ensaymada, pan de coco, or sapin-sapin I have connections. There may be no Pinoy store here, but there are enterprising Pinoys who make and sell native treats.
Here, I started painting again. My dad was a frustrated comic book artist, and one of the most precious gifts he gave me were art supplies. We used to bond over drawing things and he wanted me to be an artist, but I became a writer like my mom. When I got here, I started painting Filipino food just because I missed them. And I know I could have gotten a rambutan from a specialty store but I felt guilty and privileged about the contributing to the carbon footprint of one measly rambutan that isn't really necessary for my survival. I just missed it, but I guess most of all I missed the context of it. So when I finished painting I threw in the baybayin script under the artwork to make it plain that I'm talking about this food as a Filipina, with the context it has as a thing you can see in the palengke or hanging in a tree, with the common experiences we have around it that nobody else might immediately understand, but give me a minute to tell you its story.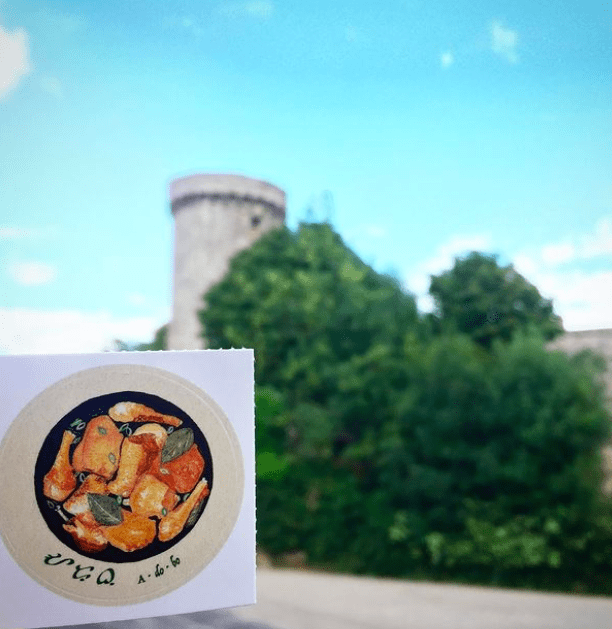 Marjorie's adobo painting sticker with a background of a fortified city from the dark ages
I'm part of a small painting community with five other Filipina friends. My friends have encouraged me to branch out into landscapes and flowers. I've tried that but I've mostly dug in my heels with Pinoy subjects. I started an Instagram account and (more recently) a website to share what I'm doing and reach out to people who are missing the same things I have. I've met some interesting people this way. I used to print my paintings on sticker paper and stuck them on random spaces around Europe. I thought about it as a way to teach my culture to anyone who would bother to look at what's written under the painting of a tomato, for example. But if a Pinoy saw one, my hope is that they would realize that a fellow Pinoy passed through there, and that they're not alone.
All in all, I like living here. Henri and I have always wanted to live in a place where we can grow things and here we get a lot of sun. For now we have an edible garden on our apartment balcony. So far, I've managed to grow calamansi, which I got from IKEA two years ago. Henri and I laughed about it then because they think it's ornamental, but to me it was like the heavens opened. However, I think the age of innocence is at an end because Henri saw a fancy specialty store selling calamansi a month ago.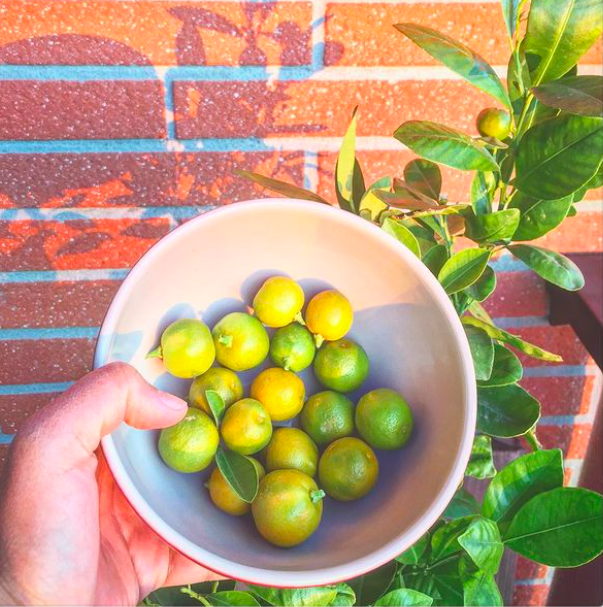 Marjorie's calamansi harvest from her edible garden
The thing is, we want to be self-sustaining. Eventually, we want to be able to recycle water and use renewable energy. We want to reduce our carbon footprint. But for now, Toulouse fits our purpose, and I'm soaking in its laid-back vibe, allowing it to fuel my Pinoy-inspired art, wherever it takes me.
More and more Filipinos are going hungry. This is according to the Rapid Nutrition Assessment Survey conducted by the Food and Nutrition Research Institute (FNRI) late last year. After surveying almost 6,000 households all over the country, FNRI reported that 62.1% of families experienced moderate to severe food insecurity.
When does a household qualify as being "food insecure"? The FNRI gives the following criteria:
Worrying about food

Inability to eat preferred foods

Only able to eat a few kinds of foods

Eating foods they do not desire

Eating smaller portions

Eating fewer meals daily

Absence of food in the household

Going to sleep hungry

Going through a whole day without sustenance
The COVID-19 pandemic seems to be the cause of this hunger spike. FNRI states that more than half of surveyed households reported having less access to food during community quarantine because of: 1) lack of money, 2) limited public transportation, 3) job loss, 4) limited food stores in their area, and 5) being an elderly with no family members to help them buy food.
But food security may be achieved through one's own efforts. Last year, FNRI posted a call for Filipinos to grow their own food during the pandemic. This way, households are assured of food supply despite limited mobility. This is especially true in urban areas, which are "less likely to consume fresh produce, which are good sources of vitamins and minerals that boost immunity.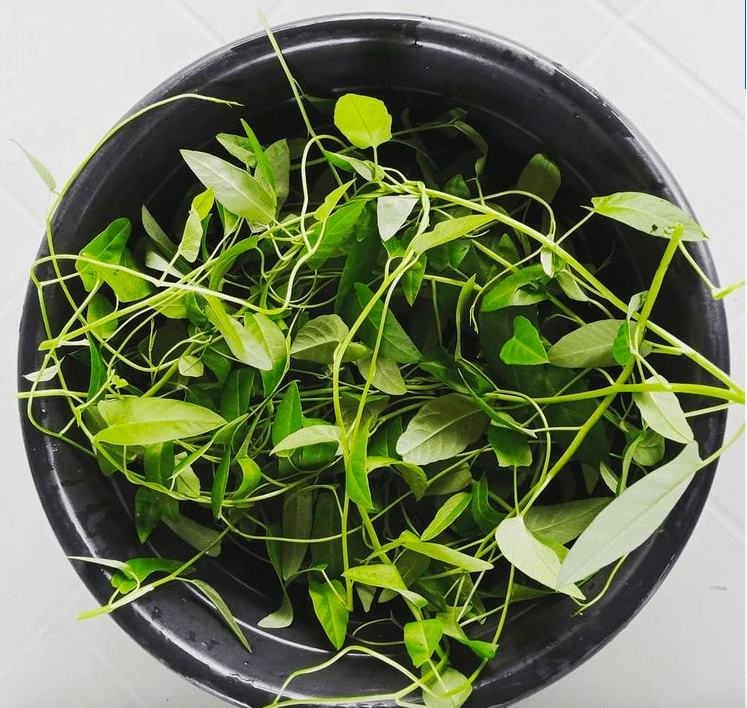 Kangkong harvest (photo by Chie Roman)
Being a Farmer in Your Own Backyard
The terms "plantito" and "plantita" became popular during the lockdown as Filipinos turned to gardening to care for their mental health. The challenge now is to shift the focus from greens that beautify the home to edible plants.
According to PAGASA, the hot and dry season this 2021 would be shorter than the previous years'. This may be considered good news because in a Panahon TV interview, Agriculturist Lito Bollosa from the Bureau of Plant Industry said that both the onset and end of the rainy season is the most ideal time to plant.
However, one can still start planting during the hot and dry season. "When it comes to vegetables, we can plant the ingredients of the pakbet. These are indigenous crops that can survive adverse conditions and the constant changes in weather," Bollosa explained in Filipino.
Bollosa states that crops which require minimal supervision and water include:
talong

kamatis

sili

gabi

ube

kamote

kamoteng kahoy

mani

munggo

soybeans
Aside from being low maintenance, these crops are also easy to plant. "With indigenous vegetables like alugbati, kangkong, and kamote, you only need to stick the cuttings into the soil. With just a little water, they can already survive," said Bollosa. He added that other crops that are able to survive intense heat include mung beans, corn—and dragon fruit, which belongs to the cactus family and therefore doesn't require a lot of water.
Meanwhile, fruits that take center stage this hot season are watermelon and mangoes. "We see an increased production of fruits and vegetables now because of the sun's constant presence. These crops need sunlight to produce their own food. The excess nutrients end up as fruits."
However, extreme weather conditions may also cause plants to flourish. This is because of their need for survival, causing them to release more antioxidants and other protective chemicals. "Prolonged heat or rains can cause plant stress," shared Bollosa. "For example, when the calamansi experiences excess heat or rains, it tends to produce more flowers and fruits." This technique is used in farming to boost fruit production. Bollosa elaborated, "Fruits like rambutan, lanzones, and avocado flower during the hot season. After the 'ber' months, they are subjected to heat to induce flowering."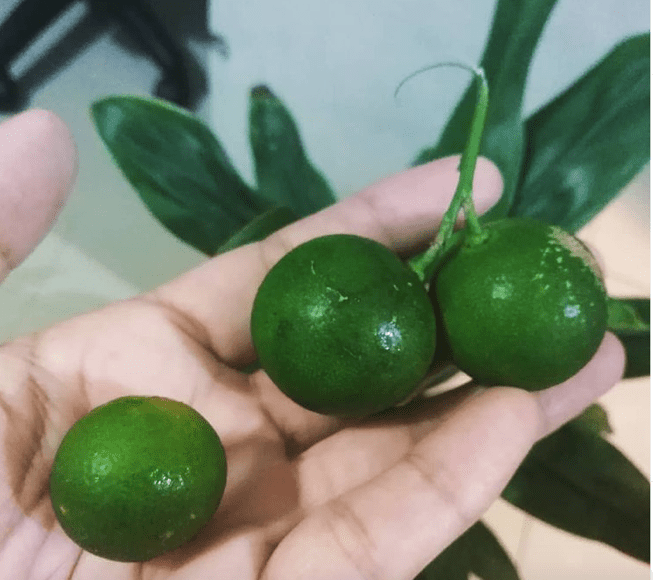 According to Bollosa, calamani produces more fruit when stressed. (photo by Chie Roman)
Planting Tips
Before planting your own food, Bollosa suggests these tips:
Plant in the right soil.

"Start with a soil mixture," advised Bollosa. "You can mix

carbonized rice hull

or charcoal to boost its carbon content. This allows your soil to absorb more moisture."
Use a planting pit.

A planting pit is filled with organic materials such as dried leaves, grain stalks and other vegetative material that enriches the soil. The pit is dug close to crops to increase soil fertility and moisture retention.
DIY the process.

In urban areas wherein planting is confined to small spaces, Bollosa suggests using downscaled agricultural practices. Examples are covering pots with newspaper or cardboard to prevent water evaporation; and punching holes in plastic bottles so they can irrigate crops without drowning the soil.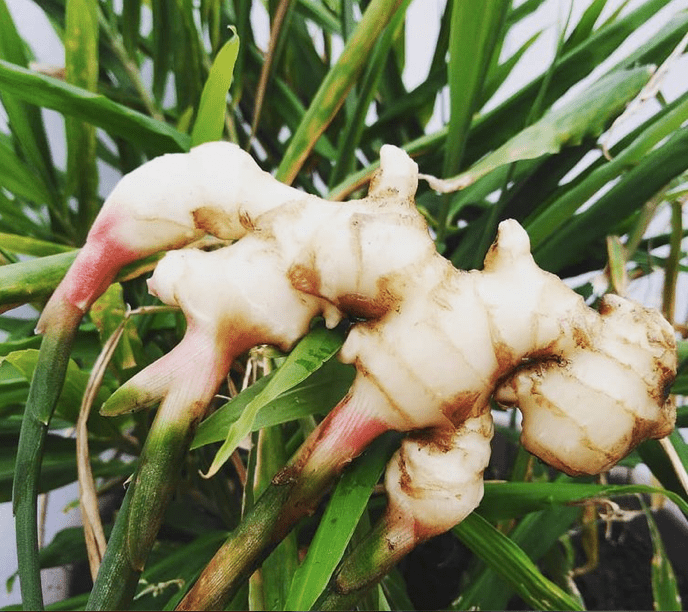 Growing young ginger (photo by Chie Sales)
Following the Planting Calendar
To be able to successfully grow food, Bollosa stressed the importance of following the planting calendar. Certain plants grow their best in specific months of the year. The Department of Agriculture released a comprehensive planting calendar, which Panahon TV condensed below:
All Seasons
End of Rainy season

to Cool and Dry Season

ampalaya

upo

Bataw

broccoli

kangkong

Chinese cabbage

lettuce

labanos

mustasa

patani

okra

muskmelon

pechay

potato

sitaw

squash
By following nature's rhythm, you can reap the benefits of growing your food. Aside from getting the nutrients your immune system needs, you are ensured of your food's safety and quality. Planting can also help you save money, protect the environment, and boost your household's food security. You can enjoy all these rewards, while taking part in one of the greatest miracles—nurturing another life besides your own.
Watch Panahon TV's interview with Lito Bollosa here.
Earth Day is less than a week away with this year's theme of "Restore the Earth." Earthday.org expounds on it by saying, "Together, we can prevent the coming disasters of climate change and environmental destruction. Together, we can Restore Our Earth."
It is a fitting theme after the World Meteorological Society (WMO) declared 2011-2020 as the hottest year on record. Ocean heat is also hitting record levels due to greenhouse gas emissions. WMO Secretary-General Prof. Petteri Taalas explained, "In 2020, the annual Arctic sea ice minimum was among the lowest on record, exposing Polar communities to abnormal coastal flooding, and stakeholders such as shipping and fisheries, to sea ice hazards." In a Panahon TV feature, PAGASA Hydrologist Rosalie Pagulayan warned that excess ocean heat may also fuel stronger tropical cyclones (bagyo). "Warmer oceans result in more evaporation. When there's more moisture in the atmosphere, this could lead to intensified tropical cyclones. This means stronger rains, storm surges, and the possibility of tornadoes. Coastal communities will be inundated even those that do not usually experience floods."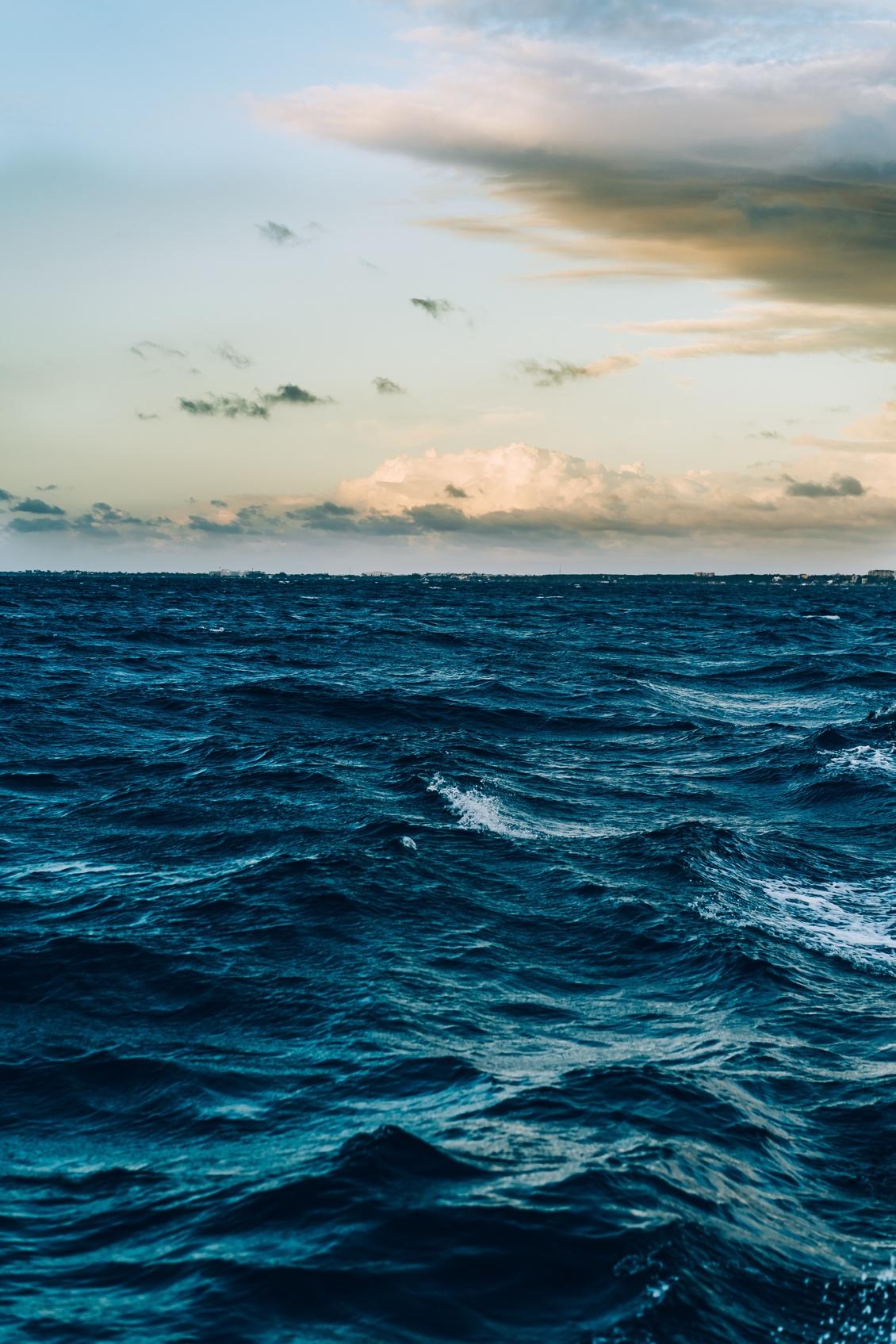 Warmer oceans lead to intensified tropical cyclones. (Photo by Ricardo Esquivel from Pexels)
As the planet heats up, more climate-related disasters occur. The United Nations Office for Disaster Risk Reduction (UNDRR) reported that in the last 20 years, floods have doubled while storms increased by almost 40 percent. Major increases were also observed in droughts, wildfires and extreme temperature events.
Volcanic Eruptions and Earthquakes
The Philippines sits in the Pacific Ring of Fire, an area that experiences the most number of earthquakes and volcanic eruptions. But according to this article, climate change might also have an effect on such disasters. It mentions a study that links small earthquakes to typhoons in eastern Taiwan, suggesting that decreased atmospheric pressure, which comes with typhoons, may cause earthquake faults to loosen and create tremors.
Meanwhile, a study from the University of Miami proposes that tropical cyclones and earthquakes are connected. It suggests that excess rainfall leads to landslides, which in turn reduces the weight on the fault below the earth's crust, causing it to be more volatile.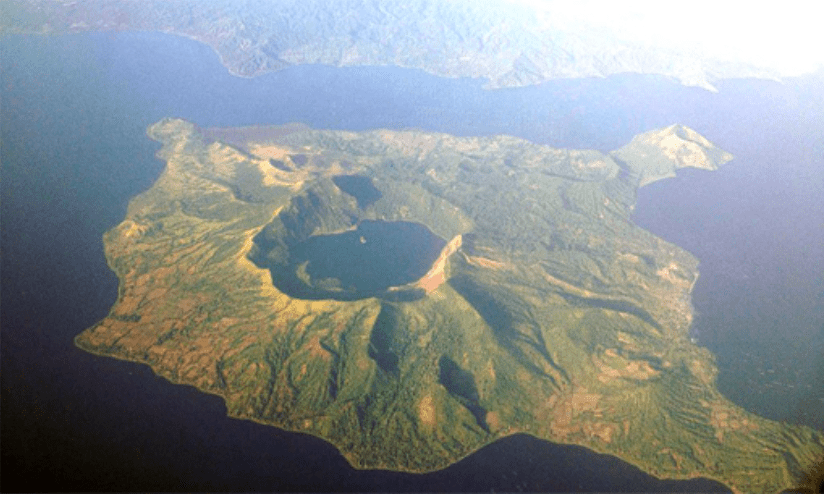 Taal Volcano is currently at Alert Level 2 according to PHIVOLCS.
But how about volcanic eruptions? With Taal Volcano in Batangas currently at Alert Level 2, and its January 2020 eruption still fresh in our minds, should we be worried about climate change stimulating volcanic activity? The same article mentions the possibility of heavy rains triggering eruptions of the Soufrière Hills in Montserrat, and seasonal changes affecting Pavlof Volcano in Alaska.
However, in a Panahon TV interview, Dr. Renato Solidum Jr, officer-in-charge of the Philippine Institute of Volcanology and Seismology, and undersecretary for Disaster Risk Reduction and Climate, stated that global warming has no effect on earthquakes and current volcanic activities in the country. "Volcanic eruptions are caused by magma beneath the earth, and not by the Sun," he explained in Filipino. "The same goes for earthquakes, which are caused by fault movement. This energy pushes the plates around the fault."
But Solidum was quick to stress the fatal combined effects of volcanic eruption and extreme rainfall. "Because of global warming, evaporation is sped up, causing more rainfall. When a volcano has just erupted and is followed by rain, the water combines with the spewed-out ash and becomes lahar." This was exactly what happened when Typhoon Diding followed the Pinatubo eruption in 1991, causing lahar attacks in Pampanga, Tarlac and Zambales, and burying entire towns.
Heavy rains can also exacerbate earthquake impacts. "Heavy rains can already cause landslides," said Solidum. "But if an earthquake occurs while it's raining, there might be stronger and more frequent landslides. Many more people will be affected."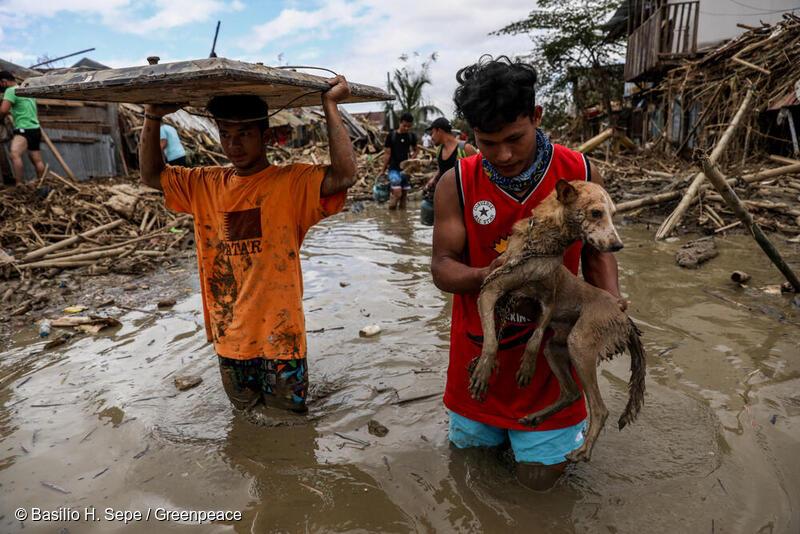 Residents in Rizal wade through flood caused by Typhoon Ulysses in November 2019
Environmental Care is Disaster Preparedness
Though geologic events such as earthquakes and eruptions happen naturally with or without climate change, Solidum explained how manmade activities can worsen their impacts. "Landslides occur in steep places or those with soft ground. Destroying our mountains through deforestation or housing developments leads to faster erosion and lowland flooding. The eroded soil along with improper waste disposal fill up our rivers and drainages, also causing floods."
Solidum recalled the landslide that occurred in a subdivision in Antipolo, Rizal in 1996, which caused over 300 buried houses and 60 deaths. "The landslide was traced to the ground being disturbed during development. When heavy rains fell, the already loosened ground eroded. The disaster was human-influenced. That's why houses shouldn't be built on stiff slopes. The improper placement of septic tanks and drainages can also cause soil erosion."
More recently, Cagayan province experienced massive floods after the onslaught of Typhoon Ulysses in November 2020. Though fingers were pointed at Magat Dam's release, environmental groups also cited quarrying and illegal logging in the Sierra Madre mountain range as a major cause of the disaster. Cagayan Governor Manuel Mamba also faulted the heavy silt in Cagayan River for causing floods that resulted in 29 deaths.
Though it is vital to prepare for disasters with go bags and other preventive measures, Solidum stated that environmental care is just as important. "Protecting our environment is equivalent to caring for our communities and ourselves, so we can better prepare for natural hazards. These hazards become more fatal if we don't care for our environment. Environmental care should be part of our disaster preparedness."
Read up on how plastic pollution harms our health and environment, and take our quiz to find out how much of a zero-waste advocate you are.
With the ocean covering about 70% of our planet, it provides us not only food and transportation, but also medicinal ingredients that help combat cancer and heart disease. According to the World Wildlife Fund, over 250 million people depend on the ocean for coastal protection and livelihoods.
While the ocean fuels the world's food security and economy by transporting around 90% of global trade, it also ensures humanity's survival by producing half of the oxygen we breathe. But only few are aware of how the ocean also regulates our weather and climate—the theme chosen for this year's World Meteorological Day celebrated last March 23. "The Ocean, Our Climate and Weather" trains the spotlight on how the ocean affects our atmosphere, the importance of ocean monitoring, and the impacts of climate change.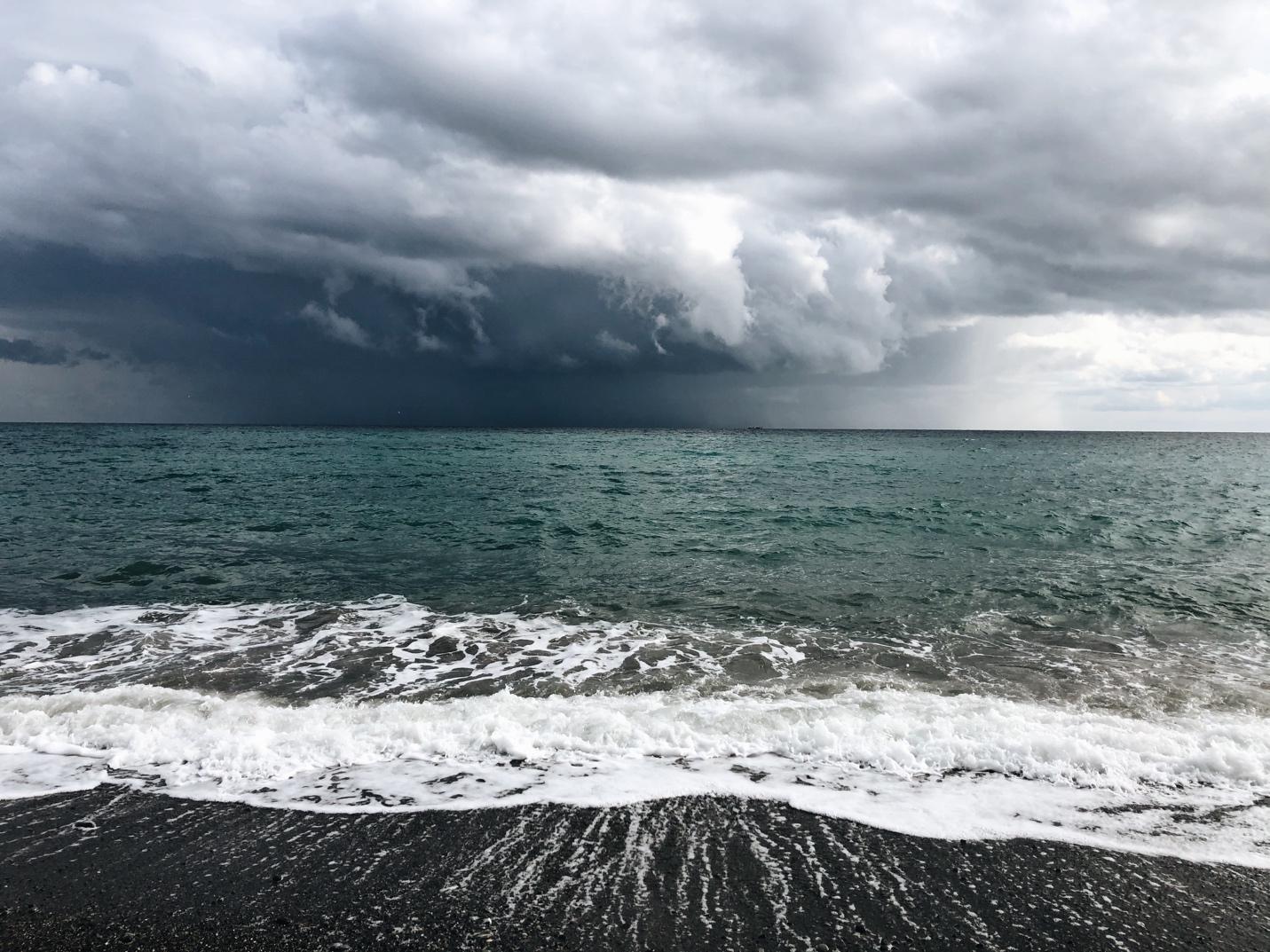 Photo by Dasha Musohranova from Pexels
How the Ocean Shapes Weather and Climate
We get most of our freshwater supply from rain, produced by the water cycle fed by the ocean. According to the World Meteorological Organization (WMO), this happens because the ocean absorbs a significant amount of the sun's heat, and releases it to the atmosphere as water vapor. Ocean currents distribute water vapor around the globe, influencing weather and climate in different areas. The interaction between the atmosphere and the ocean produces El Niño, associated with warm and dry conditions; and La Niña, which brings wet conditions.
PAGASA Hydrologist Rosalie Pagulayan shares how oceans shape Philippine weather. "Our ocean plays a big role in the formation of tropical cyclones or bagyo. Here in the tropics, the oceans provide all the necessary energy to sustain a tropical cyclone. If you notice, when the cyclone makes landfall, it weakens. It regains strength and intensity when it crosses large bodies of water."
Around 20 tropical cyclones enter the Philippine boundary each year, making it the most tropical cyclone-visited country in the world. While cyclones may lead to disasters, they also provide half of the country's rains, which fill up dams.
Climate Change and Our Oceans
The ocean fights global warming by absorbing 50 times more carbon dioxide than the atmosphere, and more than 90% of excess heat trapped by greenhouse gases. But human activities such as fossil fuel use, livestock production and deforestation are boosting global temperatures.
"Ocean heat is at record levels because of greenhouse gas emissions, and ocean acidification continues unabated. The impact of this will be felt for hundreds of years because the ocean has a long memory," says WMO Secretary-General Prof. Petteri Taalas. Impacts include the melting of ice in Greenland and Antarctica, which contribute to the rise in sea level. "In 2020, the annual Arctic sea ice minimum was among the lowest on record, exposing Polar communities to abnormal coastal flooding, and stakeholders such as shipping and fisheries, to sea ice hazards," Taalas explains.
Excess heat in oceans also cause extreme weather events, such as the most active Atlantic hurricane season on record in 2020, which produced 30 named tropical cyclones. "Warmer oceans result to more evaporation. When there's more moisture in the atmosphere, this may result in intensified tropical cyclones," says Pagulayan. "This means stronger rains, storm surges, and the possibility of tornadoes. Coastal communities will be inundated even those that do not usually experience floods. Heat waves may occur. While some parts of the country may experience droughts, other parts will receive excess rainfall. The greatest impact is on food production.
"When the ocean absorbs more than its fill of carbon dioxide emissions, its waters lose oxygen and become more acidic. This disturbs ecosystems, causing deaths among marine species and reducing food supply for humans.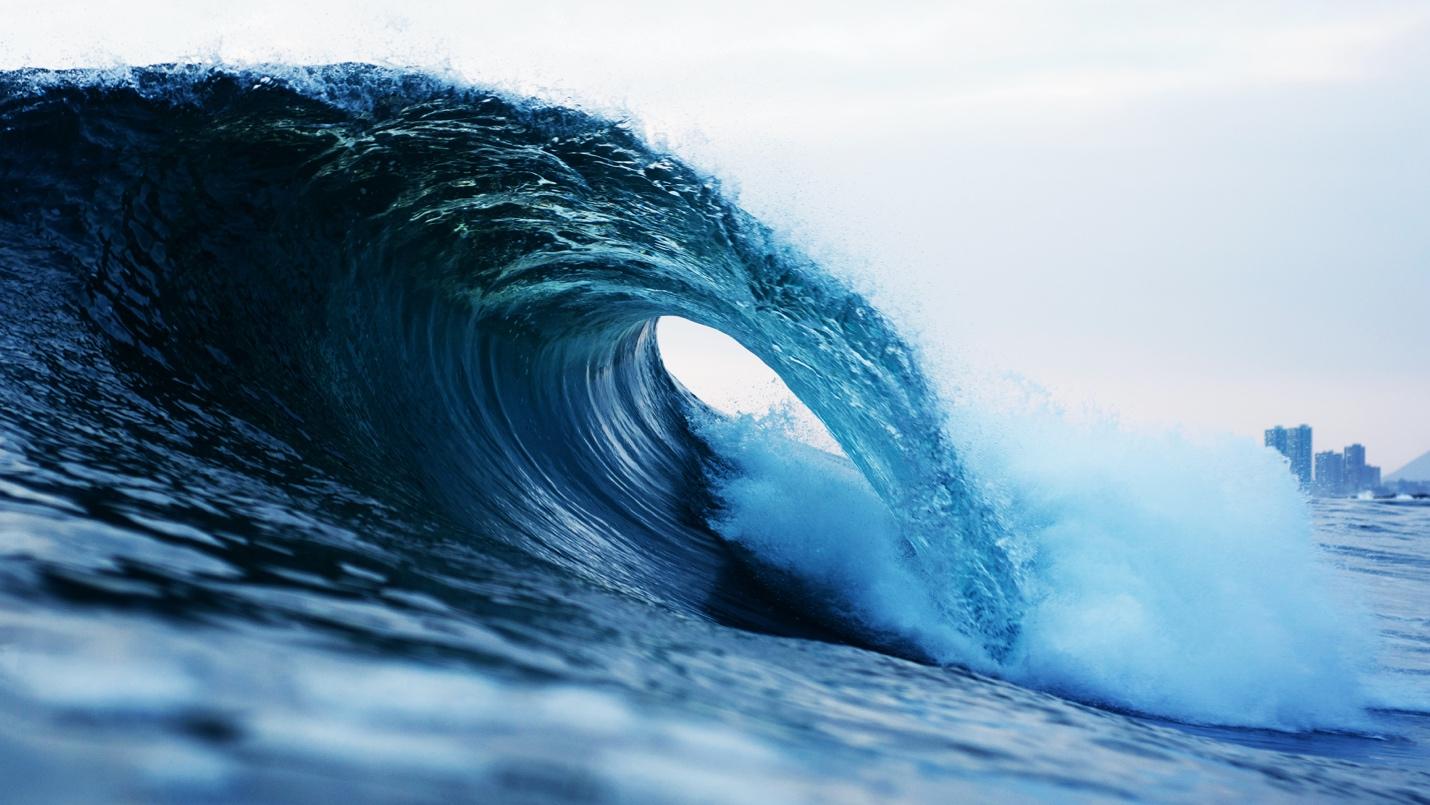 Photo by Emiliano Arano from Pexels
Monitoring the Ocean
The ocean is a vast and mighty force, and its power will be more than we can handle if the climate crisis continues. WMO works to improve and widen its scope of observation, research and operational services for climate change adaptation and promoting resilience among communities.
As more and more populations settle along coastlines, accurate and impact-based forecasts as well as multi-hazard early warning systems need to be in place to save lives. Tourism and maritime transportation rely on actionable information in securing their operations and promoting economic growth.
Though the COVID-19 pandemic has impacted WMO's operations through its recall of research vessels and failure in maintaining its ocean buoys, the organization remains dedicated to expanding its global observing system—something Pagulayan is grateful for. "Global warming creates a domino effect in our environment. Animal and plant species that fail to adapt can result in their extinction. We need to deepen our study on all these impacts. Through WMO, PAGASA is able to collaborate with other countries to gather enough data and scientific evidence on climate change and our ocean," she ends.