My memories of the most impactful storm I have lived through are about as clear as they could be for a nine-year old at that time. In 2009, I saw Typhoon Ondoy catch the country by surprise and open the eyes of Filipinos to the importance of disaster risk reduction and management. Although my family was spared by the effects of the typhoon, it still hit close to home as the floods that Ondoy triggered submerged my grandmother's home. As a young girl, the concept was inconceivable and surreal. I could not grasp how it was possible that the house I visited weekly could be buried under nearly ten feet of water. To this day, the events of Ondoy remain a core memory for me—despite having been minimally affected by it. Thus, I could only imagine how thousands of other Filipinos felt after the disastrous events last November.
November 2020 has been anything but kind toward the country. A handful of storms consecutively ravaged our nation, leaving many homeless, hungry, and helpless—all while still in the midst of a global pandemic.
Just recently, hundreds of Filipino families from the Cagayan Valley once again fled to evacuation centers as villages were flooded due the overflowing Cagayan River. This happened merely a few weeks after the province was devastated by the greatest flooding it has experienced in the past forty years.
Last November 12, Typhoon Ulysses submerged Tuguegarao City. Houses were literally underwater, people were screaming for rescue from their rooftops, and in lieu of cars, rubber rescue boats roamed the streets. Media footage from the province depicted scenes that seemed surreal — as if they were taken straight out of a sci-fi or apocalyptic film.
Footage of helicopter dropping relief goods in Cagayan (Video courtesy of Philippine Air Force)
The catastrophe resulted in 29 lives lost from flooding and landslides in Cagayan Valley. Damage brought by Typhoon Ulysses was compounded when the seven spillway gates of Magat Dam in Ramon were opened. This was due to the dam reaching its capacity limit, causing water to overflow into the towns, resulting to the wreckage that Cagayanos are still trying to recover from weeks after. Until now, people are asking: Who should be held liable for the drowning of Cagayan?
The Men behind the Curtain: Magat Dam Operators and Engineers
The volume of approximately 106 Olympic-sized swimming pools was the amount of water released when Magat Dam opened its seven spillway gates. The NIA-Magat River Integrated Irrigation System (Mariis) said this was a necessary decision to prevent the breaking of the dam—which would have resulted to an even greater disaster.
According to Mark Timbal, spokesperson of the Office of Civil Defense, the dam reaching its full capacity was due to the overflowing of the Cagayan River — caused by the multiple, consecutive monsoons and storms that hit the country. However, fingers were being pointed toward the dam operators because of the lack of proper notice to Cagayan Valley citizens before the dam release. Furthermore, Magat Dam's operators were under fire for only opening the gates at the height of Typhoon Ulysses's impact and not earlier—given that the swelling of Cagayan River was already occurring before the typhoon had made landfall.
NIA-Mariis claimed that advisories regarding the dam's activity were duly made, utilizing various channels in doing so. Advisories about the opening of two of the dam's gates were released as early as November 9—a week before Typhoon Ulysses struck. Nonetheless, Cagayan Governor Manuel Mamba acknowledged that the announcement came on short notice.
The Men behind the Country: President Duterte and His Administration
In the midst of Typhoon Ulysses's terror, Presidential Spokesperson Harry Roque pleaded netizens to stop fueling the trending hashtag #NasaanAngPangulo. This hashtag first gained popularity in early November when Filipinos were wondering why the president was not visible while the nation braced for Typhoon Rolly, which had already been identified as the world's strongest storm this year. The hashtag once again resurfaced when the President was nowhere to be found at the peak of the typhoon's devastation.
Last November 26, 2020, the Senate approved the national budget for 2021, in which 21 billion pesos will be allotted for the National Disaster Risk Reduction and Management (NDRRM) fund, while 15 billion pesos will be designated for the rehabilitation spending of Local Government Units (LGUs). The allocation seemed hardly enough to attend to the needs of severely stricken areas such as Cagayan, Isabela, Bicol, and Catanduanes — all affected by the four typhoons this November. The total amount of damage pegged for Typhoon Rolly amounted to Php 11 billion, while Typhoon Ulysses was estimated to have cost the country a total loss of nearly Php 13 billion.
The Men Behind the Climate Emergency: Capitalists and Corporations
The swelling of the Cagayan River was caused by the staggering amount of rainfall brought by the consecutive typhoons that affected the country prior to Ulysses. It is worth noting, however, that existing environmental damage worsened the effects of the opening of the spillways and the flooding. Due to the deforestation in the mountains of Cagayan Valley, yellow corn farming practices, and the use of toxic herbicide, natural resources meant to cushion the impacts of disasters were non-existent.
As early as 2018, there have already been reports regarding the illegal logging at Sierra Madre as investigated by the Department of Environment and Natural Resources (DENR). For the past ten years, this prohibited trade has persisted. As the longest mountain range in the country, Sierra Madre is the country's largest natural barrier against the approximately 20 tropical cyclones that enter the Philippines yearly.
Individuals may play a role in mitigating these environmental attacks and lessening the damage to the environment, but it would be unfair to pressure the masses for change when corporations are more capable of bringing widespread effects — if they change their environmentally exploitative practices. For years, I beat myself up — not to mention those around me — for using wasteful, plastic straws. It took me a while to realize that in spite of my individual efforts in being environmentally friendly, my endeavors are merely trivial. The phenomenon of eco-fascism continues to burden the working class with responsibility while leaving those in power unchecked. It leaves the masses with the burden to purchase more costly ecological products and the pressure to switch to a more "sustainable" lifestyle, while billionaires and corporations continue their consumerist practices that deplete and degrade natural resources—and still end up profiting from these.
With all this being said— what now? There's a saying that says it is not a sin to be unaware; but it's a sin you choose to look away despite having your eyes opened. The work, therefore, does not stop at finding accountability.
Continue to donate and help Cagayan.
In light of the recent disasters, we have seen Filipinos step up when the government failed to do so. Although this should not equate to absolving those in power of responsibility, there are ongoing donation drives in support of relief operations for Cagayan that are accepting cash and in-kind donations.
Stay informed.
It is vital to keep ourselves updated and informed about the policies and environmental decisions which impact all of us. Case in point: Sierra Madre continues to be in danger due to the construction of the Kaliwa Dam — said to be the solution to Metro Manila's water issues. The construction of the dam will not only bring ecological destruction but also displace local communities located near the mountain range. As stakeholders, it is our responsibility to make our voices heard regarding decisions on matters like these — and it is through staying informed that we create more informed stances.
Engage others in conversation.
Ultimately, I wrote this article, hoping to broaden our perspective on the depth of these issues. In line with staying informed, engaging others in discourse about these topics generates a constant conversation that helps issues like this remain in the public sphere.
Finally, for the answer to the question: whodunnit? I'll leave that for you to decide.
Sources:
Corcione, A. (2020, April 30). What to Know About Eco-Fascism – and How to Fight It.
Retrieved from https://www.teenvogue.com/story/what-is-ecofascism-explainer.
Deiparine, C. (2020, November 5). Total cost of damage from 'Rolly' now at P11 billion — NDRRMC. Retrieved from https://www.philstar.com/headlines/2020/11/05/2054788/total-cost-damage-rolly-now-p11-billion-ndrrmc.
Deiparine, C. (2020, November 22). 'Ulysses' cost of damage now at P12.9 billion. Retrived from https://www.philstar.com/headlines/2020/11/22/2058624/ulysses-cost-damage-now-p129-billion.
Gotinga, J. (2020, November 26). Senate passes P4.5-trillion 2021 budget bill on final reading.
Retrieved from https://www.rappler.com/nation/senate-passes-trillion-2021-national-budget-bill-third-reading-november-26-2020.
House to seek ₱5-B increase in calamity funds under 2021 budget. (2020, November 22).
Retrieved from https://www.cnn.ph/news/2020/11/22/House-Velasco-increase-calamity-fund-2021-budget.html.
Miraflor, M. B. (2020, November 17). Kaliwa Dam feared to worsen flooding in Metro Manila.
Retrieved from https://mb.com.ph/2020/11/17/kaliwa-dam-feared-to-worsen-flooding-in-metro-manila-1/.
Philippine Daily Inquirer. (2018, July 12). Logging continues in Sierra Madre – DENR. Retrieved
from https://newsinfo.inquirer.net/1009508/logging-continues-in-sierra-madre-denr.
Ropero, G. (2020, November 15). Cagayan, Isabela residents warned of Magat Dam water
release: NIA. Retrieved from https://news.abs-cbn.com/news/11/15/20/cagayan-isabela-residents-warned-of-magat-dam-water-release-nia#:~:text=%22It%20is%20necessary%20to%20release,Valley)%2C%22%20it%20said.
Salaverria, L. (2020, November 14). Roque plea to netizens: Stop asking 'Nasaan ang
Pangulo?'. Retrieved from https://newsinfo.inquirer.net/1360495/roque-plea-to-netizens-stop-asking-nasaan-ang-pangulo.
Typhoon Donation Drives. (2020, November 23). Retrieved from https://theguidon.com/1112/main/2020/11/donation-drive-crowdsourcing/ .
Visaya, V. Jr. (2020, November 17). Deaths from 'Ulysses' floods in Cagayan Valley reach 29.
Retrieved from https://www.pna.gov.ph/articles/1122127#:~:text=Thirteen died in Cagayan province,from floods after the typhoon.
Visaya, V. Jr. (2020, November 18). Severe flooding shows Cagayan Valley environmental risks.
Retrieved from https://newsinfo.inquirer.net/1361922/floods-show-cagayan-environmental-risks.
https://earthobservatory.nasa.gov/images/147554/flooding-in-northern-luzon
https://twitter.com/inquirerdotnet/status/1327879577058775040?s=21
Storm surges only entered the majority's consciousness when Typhoon Yolanda devastated most of the Visayas, bringing 7-meter-high surges that claimed over 6,000 lives in Leyte and Samar in November 2013. The point cannot be emphasized enough: Storm surges can be fatal and we need to be prepared for them. Here's a primer on one of the typhoon's deadliest effects.
Top 5 Things You Need to Know about Storm Surges
1. A storm surge is not a tsunami. While a tsunami is a series of waves due to underwater seismic activities like earthquakes, a storm surge is the abnormal rise of seawater due to the low atmospheric pressure and strong winds brought about by a severe storm or typhoon. It may inundate low-lying coastal areas, resulting damage to properties, infrastructure and agriculture.
2. Storm surges can get pretty high. According to PAGASA, storm surges in our country may rise from an average of four to seven meters, which is equivalent to a 2-storey house, and may still intensify in the presence of high tide. Storm waves move as fast as seven meters per second, as fast as a golf ball driven off the tee, carrying small and large debris, which make them even more dangerous. When storm waves finally reach the ground, its speed becomes a little slower due to trees and other land structures.
3. Storm surges are deadlier in some areas than others. Studies say that storm surges may transpire in any seaboard affected by a severe storm, but the most devastating ones usually occur in our country's southern and eastern seaboards. Eastern sections are typically flat and typhoon-frequented, making them prone to the surges.
4. Storm surges reoccur, especially in an archipelagic country like the Philippines. Eastern Visayas has been experiencing catastrophic storm surges for over a hundred years. On October 12, 1897 An Australian newspaper reported about a storm passing over Tacloban, the capital city of Leyte, claiming 7,000 lives. According to the Department of Science and Technology (DOST), the 1897 storm surge reached up to 7 meters, destroying churches and communities. In 1912, the front page of an American broadsheet featured a typhoon that injured and killed 15,000 people in Tacloban and Capiz. The DOST approximated the surge at four to nine meters tall.
5. More and more Filipinos face the risk of storm surges. The World Bank estimates more than 60% of our population live in coastal zones. In fact, the United Nations emphasized the swelling population of people residing in cyclone prone areas from 71.8 million in 1970 to 120.7 million in 2012. According to the National Geographic, the poor populace of the country has gradually moved to coastal islands, making a lot more people prone to the surges.
Now we know what storm surges are, how can we protect ourselves from them?
PREVENTIVE MEASURES AND SAFETY TIPS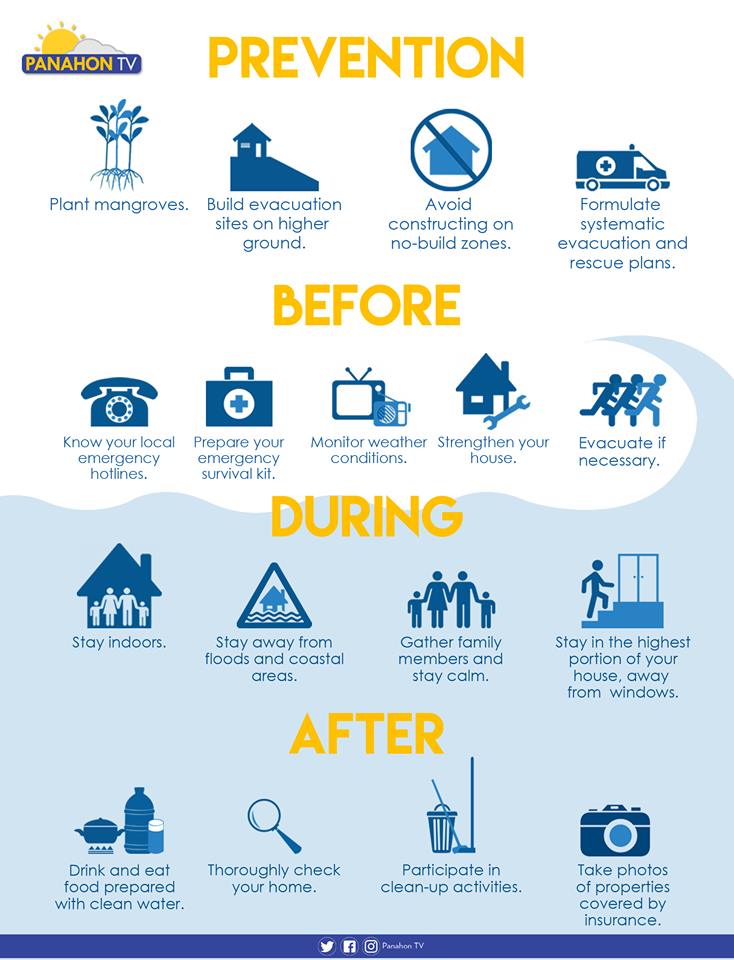 Plant trees. Plant mangroves and coconut trees along the shorelines, which may help shield the community from the waves brought by storm surges.
Avoid constructing on no-build zones. Know where the safe zones are by getting a hazard map from your barangay officers. A 40-kilometer buffer zone from the shore is advised in storm-surge prone areas.
Participate in community drills. Formulate systematic emergency, rehabilitation and relief distribution plans in your community. It is also essential to conduct a quarterly drill involving the children, youth, people with disability and senior citizens.
Plan with your family. Prepare a survival kit and a list of emergency hotlines. Discuss possible evacuation plans with your family and strengthen or fix your house if necessary.
Build evacuation sites on higher ground. Make sure that all evacuation areas are materially safe. Ensure safe routes and build directional signages going to the location.
Monitor weather conditions. Always be updated on news and announcements via radio, television and social media.
Stay Indoors. Stay in the highest portion of the house or building, away from the windows.
Evacuate if advised. Evacuate before the surge transpires, but if some members of the family have not yet arrived, call them or leave a note to inform them of your location. Switch off electricity, the waterline and gas tank. Make sure that all windows, cabinets, doors and gates are closed and locked before leaving.
Stay away from flooded areas and shorelines. Never attempt to pass a swollen river and avoid routes along the sea.
Follow the rules in evacuation sites. Do not litter, vandalize or destroy anything in the area. Observe proper hygiene to avoid illnesses and maintain peace and order in your area.
Here's what else you need to do in the wake of a storm.
Sources: PAGASA-DOST, PROJECT DINA & Project NOAH
As of 3:00 a.m., Typhoon Kong-Rey was last spotted 1,565 kilometers (km) east of Southern Luzon. It has maximum sustained winds of up to 130 kilometers per hour (kph) and gustiness of up to 160 kph, moving west-northwest at 15 kph. Due to the trough of the Typhoon, cloudy skies with scattered rain showers and thunderstorms are expected in Bicol Region and Eastern Visayas. Meanwhile, partly cloudy to cloudy skies with isolated rain showers will prevail in Metro Manila and the rest of the country.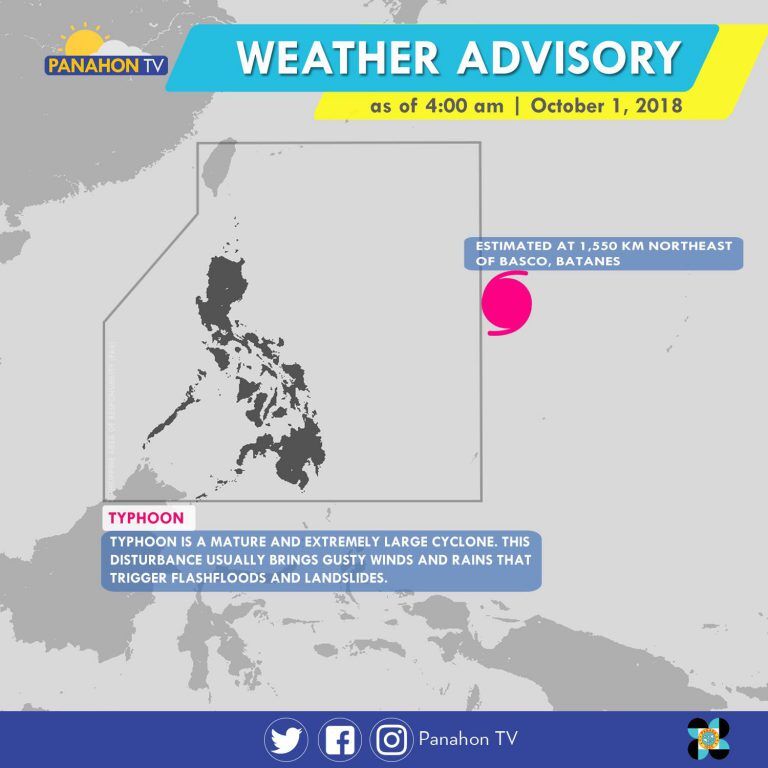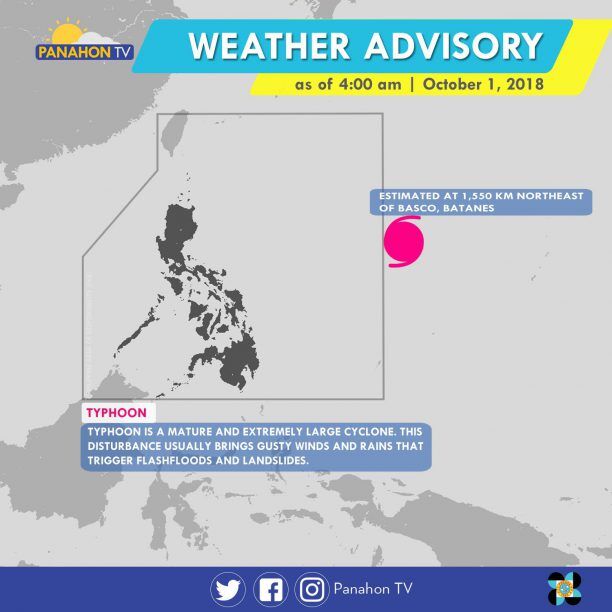 According to PAGASA Weather Forecaster Ariel Rojas, the Typhoon Kong-Rey will enter the Philippine Area of Responsibility (PAR), making it the 17th Tropical Cyclone to enter PAR this year.
Gale warning is issued in the following areas: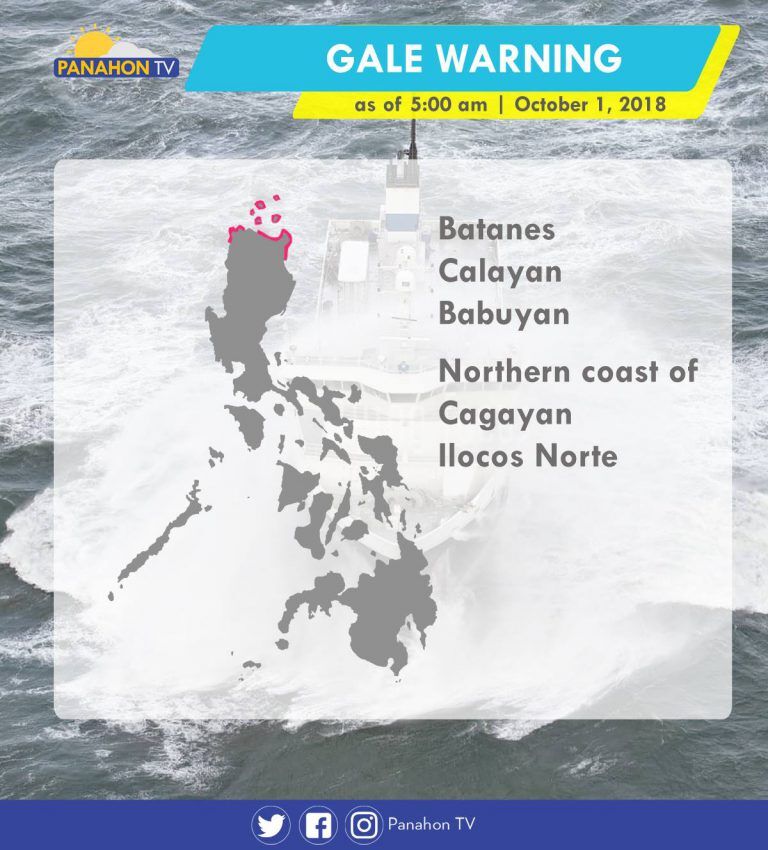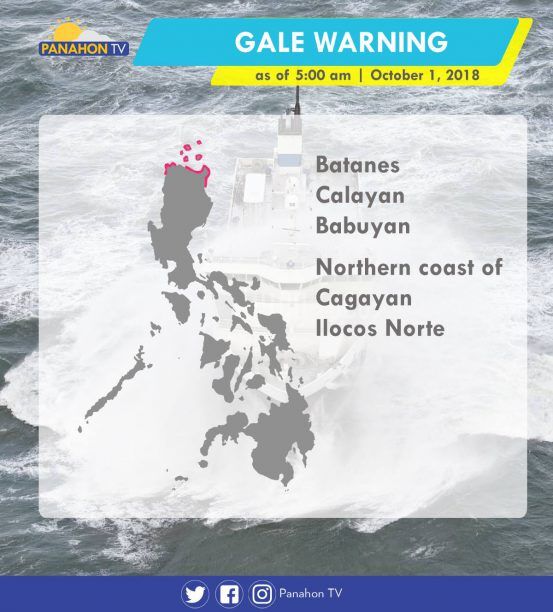 After bringing rains in Bicol Region, portions of Visayas and Mindanao, Tropical Depression Bising has weakened into a Low Pressure Area (LPA).
At 4:00 AM today, the LPA was estimated at 725 kilometers east of Juban, Sorsogon. In the next hours it will still bring cloudy skies with light to moderate rains and isolated thunderstorms in Eastern Visayas, Caraga and the province of Palawan.
Meanwhile, the Northeast Monsoon in Northern and Central Luzon will cause cloudy skies with light rains in Cagayan Valley. In Metro Manila and the rest of Luzon, partly cloudy to cloudy skies with isolated light rains will prevail. Generally fair weather will be experienced in the rest of Visayas and Mindanao only with isolated rain showers or thunderstorms.
PAGASA earlier explained that Bising recurved due to the strong wind shear near the Philippines, pushing tropical cyclones away from the landmass.
Strong to gale force winds associated with the surge of the Northeast Monsoon are also bringing rough to very rough seas in these provinces:
As we are now on our third week of the month, we haven't had weather disturbances yet. But according to PAGASA, Typhoon In-fa will be heading towards our boundary this Monday. According to PAGASA Weather Forecaster Benison Estareja, In-fa might gain more strength as its moves towards west-northwest with a speed of 20 kphr. In-fa may under Typhoon category when it hits the Philippine Area of Responsibility (PAR) this Sunday or Monday. As of now, it was last located at 2,545 kilometers east of Mindanao with maximum winds of 130 kphr and gustiness up to 160 kph.
Meanwhile, the Intertropical Convergence Zone or ITCZ remains to be the dominant weather system, bringing light to moderate rains over Eastern Visayas and the regions of Caraga and Davao. Metro Manila and the rest of the country will experience good weather conditions with a chance of localized thunderstorms.
The Ridge of High Pressure Area continues to affect Luzon. This weather system is associated with fair weather conditions and high temperatures.
Today, the Philippines will experience partly cloudy to cloudy skies with isolated rain showers or thunderstorms mostly in the afternoon or evening.
Temperatures may reach up to 35 degrees Celsius with the heat index forecast showing 40.2 degrees Celsius in Metro Manila.
To counter the heat while looking your best, wearing light-weight and light colored clothing is recommended. Sunglasses don't only look trendy; they also protect your eyes from the glare. Umbrellas with bright colors help shade you from the sun's rays while giving off happy summer vibes.
In other news, PAGASA releases the revised classification of tropical cyclones effective May 01, 2015.
Accordingly, the public storm warning signal system of the agency was also modified.
Typhoon Dolphin is no longer expected to enter the Philippine Area of Responsibility.
According to PAGASA Weather Forecaster Buddy Javier, the said weather disturbance is set to recurve as the presence of the High Pressure Area above the Philippines hinders its supposed entry into the country's eastern boundary.
Today, the Ridge of High Pressure Area reaching Luzon brings partly cloudy to cloudy skies with isolated rain showers or thunderstorms usually occurring in the afternoon or evening. The same weather condition is expected to persist this weekend.
Meanwhile, the El Nino phenomenon is expected to persist in the northern hemisphere until the end of 2015. Based on the latest data of the National Oceanic and Atmospheric Administration (NOAA), the sea surface temperature anomaly continues in the equatorial Pacific.
In the Philippines, the persistence of the said phenomenon will incur below normal rainfall, above normal temperatures and weak tropical cyclone activity.
Lashing with heavy winds and moderate to intense rains, Dodong's eye passed over Pananapan Point in Sta. Ana, Cagayan 4:45 this afternoon.
The typhoon made landfall, bearing maximum sustained winds of 185 kph near the center and gustiness of up to 220 kph. Once it made contact with the land, it slowed down a bit, moving north northwest at 17 kph.
Based on PAGASA's latest weather bulletin issued at 5 o'clock in the afternoon, here are the areas under public storm warning signals:
In a press briefing held late afternoon in PAGASA, State Meteorologist Aldczar Aurelio said that after Cagayan, Dodong will head towards the Batanes area in the following hours.
If it maintains its current speed and direction, the typhoon is expected to exit the Philippine Area of Responsibility by Tuesday morning and will continue to move towards Southern Japan.
As for the expected weather conditions in the country tonight, the areas under signal #4 will continue to experience a stormy weather due to the typhoon. The provinces under signal #3 can expect rains with gusty winds. On the other hand, areas under signal #1 and #2 will have light to moderate rain showers. The rest of the country can expect partly cloudy to cloudy skies with localized thunderstorms.
Meanwhile, PAGASA releases a new gale warning over the eastern seaboards of Southern Luzon. These coastal areas will experience strong to gale force winds and rough to very rough sea conditions generated by Typhoon Dodong. All fishermen are advised against sea travel in the following hours.
In other news, the Mines and Geosciences Bureau (MGB) released an advisory today pertaining to the highly susceptible barangays in Sta. Ana, Baggao and Gonzaga in Cagayan.
Here is the list:
PAGASA raised public storm warning signal #1 in Luzon and Visayas today as Typhoon Dodong continues to move closer to the Philippine landmass.
These areas will experience winds of up to 30 to 60 kph in at least a day and a half. Winds this strong may pose light damage to medium to low risk structures, and slight damage to some houses of very light materials or makeshift structures.
State Meteorologist Alvin Pura added that Metro Manila may not be included in the signal warning this weekend unless Dodong's track goes lower than expected.
The typhoon currently packs 150 kph maximum sustained winds near the center and gustiness of up to 185 kph. Pura said though there is a possibility of further intensification in the following hours, Dodong will not reach Super Typhoon status. However, once it hits land, a decrease in wind strength is expected before exiting the Philippine Area of Responsibility. The cyclone also slowed down a bit this morning, still moving west northwest now at 17 kph.
In the current forecast track, Pura states that Dodong is expected to move nearer to Bicol Region within 24 hours. It will also skirt the eastern section of Central Luzon before making landfall over the Isabela-Cagayan area Sunday morning. If it maintains its current speed and direction, the typhoon is expected to exit PAR late Monday or early Tuesday.
As for the weather today, based on PAGASA's latest weather forecast, the areas under Signal #1 will experience rains with gusty winds. On the other hand, a rainy weather condition will also be experienced in Central Visayas, the rest of Eastern Visayas, and over the regions of CARAGA, Davao and Northern Mindanao. The rest of the country including will Metro Manila can expect partly cloudy to cloudy skies with isolated rain showers or thunderstorm in the following hours.
Meanwhile, areas in the northern Luzon area currently experiencing dry spell will benefit from the rains the typhoon will bring. However, once Dodong passes, the area will continue to experience high temperatures.