La Niña Ends, Rainy Season Begins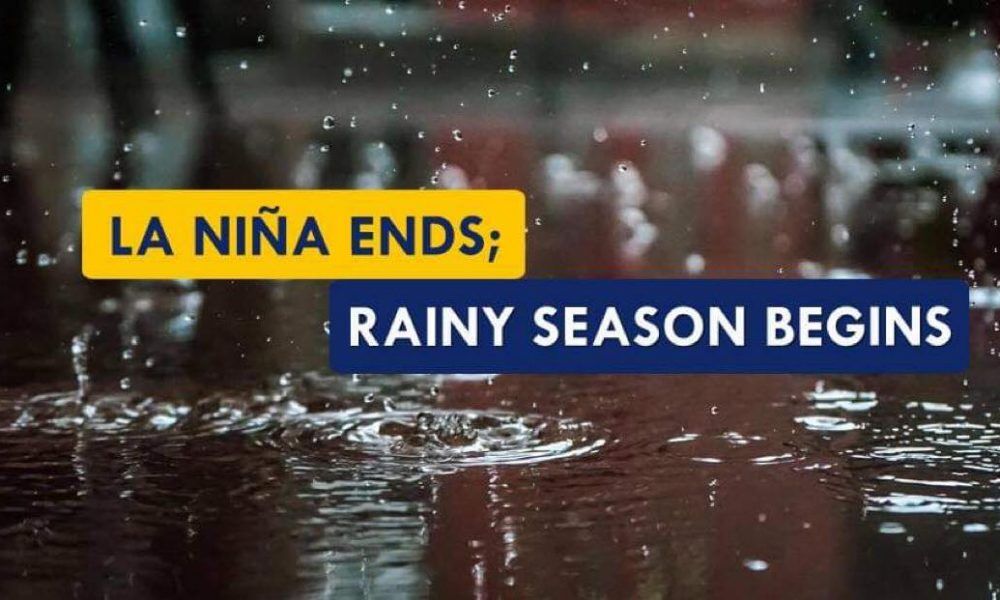 Just three days after the World Meteorological Organization (WMO) announced that La Niña had ended, the Philippine Atmospheric, Geophysical and Astronomical Services Administration (PAGASA) announced the onset of the rainy season last June 4, 2021.
From October 2020 to March this year, a weak and moderate La Niña, which refers to the cooling of ocean surface temperatures, prevailed in the country. Coupled with the Northeast Monsoon or Amihan, it was predicted to bring above-normal rain conditions, which were seen in previous typhoons. On November 1 last year, Super Typhoon Rolly, 2020's strongest tropical cyclone in the world, devastated 8 regions including Bicol. Floods, mudslides and storm surges affected 2 million people. In the same month on the 11th, Typhoon Ulysses struck Central Luzon, causing massive floods and landslides.
Now, the Southwest Monsoon or Habagat—warm and moist air that speeds up cloud formation that causes rainfall—has become the dominant weather system in the country. This is one of the factors that prompted PAGASA to declare the start of the rainy season. In a press statement, PAGASA administrator Dr. Vincent Malano explained, "The passage of Tropical Storm Dante and the occurrence of widespread rainfall in the last five days for areas under Type 1 climate confirm the onset of the rainy season. Intermittent rains associated with the Southwest Monsoon will continue to affect Metro Manila and the western section of the country." The western parts of Luzon, Mindoro, Negros and Palawan fall under the Type 1 climate category.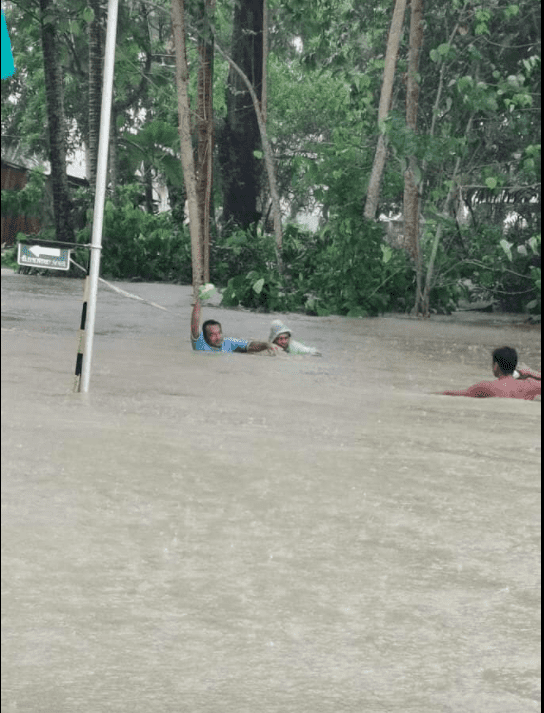 Massive flooding in Romblon due to the torrential rains brought by #DantePH. (Photos from PIA-Romblon)
The End of La Niña Does Not Spell Safety
With La Niña ending last June 1, WMO said that "neutral conditions are likely to dominate the tropical Pacific in the next few months." PAGASA hydrologist Rosalie Pagulayan further explains, "There's no La Niña, no El Niño, which means wind conditions have returned to normal. So, we can expect a normal amount of rainfall from June to September in the whole country."
But as with everything related to the weather, nothing is set in stone. In WMO's press release, the chance of neutral conditions continuing until July is at 78%. This decreases to 55% by August to October, while conditions are uncertain for the rest of the year.
Despite this high chance of neutral conditions, PAGASA warned that "The probability of near to above-normal rainfall conditions is high in the next two months (June-July.) The public and all concerned agencies are advised to take precautionary measures against the impacts of the rainy season." Simply said, the end of La Niña does not mean that the country will be safe from tropical cyclone risks. "We can't discard the possibility of extreme events," says Pagulayan. "Our mindset should always be disaster preparedness."
The Philippines is the country most-visited by tropical cyclones in the world. Here, the rainy season is synonymous with typhoons and floods. "This month of June, PAGASA forecasts that we may experience 1 to 3 tropical cyclones. Usually, tropical cyclone occurrences peak from July to September." Though PAGASA announced there will be monsoon breaks or non-rainy periods which may last for days or weeks, Pagulayan stressed that we are currently in the thick of typhoon season.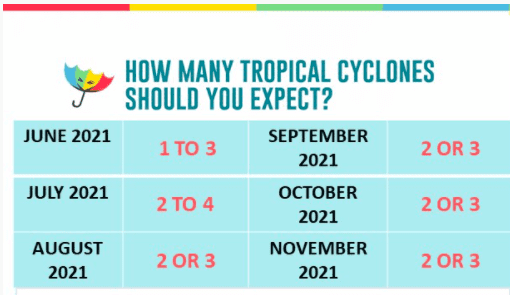 (source: PAGASA)
How Manmade Activities Worsen Natural Disasters
But despite the absence of La Niña, Tropical Storm Dante caused flash floods and landslides in Visayas and Mindanao earlier this month. The National Disaster Risk Reduction and Management Council (NDRRMC) reported 11 deaths and over 122,000 people affected. Damage in agriculture was pegged at over ₱90 million, while infrastructure damage was over ₱130 million. "The amount of rainfall Dante produced was staggering and unexpected," admitted Pagulayan. "In my opinion, the change in landscape may have been a major contributor."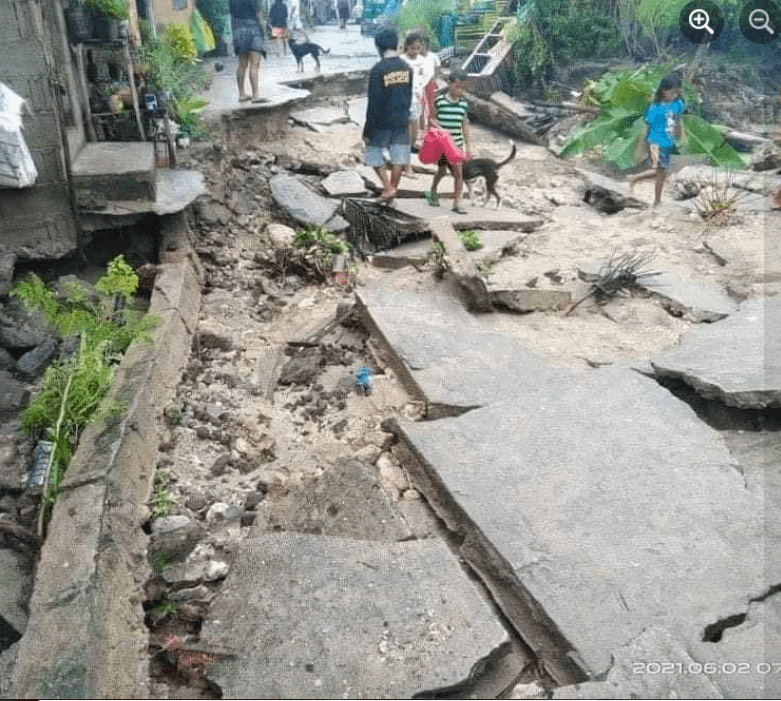 Aftermath of tropical storm #DantePH at Barangay Cabil-isan in Daram, Samar. (Photos courtesy of Slug Rosales)
Pagulayan refers to the altered natural environment brought about by human acts such as deforestation and development projects. In an earlier interview, Dr. Renato Solidum Jr, officer-in-charge of the Philippine Institute of Volcanology and Seismology, and undersecretary for Disaster Risk Reduction and Climate explained how manmade activities can worsen disaster impacts. "Landslides occur in steep places or those with soft ground. Destroying our mountains through deforestation or housing developments leads to faster erosion and lowland flooding. The eroded soil along with improper waste disposal fill up our rivers and drainages, also causing floods."
WMO echoed this statement by saying that now that La Niña has ended, climate events are now in the hands of human-induced climate change. "La Niña has a temporary global cooling effect, which is typically strongest in the second year of the event. This means that 2021 has got off to a relatively cool start – by recent standards. This should not lull us into a false sense of security that there is a pause in climate change," said WMO Secretary-General Prof. Petteri Taalas.

Taalas warned that carbon dioxide concentrations in the atmosphere remain high, fueling global warming. In fact, WMO predicted a 90% chance of at least one year between 2021 to 2025 to become the warmest on record. Soaring temperatures mean warmer oceans, which spell disaster. This, Pagulayan confirmed in a previous article. "Warmer oceans result to more evaporation. When there's more moisture in the atmosphere, this may result in intensified tropical cyclones," she said. "This means stronger rains, storm surges, and the possibility of tornadoes. Coastal communities will be inundated even those that do not usually experience floods. Heat waves may occur. While some parts of the country may experience droughts, other parts will receive excess rainfall. The greatest impact is on food production."
Preparedness as a Personal Responsibility
It's the second year we, Filipinos, find ourselves grappling with both the typhoon season and the COVID-19 pandemic. While this makes the management of evacuation centers challenging, Pagulayan stresses the importance of being pro-active when it comes to preparedness. "Let's not rely solely on the government for our safety. Let's ask ourselves what we an contribute." She gives the following tips:
Coordinate and work with your community's disaster manager. Your community's topography and needs are unique. You, your fellow-residents and barangay leaders can best map out a preparedness plan for your community.

While staying alert to advisories released by your community's disaster office, it's also advisable to read updates from national agencies. Read the reports and listen to expert interviews. The additional knowledge boosts your preparedness by helping you form a bigger picture of possible scenarios.

If you need to evacuate, always remember to bring a

Go Bag.

"This includes everything you need for the first 6 hours in the evacuation center," says Pagulayan. Keeping yourself safe as an individual is a form of community service.