Storm surges only entered the majority's consciousness when Typhoon Yolanda devastated most of the Visayas, bringing 7-meter-high surges that claimed over 6,000 lives in Leyte and Samar in November 2013. The point cannot be emphasized enough: Storm surges can be fatal and we need to be prepared for them. Here's a primer on one of the typhoon's deadliest effects.
Top 5 Things You Need to Know about Storm Surges
1. A storm surge is not a tsunami. While a tsunami is a series of waves due to underwater seismic activities like earthquakes, a storm surge is the abnormal rise of seawater due to the low atmospheric pressure and strong winds brought about by a severe storm or typhoon. It may inundate low-lying coastal areas, resulting damage to properties, infrastructure and agriculture.
2. Storm surges can get pretty high. According to PAGASA, storm surges in our country may rise from an average of four to seven meters, which is equivalent to a 2-storey house, and may still intensify in the presence of high tide. Storm waves move as fast as seven meters per second, as fast as a golf ball driven off the tee, carrying small and large debris, which make them even more dangerous. When storm waves finally reach the ground, its speed becomes a little slower due to trees and other land structures.
3. Storm surges are deadlier in some areas than others. Studies say that storm surges may transpire in any seaboard affected by a severe storm, but the most devastating ones usually occur in our country's southern and eastern seaboards. Eastern sections are typically flat and typhoon-frequented, making them prone to the surges.
4. Storm surges reoccur, especially in an archipelagic country like the Philippines. Eastern Visayas has been experiencing catastrophic storm surges for over a hundred years. On October 12, 1897 An Australian newspaper reported about a storm passing over Tacloban, the capital city of Leyte, claiming 7,000 lives. According to the Department of Science and Technology (DOST), the 1897 storm surge reached up to 7 meters, destroying churches and communities. In 1912, the front page of an American broadsheet featured a typhoon that injured and killed 15,000 people in Tacloban and Capiz. The DOST approximated the surge at four to nine meters tall.
5. More and more Filipinos face the risk of storm surges. The World Bank estimates more than 60% of our population live in coastal zones. In fact, the United Nations emphasized the swelling population of people residing in cyclone prone areas from 71.8 million in 1970 to 120.7 million in 2012. According to the National Geographic, the poor populace of the country has gradually moved to coastal islands, making a lot more people prone to the surges.
Now we know what storm surges are, how can we protect ourselves from them?
PREVENTIVE MEASURES AND SAFETY TIPS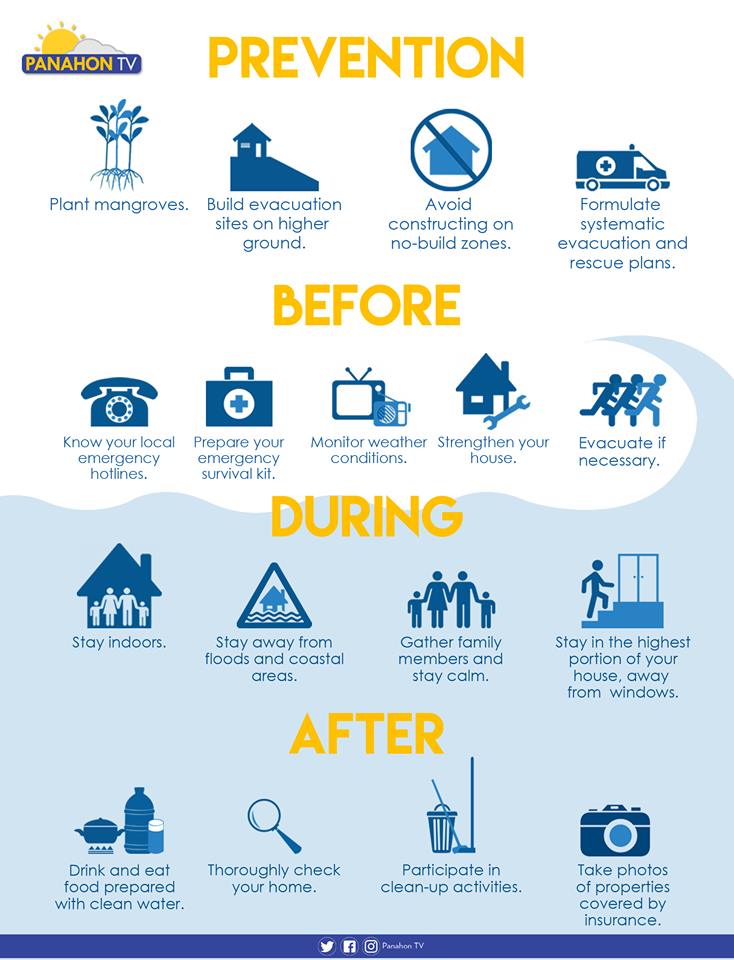 Plant trees. Plant mangroves and coconut trees along the shorelines, which may help shield the community from the waves brought by storm surges.
Avoid constructing on no-build zones. Know where the safe zones are by getting a hazard map from your barangay officers. A 40-kilometer buffer zone from the shore is advised in storm-surge prone areas.
Participate in community drills. Formulate systematic emergency, rehabilitation and relief distribution plans in your community. It is also essential to conduct a quarterly drill involving the children, youth, people with disability and senior citizens.
Plan with your family. Prepare a survival kit and a list of emergency hotlines. Discuss possible evacuation plans with your family and strengthen or fix your house if necessary.
Build evacuation sites on higher ground. Make sure that all evacuation areas are materially safe. Ensure safe routes and build directional signages going to the location.
Monitor weather conditions. Always be updated on news and announcements via radio, television and social media.
Stay Indoors. Stay in the highest portion of the house or building, away from the windows.
Evacuate if advised. Evacuate before the surge transpires, but if some members of the family have not yet arrived, call them or leave a note to inform them of your location. Switch off electricity, the waterline and gas tank. Make sure that all windows, cabinets, doors and gates are closed and locked before leaving.
Stay away from flooded areas and shorelines. Never attempt to pass a swollen river and avoid routes along the sea.
Follow the rules in evacuation sites. Do not litter, vandalize or destroy anything in the area. Observe proper hygiene to avoid illnesses and maintain peace and order in your area.
Here's what else you need to do in the wake of a storm.
Sources: PAGASA-DOST, PROJECT DINA & Project NOAH
In a weather bulletin issued at 11:00 AM today, PAGASA announced that Tropical Depression "Urduja" has further weakened after crossing Palawan. It has made its sixth landfall in Taytay, Palawan earlier this morning. Prior to this, it traversed other portions of Southern Luzon and Visayas. Below is the chronology of landfall activities:
– San Policarpio, Eastern Samar
December 16, 2017 (1:30 PM)
– Mobo, Masbate
December 17, 2017 (10:00 AM)
– Sibuyan Island, Romblon
December 17, 2017 (12:00 PM)
– Malay, Aklan
December 17, 2107 (6:00 PM)
– Cuyo Island, Palawan
December 17, 2017 (11:00 PM)
The center or the Tropical Depression was last spotted at 90 kilometers (km) north-northwest of Puerto Princesa City, Palawan with maximum winds of up to 45 kph and gustiness of up to 60 kph. Moving west at 18 kph, it is expected to exit the Philippine Area of Responsibility (PAR) tomorrow morning or afternoon.
Signal Number 1 remains hoisted in Palawan, where winds of 30 to 60 kph are expected in the next 36 hours. Residents are advised to prepare for rains with gusty winds and are alerted against flash floods and landslides.
Meanwhile, due to the Tail-End of a cold front, CALABARZON (Cavite, Laguna, Batangas, Rizal and Quezon), Bicol Region and the provinces of Aurora, Mindoro, Marinduque and Romblon will experience cloudy skies with scattered rain showers and thunderstorms.
The Northeast Monsoon, locally known as Hanging Amihan, also prevails and will continue to bring cooler weather in Metro Manila and the rest of Luzon. However, along with the cold weather are cloudy skies with scattered rains. Visayas and Mindanao can expect partly cloudy to cloudy skies with isolated rain showers or thunderstorms.
Gale warning is up in the seaboards of Northern and Central Luzon, which include Batanes, Calayan, Babuyan, Cagayan, Ilocos province, Isabela, La Union, Pangasinan, Aurora, Zambales and Bataan. The same warning is in effect in the western and eastern seaboards of Southern Luzon and the eastern seaboard of Visayas. These include Palawan, Occidental Mindoro, western coast of Batangas and of Cavite, the northern and eastern coasts of Camarines provinces, Catanduanes, as well as the eastern coasts of Albay, Sorsogon, Quezon, Polillo Island, Northern Samar and Eastern Samar. Fishing boats and other small seacraft are prohibited from sailing due to rough to very rough sea conditions.
Meanwhile, the Tropical Depression outside the PAR has weakened into a Low Pressure Area (LPA) and was last located at 1,500 km east of Mindanao. PAGASA Weather Forecaster Robert "Obet" Badrina said it may still re-intensify into a cyclone and could still enter the PAR within the week. The weather bureau reminds the public, including disaster risk reduction and management offices, to keep monitoring updates.
Tropical Storm Egay slightly intensified as it moved closer towards Northern Luzon. From a previous strength of 85 kph, it now packs 95 kph maximum sustained winds and gustiness of 120 kph. It slowed down to a speed of 9 kph in a northwest direction due to a high pressure area located southeast of Japan.
More areas are now placed under signal #2. These provinces will experience stormy weather with winds of 61 to 120kph within 24 hours. Meanwhile, expect rains with gusty winds over areas under signal #1:
According to PAGASA Weather Forecaster Aldczar Aurelio, Egay is expected to make landfall tomorrow morning in the northern tip of Cagayan. Its second contact with land will be over the Batanes area by Sunday night or Monday morning. If it maintains its current speed and direction, Egay will exit the Philippine Area of Responsibility (PAR) by Wednesday afternoon.
Egay still has the possibility of intensifying in the following hours but has a slim chance of reaching typhoon category, he added.
Tropical Storm Egay is the first cyclone in the Philippines this July and the fifth this year. It has an international name of Linfa which means a Lotus, the city flower of Macau.
Meanwhile, Tropical Storm Chan Hom is expected to enter PAR by Wednesday or Thursday next week. If it does, it will be named Falcon and will further enhance the southwest monsoon or hanging habagat.
Despite the distance of Egay from the western side of the Philippines, moderate to heavy rains will still be experienced over Metro Manila, CALABARZON, MIMAROPA and Bicol Region due to the enhancement of the southwest monsoon. Light to moderate rains and thunderstorms can be expected over Visayas, Zamboanga Peninsula and the rest of Luzon. The rest of Mindanao will have partly cloudy to cloudy skies with isolated thunderstorms tonight.
In related news, gale warning has been issued over the seaboards of Southern Luzon, Visayas and Northern Mindanao. Fishing boats and small seacraft are advised against venturing out into the sea due to strong to gale force winds and rough to very rough sea conditions.
Good News came early this morning as PAGASA announced that "Dodong" has already exited the Philippine Area of Responsibility (PAR) at 1:00 AM today. At 4:00 AM, it was spotted at 830 kilometers northeast of Basco, Batanes. Compared to previous days, it has weakened with maximum sustained winds of 110 kilometers per hour and gustiness of up to 140 kilometers per hour. Moving northeast, Dodong has accelerated to 45 kilometers per hour towards the southern part of Japan.
Now that Dodong is out of the PAR, easterlies or winds coming from the Pacific Ocean, will prevail, affecting the eastern section of the country. Due to its warm and humid characteristics, this wind system will bring hot weather in most parts of the county.
The whole archipelago is expected to have partly cloudy to cloudy skies with chances of isolated rain showers or thunderstorms mostly in the afternoon or evening. PAGASA has also terminated the gale warning, thus, slight to moderate sea condition will prevail throughout the country.
Meanwhile, another tropical storm is now being monitored outside the PAR. With the international name "Dolphin," it is now classified as a tropical storm. At approximately 3,000 kilometers east of Mindanao, PAGASA Weather Forecaster Alvin Pura said it is still too far to directly affect the Philippines. However, if it maintains its velocity, Dolphin will possibly enter our boundary by the weekend.
Since one typhoon has already entered the PAR during the early part of the month, Pura said that it is normal for another storm to enter the boundary because the average number of tropical cyclones during May is 1 to 2.
Pura added that as of now, there is a slim chance for Dolphin to engage in landfall activity, and it has higher chance of recurvature. All are advised to monitor updates and further development.
PAGASA raised public storm warning signal #1 in Luzon and Visayas today as Typhoon Dodong continues to move closer to the Philippine landmass.
These areas will experience winds of up to 30 to 60 kph in at least a day and a half. Winds this strong may pose light damage to medium to low risk structures, and slight damage to some houses of very light materials or makeshift structures.
State Meteorologist Alvin Pura added that Metro Manila may not be included in the signal warning this weekend unless Dodong's track goes lower than expected.
The typhoon currently packs 150 kph maximum sustained winds near the center and gustiness of up to 185 kph. Pura said though there is a possibility of further intensification in the following hours, Dodong will not reach Super Typhoon status. However, once it hits land, a decrease in wind strength is expected before exiting the Philippine Area of Responsibility. The cyclone also slowed down a bit this morning, still moving west northwest now at 17 kph.
In the current forecast track, Pura states that Dodong is expected to move nearer to Bicol Region within 24 hours. It will also skirt the eastern section of Central Luzon before making landfall over the Isabela-Cagayan area Sunday morning. If it maintains its current speed and direction, the typhoon is expected to exit PAR late Monday or early Tuesday.
As for the weather today, based on PAGASA's latest weather forecast, the areas under Signal #1 will experience rains with gusty winds. On the other hand, a rainy weather condition will also be experienced in Central Visayas, the rest of Eastern Visayas, and over the regions of CARAGA, Davao and Northern Mindanao. The rest of the country including will Metro Manila can expect partly cloudy to cloudy skies with isolated rain showers or thunderstorm in the following hours.
Meanwhile, areas in the northern Luzon area currently experiencing dry spell will benefit from the rains the typhoon will bring. However, once Dodong passes, the area will continue to experience high temperatures.
The Philippine Atmospheric Geophysical and Astronomical Services Administration (PAGASA) is continuously monitoring the low pressure area (LPA) within the Philippine Area of Responsibility (PAR). At 4:00 PM today, it was spotted at 170 kilometers east of Guiuan, Eastern Samar.
According to PAGASA Weather Forecaster Fernando Cada, it has a slim chance of developing into a tropical cyclone. Cada adds that as the LPA moves closer to the landmass of Eastern Visayas, it is expected to dissipate within the next 12 to 24 hours. However, if it does not dissipate, the clouds could disorganize and merge with a frontal system which will bring scattered rain showers and thunderstorms over the eastern section of Southern and Central Luzon.
Aside from the weather disturbance, the northeast monsoon or amihan prevails over the Northern Luzon. The outer cloud bands of the LPA and the winds associated with amihan are expected to dump rains over some parts of the country.
Eastern Visayas will experience cloudy skies with moderate to occasionally heavy rain showers and thunderstorms. Residents are alerted against possible flash floods or landslides. The rest of Visayas, Bicol Region and the provinces of Quezon, Marinduque and Romblon will have cloudy skies with light to moderate rain showers and thunderstorms.
Cagayan Valley, Cordillera and Ilocos region will be cloudy with chances of light rains. Metro Manila and the rest of the country will be partly cloudy to cloudy with isolated rain showers or thunderstorms mostly in the afternoon or evening.
Meanwhile, another cloud cluster is now being monitored outside the PAR. Located east of Southern Mindanao, this cloud cluster could be a potential LPA in the next few days. However, it is still too far to affect the country and is still under observation.
"Pineapple Express" hits California
California has been battling with a major storm dubbed as the "Pineapple Express" for a couple of days now. The National Oceanic and Atmospheric Administration (NOAA), together with the National Aeronautics and Space Administration (NASA) explained that this phenomenon happens when warm air and enormous amount of moisture are transported from the Central Pacific to the Eastern Pacific Ocean. Pineapple Express is composed of stream of clouds and moisture that could result to intense rain storms just like what is now experienced in California.
The storm system has brought violent rainfall causing flood and mudslides. Strong winds and tornadoes also smashed trees and damaged homes. The inclement weather caused flight cancellations and power outages that left many people in the dark. Police and rescue teams are continuously providing help and assistance to those who are affected.
Source: PAGASA-DOST, NASA, NOAA