Why Angat Dam Needs Close Monitoring
For the past weeks, the water level in Angat Dam, which supplies 97% of Metro Manila's water needs, has been slowly but continuously decreasing. According to the Climate Outlook Forum of the Philippine Atmospheric, Geophysical and Astronomical Services Administration (PAGASA) last September 23, the dam's level was at 177.3 meters, 32.67 meters less than its normal water level of 210 meters.
But according to Rosalie Pagulayan of the Hydro-Meteorological Division of PAGASA, historical data in the past 14 years shows that Angat Dam's water level typically dips during this time.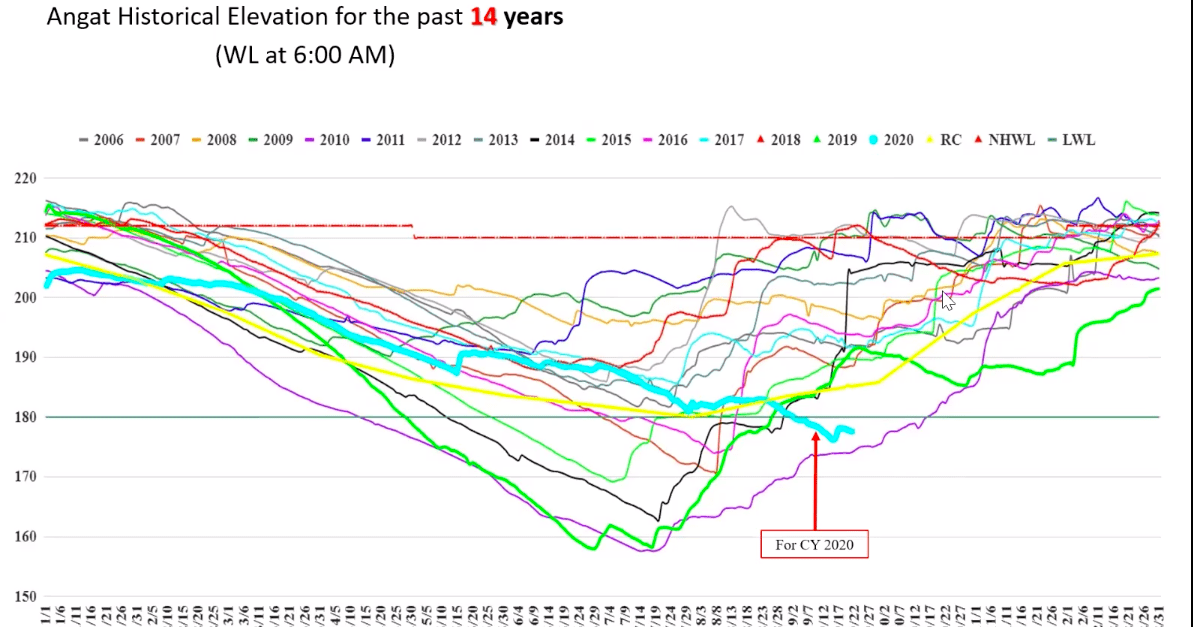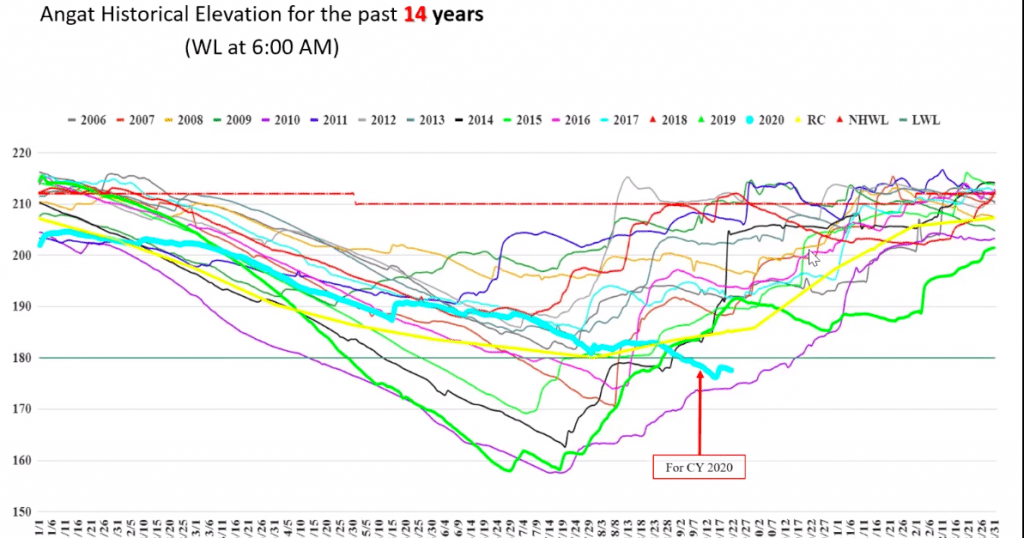 Angat Dam's current downward trend in light blue (graph from PAGASA)
"Its level continues to decrease, but we expect it to increase during the Northeast Monsoon. Even with no typhoons, we can expect Angat Dam to recover in the last quarter of the year," says Pagulayan. This is based on the forecast rainfall of PAGASA's Climatology and Agrometeorology Division, which shows an expected 386 millimeters in October, 294 millimeters in November and 129.5 millimeters in December.
Forecast Rainfall for the remainder of 2020
| | |
| --- | --- |
| October | 386 millimeters |
| November | 295 millimeters |
| December | 129.5 millimeters |
Metro Manila's Main Water Source
The Angat Reservoir and Dam is located in the Angat Watershed Forest Reserve in Norzagaray, Bulacan. According to Manila Water, the dam supplies the water requirements of Metro Manila, and irrigates about 31,000 hectares of farmlands in Pampanga and Bulacan. It also generates hydroelectric power for the Luzon Grid, and holds water to reduce flooding in downstream towns and villages.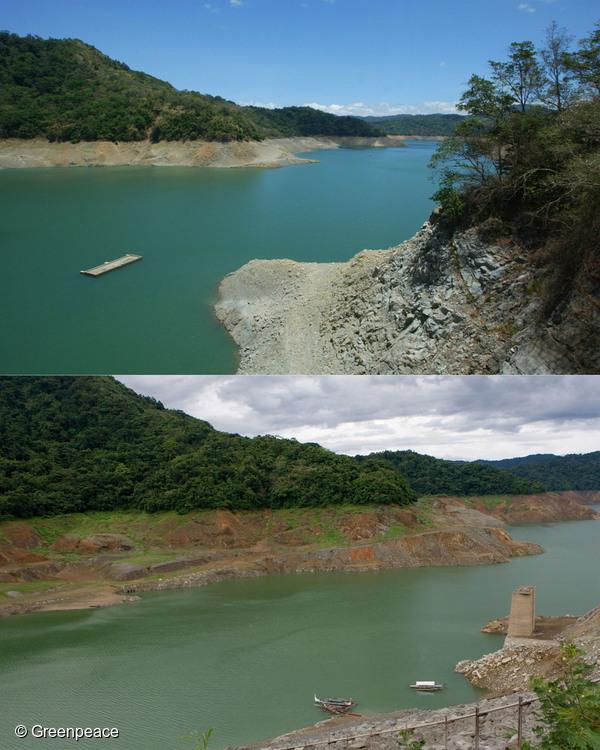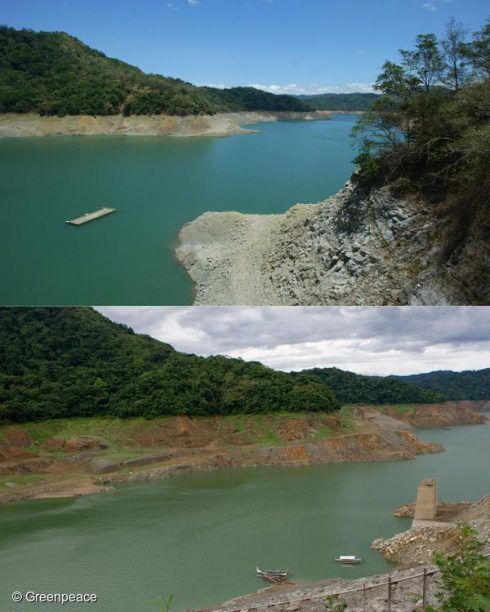 Top photo of Angat Dam taken last April 13, 2010 when water levels hit the critical 180 meters above sea level. Photo at the bottom with the structure completely exposed, was taken last July 16, 201, when levels reached a historical low of 157.55 meters. (Top photo by Joseph Agcaoili /Greenpeace. Bottom photo by Gigie Cruz-Sy /Greenpeace)
The dam usually stores enough water for Metro Manila's 30-day supply. But El Niño, which refers to the unusual warming the oceans giving way to higher temperatures, can affect dam levels. On July 18, 2010, Angat Dam decreased to its all-time lowest level of 157.55 meters, the difference from its normal level roughly equivalent to the height of an 18-storey building. Because of El Niño, rain was below-normal, drying up the rivers that led to Angat Dam. Irrigation in Bulacan and Pampanga was cut to give way to the water needs of Metro Manila, which still experienced service interruptions. The government distributed relief goods among farmers and their families because they were unable to harvest.
Last year's El Niño brought the Angat Dam down to 159.43 meters, just 2 meters more than its lowest record in 2010, prompting the National Water Resources Board to further reduce the allocation for Manila Water and Maynilad Water Services. Over 6 million residents of Metro Manila, Rizal and Cavite experienced daily rotational water interruptions from six hours to as much as 21 hours. Because of this, hospital operations and businesses were affected with some restaurants, carwashes and laundry shops closing temporarily.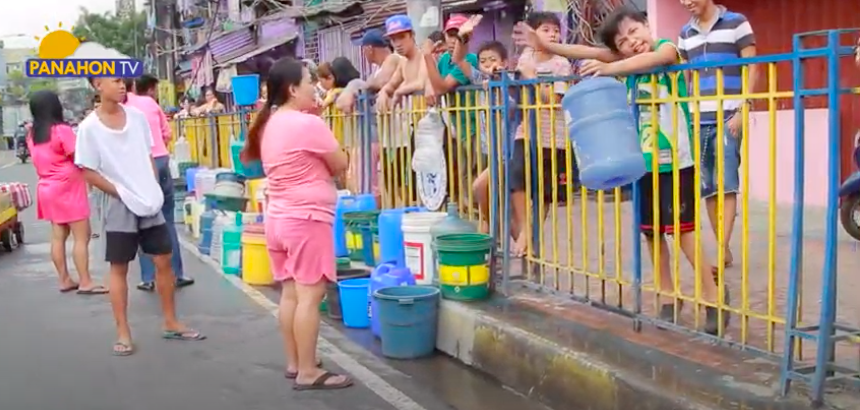 Residents waiting by the roadside for fire engines to fill up their water containers in 2019
Why We and our Dams are in Danger
According to the World Population Review, Manila is now the most densely-populated city in the world with over 42,000 residents per square meter. Data from the Philippine Statistical Authority shows that over 21.3 million people live Metro Manila.
Overpopulation created a spike in water demand, especially during the sweltering El Niño season of 2019, one of the reasons a Manila Water representative pointed out as the cause of reduced water levels in dams. But the water crisis is a global one, which the Union of Concerned Scientists in the U.S. also attributes to climate change. Global warming alters the water cycle, affecting the "amount, distribution, timing and quality of available water." While a warmer climate speeds up the evaporation of water on land and in oceans, it also holds more water that can be released through devastating typhoons, causing massive floods.
The Philippines' water crisis also extends to limited access to water and sanitation outside the metropolis. The World Health Organization states that out of the 105 million living in the Philippines, around 7 million depend on water sources that are unsafe and unsustainable. In fact, one of the country's leading causes of death in 2016 was acute diarrhea, causing over 139,000 fatalities.
An unreliable water supply severely affects public health, pushing people to look for other drinking water sources that may be unsafe. Basic hygiene—a must during this pandemic—is also compromised as one needs to thoroughly wash themselves, their clothes and their food to prevent infections from COVID-19 and other illnesses. When water pressure in pipes are low because of scarce supply, elements can contaminate the water once the pressure is restored.
Before Manila Water implemented rotational service interruptions in October last year, Metro Manila residents went on panic mode and stored water ahead of time. The move lowered water pressure, limiting its flow and distribution toward high places. WHO also cautions against the improper storing of water as this can allow mosquitoes to breed, possibly increasing the risk of diseases such as dengue fever.
Solving the Water Crisis
While individuals are responsible for their own health and safety by making sure their drinking water is safe and free from contamination, WHO states that the government also needs to provide long-term solutions. Groundwater and surface water from rivers and lakes will not last long when exacerbated by climate change and a growing population.

"Strategies such as the application of improved rainwater collection systems and state-of the-art desalination technologies coupled with renewable energies can be used in the Philippines," says Environmental health technical officer in WHO Philippines Engineer Bonifacio Magtibay on the WHO website. "By adopting innovative and long-term solutions, the Philippines can ensure water for all that will protect the peoples' health and help drive sustainable development forward."
Pagulayan also reiterates that though PAGASA expects Angat Dam to recover, residents must not be complacent. "We have always called for the responsible use of water. This is a very important commodity because we use it for almost all our activities. Even if we're not experiencing El Niño or other weather systems, we should always be looking at how we can maximize our resources. Let's not waste water."
For more tips on conserving water, watch this.
For more details on the Angat Dam, watch Panahon TV's report.