Watchers of the Atmosphere: Getting to Know Our Weather Forecasters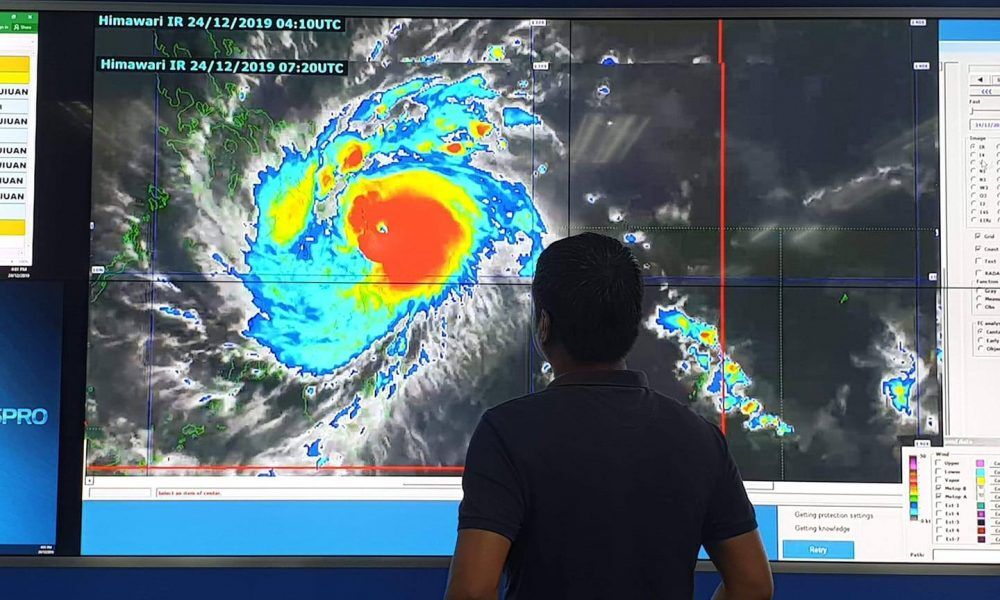 Within a month, from October 11 to November 12, a total of 8 tropical cyclones entered the Philippine Area of Responsibility—something that had kept weather forecasters from the Philippine Atmospheric, Geophysical, and Astronomical Services Administration (PAGASA) constantly on their toes. As an attached agency of the Department of Science and Technology (DOST), PAGASA is mandated to "provide protection against natural calamities. and utilize scientific knowledge as an effective instrument to ensure the safety, well-being and economic security of all the people, and for the promotion of national progress."
Though the PAGASA team comes up with the weather forecasts and tropical cyclone warnings, viewers often see this information relayed by the TV networks' reporters. This time, Panahon TV trains the spotlight on some of the Watchers of the Atmosphere themselves—the weather specialists that tirelessly work behind the scenes to constantly monitor all weather disturbances that pose a threat to our country.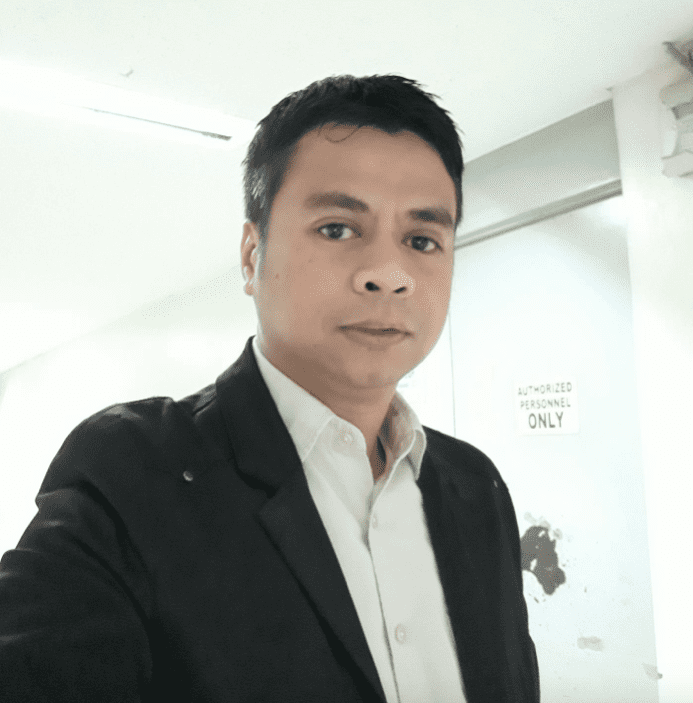 Name: Chris Perez
Positions: Senior Weather Specialist
Immediate Supervisor, Weather Forecasting and Marine Meteorology Services Sections
Master's Degree in Climate Change at the Australian National University in Canberra
Workshops Attended: The International Workshop for Weather Presenters in Vietnam (2015), Information and Communications Technology for Meteorological Services in Korea (2006)
How did you end up as a PAGASA weather forecaster?
After passing the Electronics and Communications Engineering Board Examinations in 2000, I worked in the private sector for 2 years. I then worked at PAGASA as a weather facilities technician, calibrating weather instruments. Then I applied for the one-year Meteorologist Training Course, which I passed. I was assigned to the Weather Forecasting Section in 2005.
What are your current duties?
Currently, I am tasked to oversee the day-to-day operations of the Weather Forecasting and Marine Meteorology Services Sections, particularly the formulation and dissemination of forecast products. Occasionally, I act as the agency's spokesperson during inclement weather conditions.
What is your most memorable typhoon?
Super Typhoon Yolanda in 2013 because it exposed the weaknesses in our country's disaster preparedness. It was the first time PAGASA issued a forecast while a cyclone was still outside the Philippine Area of Responsibility (PAR). I was part of the team that attended and updated the National Disaster Risk Reduction and Management Council (NDRRMC) prior to Yolanda's entry to PAR.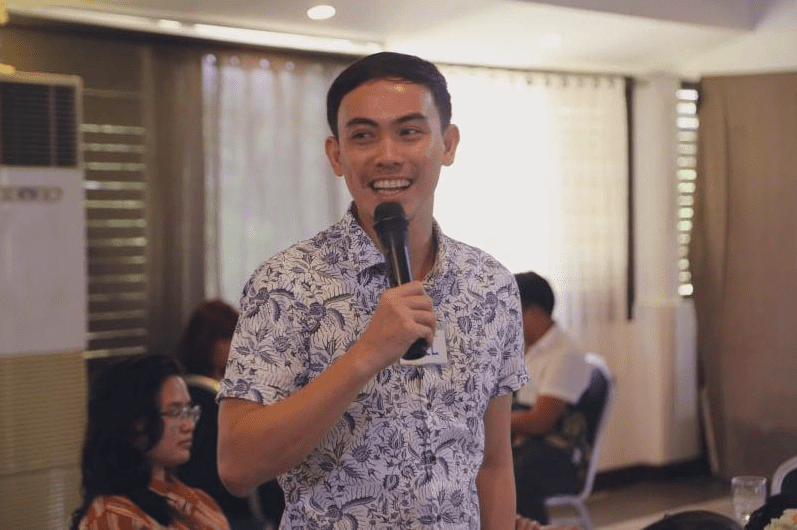 Name: Ariel Rojas
Position: Weather Specialist
Master's Degree in Meteorology at the University of the Philippines
Workshop Attended: Reinforcement of Meteorological Services in Japan (2019)
How did you end up as a PAGASA weather forecaster?
I was born and raised in Bicol where it always rains and tropical cyclones always visit. However, in college, I took up BS Food Technology. When I graduated in 2013, there was a brain drain of weather forecasters, so I applied for graduate school to study Meteorology under a PAGASA scholarship. When UP [University of the Philippines] shifted its academic calendar in 2014, I applied for a voluntary internship in forecasting, where I gained a lot of knowledge. I graduated in June 2017 and started working as a forecaster by November.
What are your current duties?
My main duties include analyzing weather data, maps, and models to formulate weather forecasts, and presenting the forecast product to the public through PAGASA's online platforms and interviews with media outlets. I also conduct lectures on weather forecasting or other weather-related topics to media practitioners and students.
What is your most memorable typhoon?
I have several. The back-to-back strike of Urduja and Vinta in December 2017 because I'd been working in PAGASA for barely a month then. I cried over the number of deaths from the landslide and mudflow, especially during the passage of Vinta several days before Christmas.
Ambo this 2020 was also very memorable because it was the first typhoon during the pandemic. The forecasters and observers on duty were all holed up in the office to minimize the virus exposure. I was on duty for 9 straight days.
Rolly is also one for the books as it is the first super typhoon I've monitored since my employment in PAGASA. It started as a very small typhoon, the smallest I've seen on this side of the world. Tracking Rolly was very tricky as its forecast track kept changing due to the high pressure area which weather models weren't able to properly project. Then it erupted into this year's strongest cyclone and made landfall in my hometown Bato, Catanduanes, where my father was. It was very personal for me. I was trying to keep myself together while doing weather reports and updates left and right, but deep inside I was worried to death about my father's situation. We sent him back to the province prior to the lockdown to keep him safe from COVID-19. Our town reported zero casualties and two days after the landfall, a cousin of mine shared a video of my father telling us that he's okay.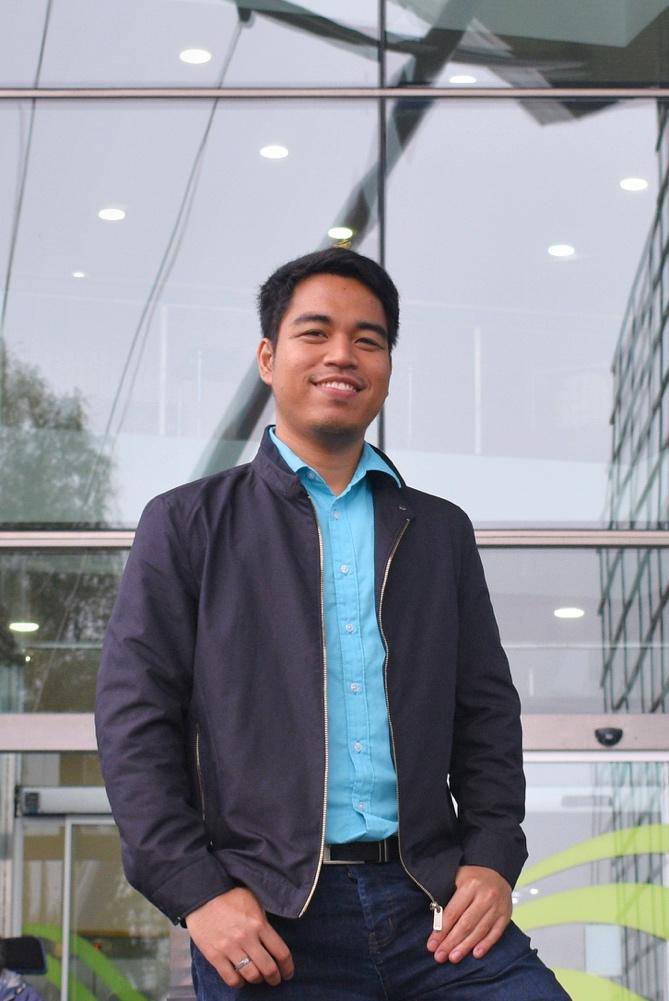 Name: Benison Estareja
Position: Weather Specialist
Master's Degree in Applied Meteorology and Climate with Management at the University of Reading (United Kingdom)
How did you end up as a PAGASA weather forecaster?
After graduating from the Southern Luzon State University with a degree in Electronics Engineering, I taught in the same school for two years. I was required to take my master's but at that time, I wasn't ready to fully commit to teaching. I heard about the Meteorologist Training Course from PAGASA, so I applied. When I got in, I quit my teaching job. The training lasted for eleven months. During that time, I realized that I've always been interested in forecasting. I remembered that when I was a kid, I'd see Ernie Baron on television. I told my mom that I wanted to be like him.
What are your current duties?
As one of the weather forecasters, I make PAGASA's products such as the 5-day Weather Forecast, Asian Forecast, and the Tourist Destination Forecast. We write them and disseminate to PAGASA's regional divisions and through social media. We also act as weather reporters on our YouTube and Facebook accounts every 5 a.m. and 5 p.m.
What is your most memorable typhoon?
Tropical Storm Mario in 2014 is memorable because it happened during my first week in PAGASA. Back then, I was living in Marikina and I couldn't go to work because of the floods. It was ironic because the very thing I was supposed to work on was the same reason I couldn't work. I called my supervisor, who, thankfully, understood why I couldn't go to the office.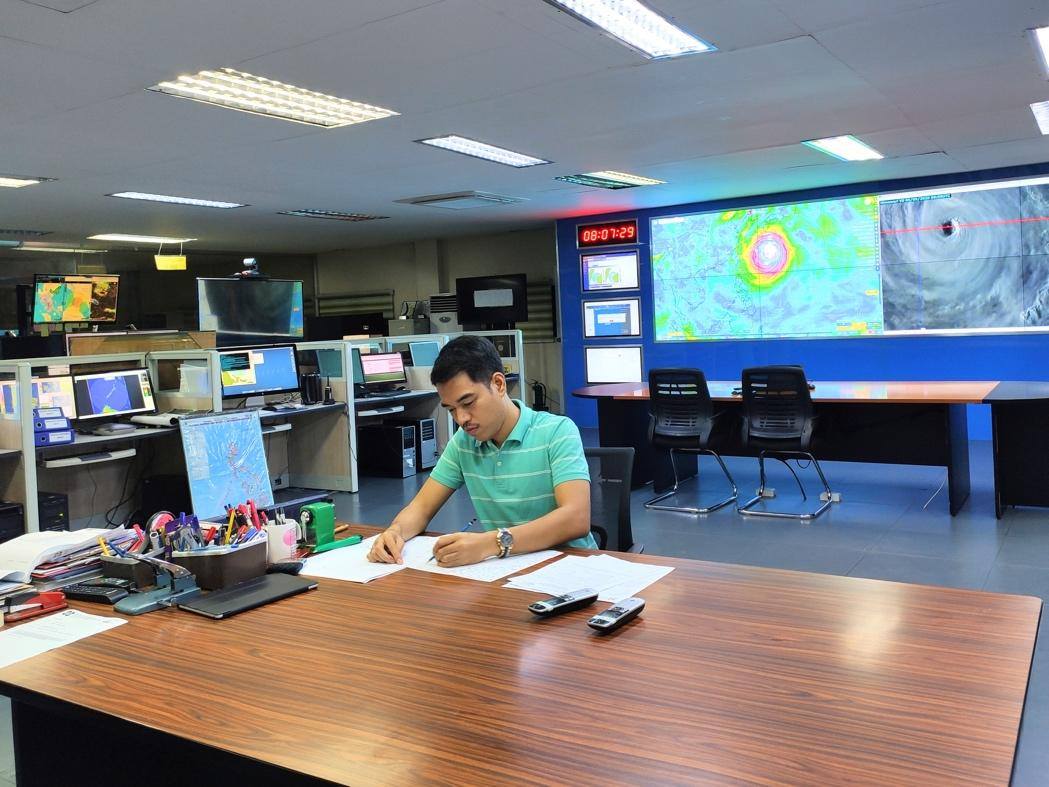 Estareja at work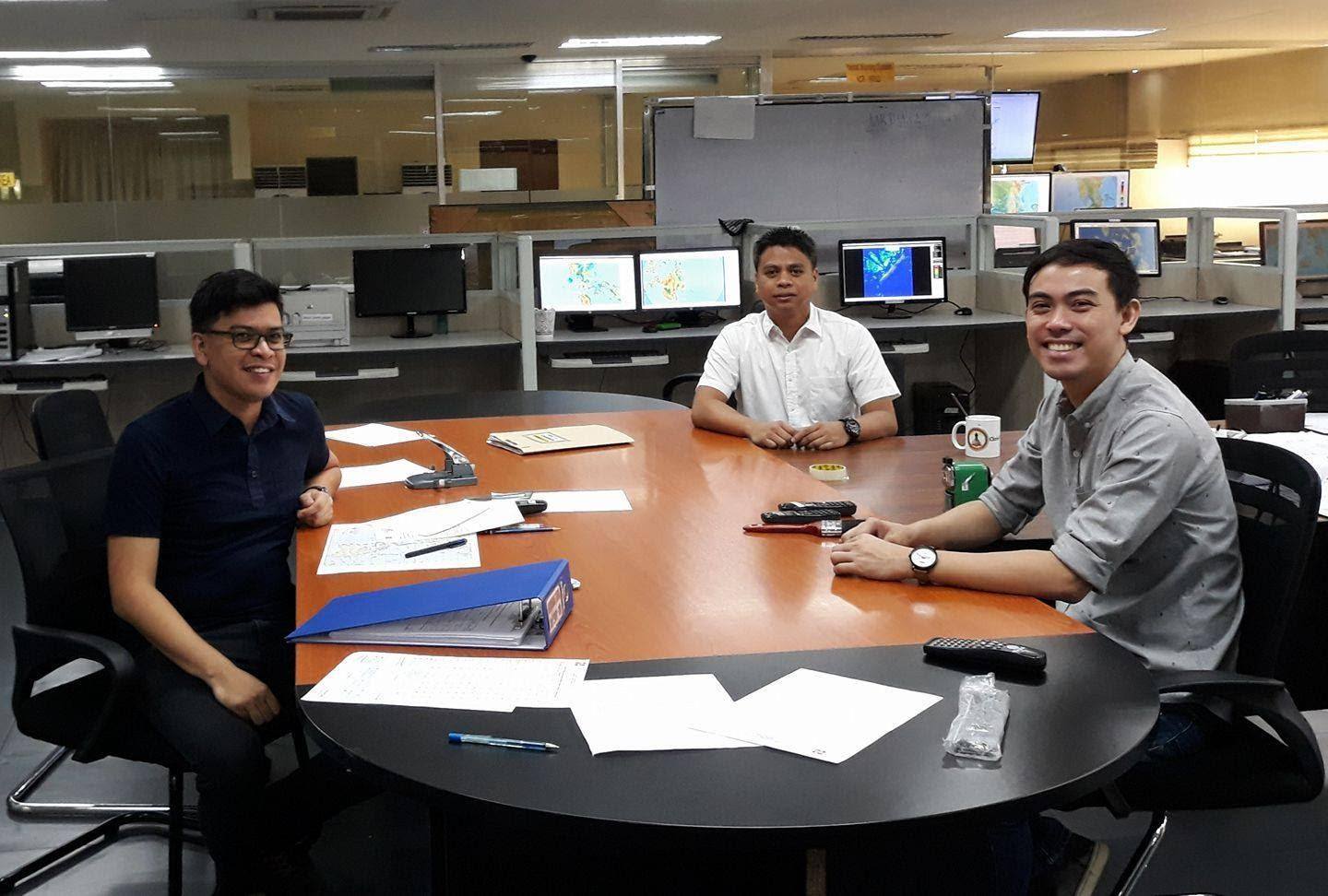 Rojas on his first day of work with other forecasters (2017)
Challenges of Weather Forecasting
The weather forecasts Filipinos see on TV or hear over the radio may be concise and clear, but these are products of a tedious process built on data-gathering and sound decision-making. Rojas explains, "Weather presenting is only the tip of the iceberg. Forecasters analyze weather data, maps, and models to come up with the final forecast and all of these take time. Tropical cyclone events require more time and harder analyses."
Estareja stresses that weather forecasting doesn't only involve weather forecasters. "We get observations on different components such as temperature, rainfall, and wind from PAGASA stations scattered throughout the country. We also rely on radar observations. Satellite images from Japan and the U.S. are also very important." To come up with the best possible forecast model, forecasters also gather data from the Japan Meteorological Agency, the Global Forecast System (GFS) from the United States' National Weather Service, and the European Centre for Medium-Range Weather Forecast (ECMWF). "All these are bases for a weather forecast," explains Estareja. "We see how consistent a piece of information is across all the models. From there, we decide on our output."
Sometimes, forecasters are required to appear on television—a challenge that, Estareja admits, can be quite daunting. "Most of us are graduates of science-related courses with no background on communication. We had to learn those skills on the job." To support such skills, Ube Media, Inc., which produces Panahon TV, held workshops for the forecasters. "We were taught the proper way of being a TV weather presenter—
from good grooming to being mentally and physically prepared. We even learned voice modulation to give emphasis on the certain points of a report," says Perez. Estareja shares he has gained confidence from the workshops. "I learned how to move in front of the camera, the proper use of hand gestures, and how to emphasize words and emotions."
To help PAGASA's weather forecasts reach the younger set, Estareja has utilized social media with his Weather Wanderer persona. Combining his passions for travel and the weather, Estareja breaks down and simplifies weather forecasts—a move that has earned his Facebook page more than 8,000 followers to date.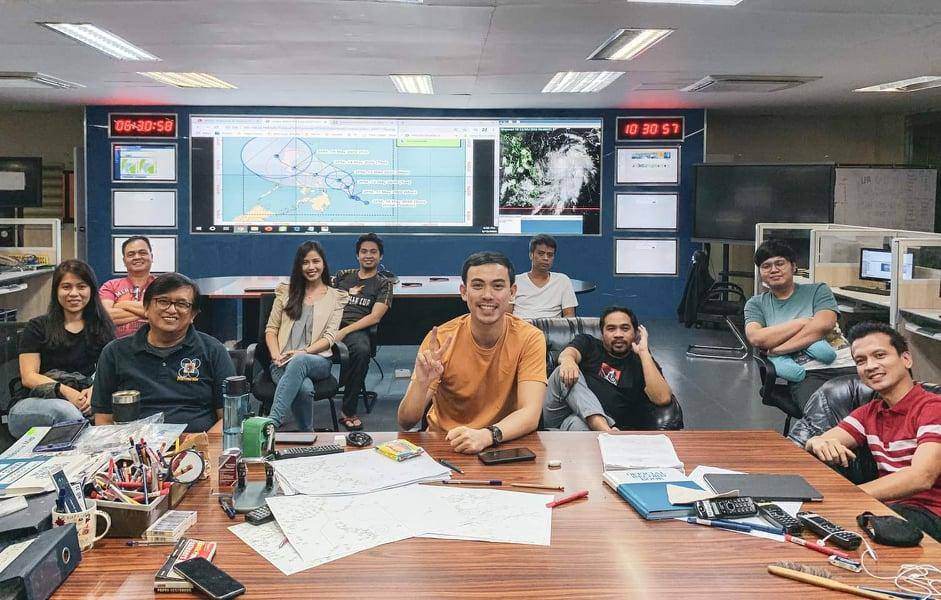 PAGASA's team of weather forecasters during the country's first typhoon (Ambo) of the year
Fulfillment from Forecasting
As the most tropical cyclone-visited country in the world, our weather forecasters have their work cut out for them. "We are in the business of saving lives—in the magnitude of thousands and millions all at once during the passing of tropical cyclones," says Rojas. "It is a very tricky profession given the chaotic nature of weather (which we try so hard to predict) and the physical toll the work inflicts. But it's a vocation. The fulfillment comes from knowing that thousands of lives are saved." He says he is comforted when the public understands the magnitude of harm coming their way and is able to prepare for it. "I still have a long way to go but I try my best every single time. It's not easy but then again, saving lives has never been easy."
Perez echoes this sentiment. "When during and after a storm, there are no reports of inclement weather-related casualties, when the areas affected are able to recover quickly, when amidst the current pandemic, we still give reliable and timely weather and climate information that can further aid our frontliners in the delivery of the medical products and services for our countrymen—these are just some of the things that give us a sense of fulfillment."
Estareja, a former teacher, also finds fulfillment in molding the youth. "A lot of them message me, telling me they also want to be PAGASA weather forecasters. It's heartening to know that they are our future. I encourage them to finish a science-related course and continue improving their craft. Then they can fulfill their goal of working in PAGASA."
But weather forecasters also have their goals for PAGASA. "I want PAGASA to be the best source of weather information for the Filipinos. I want it to be at par with the other weather agencies in the region. The agency has some of the most dedicated and most competent people in civil service and they need all the support and resources they can get to help the Philippines and the Filipino people weather hydrometeorological hazards," says Rojas.
Estareja talks about the proliferation of weather forecasts on social media. "On Facebook, you see a screenshot of a satellite image and whoever uploaded it gives his or her own forecast. Other people research on the internet, and give their own forecasts." This, he says, diverts public attention from PAGASA's official forecasts. "A wrong interpretation of data can be a matter of life and death. Relying on bloggers or forecaster wannabes can be dangerous. At the end of the day, we want people to look at our forecasts and treat them as if their lives depended on it."
For Perez, such goals are reachable with PAGASA's continuous commitment to the Filipino people. "The agency will always be monitoring weather and climate-related events for them at all times, and it will continue to provide timely and reliable weather and climate information they can use for disaster preparedness, mitigation, resiliency and the further advancement of the country's economy."