What You Should Plant During the Hot and Dry Season
More and more Filipinos are going hungry. This is according to the Rapid Nutrition Assessment Survey conducted by the Food and Nutrition Research Institute (FNRI) late last year. After surveying almost 6,000 households all over the country, FNRI reported that 62.1% of families experienced moderate to severe food insecurity.
When does a household qualify as being "food insecure"? The FNRI gives the following criteria:
Worrying about food

Inability to eat preferred foods

Only able to eat a few kinds of foods

Eating foods they do not desire

Eating smaller portions

Eating fewer meals daily

Absence of food in the household

Going to sleep hungry

Going through a whole day without sustenance
The COVID-19 pandemic seems to be the cause of this hunger spike. FNRI states that more than half of surveyed households reported having less access to food during community quarantine because of: 1) lack of money, 2) limited public transportation, 3) job loss, 4) limited food stores in their area, and 5) being an elderly with no family members to help them buy food.
But food security may be achieved through one's own efforts. Last year, FNRI posted a call for Filipinos to grow their own food during the pandemic. This way, households are assured of food supply despite limited mobility. This is especially true in urban areas, which are "less likely to consume fresh produce, which are good sources of vitamins and minerals that boost immunity.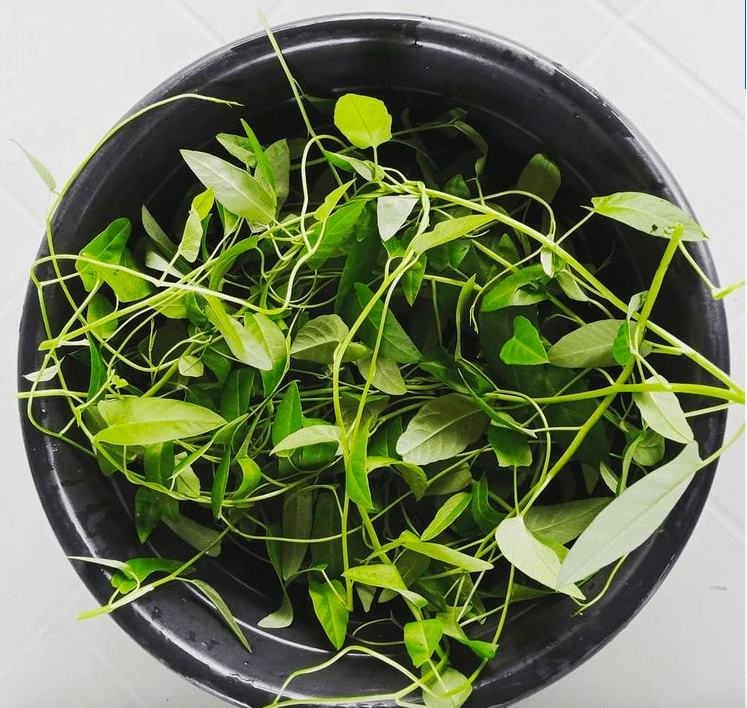 Kangkong harvest (photo by Chie Roman)
Being a Farmer in Your Own Backyard
The terms "plantito" and "plantita" became popular during the lockdown as Filipinos turned to gardening to care for their mental health. The challenge now is to shift the focus from greens that beautify the home to edible plants.
According to PAGASA, the hot and dry season this 2021 would be shorter than the previous years'. This may be considered good news because in a Panahon TV interview, Agriculturist Lito Bollosa from the Bureau of Plant Industry said that both the onset and end of the rainy season is the most ideal time to plant.
However, one can still start planting during the hot and dry season. "When it comes to vegetables, we can plant the ingredients of the pakbet. These are indigenous crops that can survive adverse conditions and the constant changes in weather," Bollosa explained in Filipino.
Bollosa states that crops which require minimal supervision and water include:
talong

kamatis

sili

gabi

ube

kamote

kamoteng kahoy

mani

munggo

soybeans
Aside from being low maintenance, these crops are also easy to plant. "With indigenous vegetables like alugbati, kangkong, and kamote, you only need to stick the cuttings into the soil. With just a little water, they can already survive," said Bollosa. He added that other crops that are able to survive intense heat include mung beans, corn—and dragon fruit, which belongs to the cactus family and therefore doesn't require a lot of water.
Meanwhile, fruits that take center stage this hot season are watermelon and mangoes. "We see an increased production of fruits and vegetables now because of the sun's constant presence. These crops need sunlight to produce their own food. The excess nutrients end up as fruits."
However, extreme weather conditions may also cause plants to flourish. This is because of their need for survival, causing them to release more antioxidants and other protective chemicals. "Prolonged heat or rains can cause plant stress," shared Bollosa. "For example, when the calamansi experiences excess heat or rains, it tends to produce more flowers and fruits." This technique is used in farming to boost fruit production. Bollosa elaborated, "Fruits like rambutan, lanzones, and avocado flower during the hot season. After the 'ber' months, they are subjected to heat to induce flowering."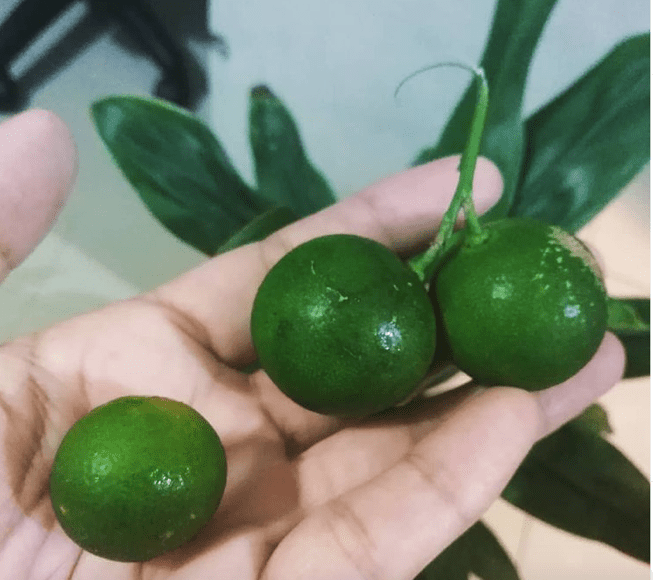 According to Bollosa, calamani produces more fruit when stressed. (photo by Chie Roman)
Planting Tips
Before planting your own food, Bollosa suggests these tips:
Plant in the right soil.

"Start with a soil mixture," advised Bollosa. "You can mix

carbonized rice hull

or charcoal to boost its carbon content. This allows your soil to absorb more moisture."
Use a planting pit.

A planting pit is filled with organic materials such as dried leaves, grain stalks and other vegetative material that enriches the soil. The pit is dug close to crops to increase soil fertility and moisture retention.
DIY the process.

In urban areas wherein planting is confined to small spaces, Bollosa suggests using downscaled agricultural practices. Examples are covering pots with newspaper or cardboard to prevent water evaporation; and punching holes in plastic bottles so they can irrigate crops without drowning the soil.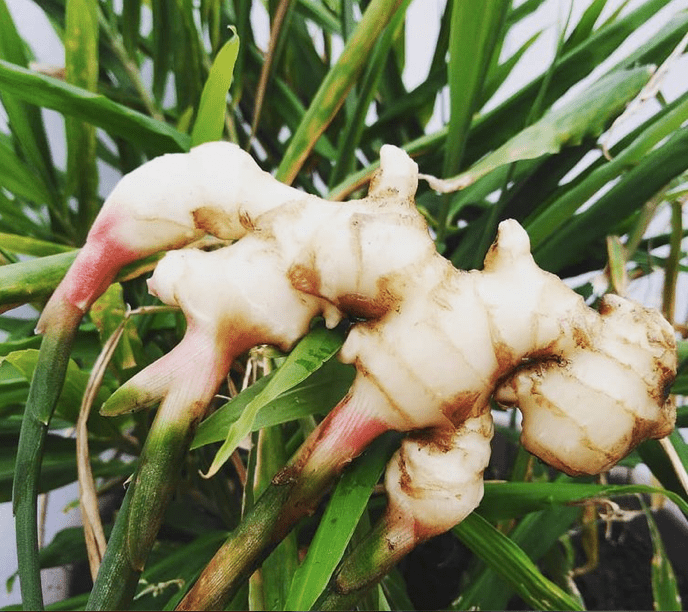 Growing young ginger (photo by Chie Sales)
Following the Planting Calendar
To be able to successfully grow food, Bollosa stressed the importance of following the planting calendar. Certain plants grow their best in specific months of the year. The Department of Agriculture released a comprehensive planting calendar, which Panahon TV condensed below:
All Seasons
End of Rainy season

to Cool and Dry Season

ampalaya

upo

Bataw

broccoli

kangkong

Chinese cabbage

lettuce

labanos

mustasa

patani

okra

muskmelon

pechay

potato

sitaw

squash
By following nature's rhythm, you can reap the benefits of growing your food. Aside from getting the nutrients your immune system needs, you are ensured of your food's safety and quality. Planting can also help you save money, protect the environment, and boost your household's food security. You can enjoy all these rewards, while taking part in one of the greatest miracles—nurturing another life besides your own.
Watch Panahon TV's interview with Lito Bollosa here.