Meet the Sports Psychologist Who Helped Hidilyn Diaz Win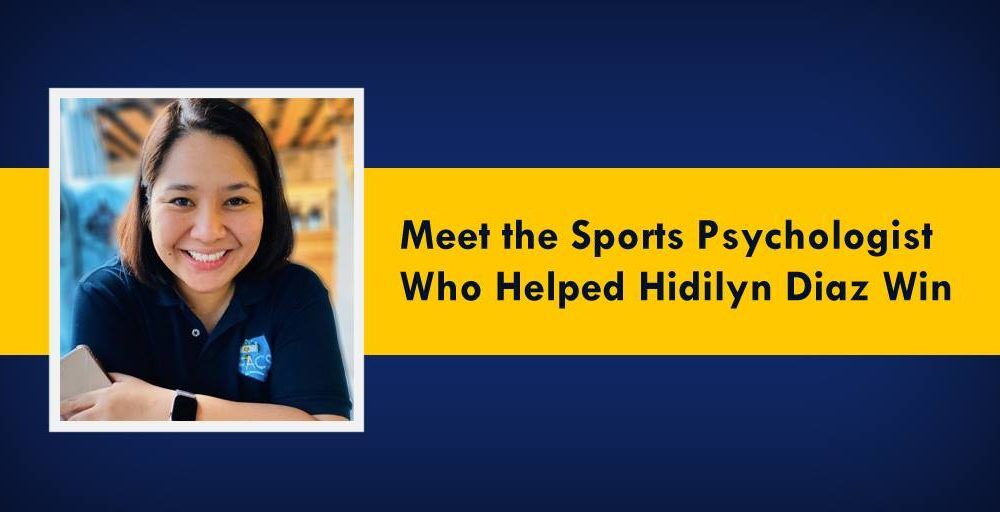 During the 1988 Seoul Olympics, the Philippines won its first Olympic medal through bowling. But the achievement was not included in the medal tally because bowling was considered a demonstration sport. Nevertheless, the whole country celebrated the win of Arianne Cerdeña, who was quoted on television saying, "It's the only sport wherein we Filipinos could win medals."
Thirty-three years later at the recently-concluded Tokyo Olympics, another Filipina athlete made history—this time, not in the bowling category. When Hidilyn Diaz triumphantly lifted 127 kilograms in the clean and jerk category, she succeeded in two things: breaking an Olympic record, and most important of all, snagging the country's first official Olympic gold medal.
But what made this victory happen? Hidilyn, who wore the Miraculous Medal of the Blessed Mother around her neck throughout the competition, has always been quick to acknowledge not only divine guidance but also the support of Team HD (Team Hidilyn Diaz). The team is composed of Head Coach Gao Kaiwen, Strength and Conditioning Coach Julius Naranjo, Sports Nutritionist Jeaneth Aro, and Sports Psychologist Karen Katrina Trinidad.
To learn the important role of mental training in Hidilyn's win, Panahon TV interviewed Dr. Trinidad, who is also a consultant in the Sports Psychology Unit of the Philippine Sports Commission.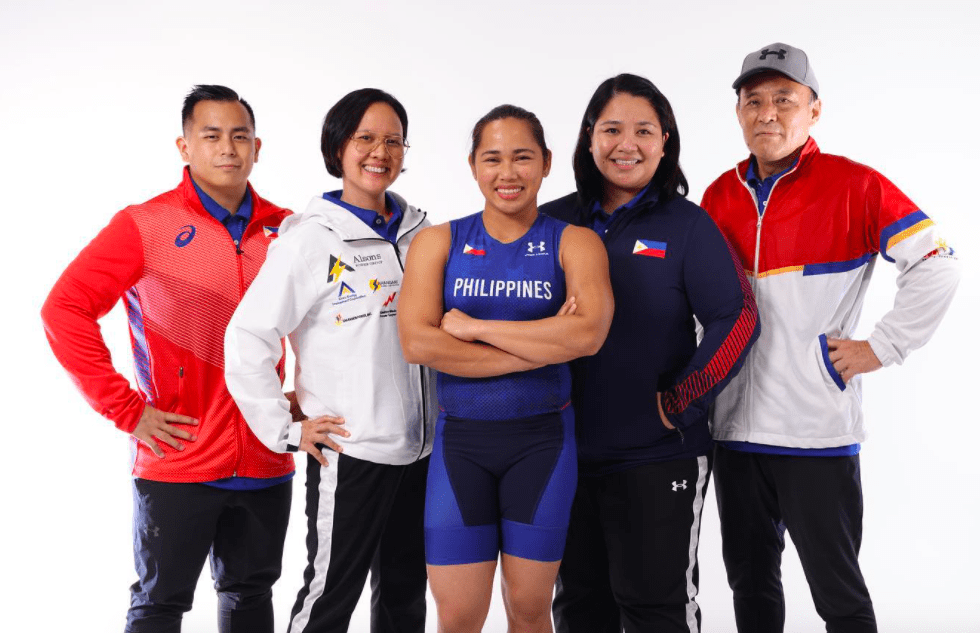 Team HD (from L-R: Naranjo, Aro, Diaz, Trinidad, Gao Kaiwen)
Photo from Hidilyn Diaz's Facebook Page
Sports Psychology 101
With today's increased awareness on mental illnesses such as depression, anxiety and schizophrenia, clinical psychologists are the often-mentioned profession in the psychology sector. But Dr. Trinidad explained the need for sports psychologists. "Athletes are also people. They have to care for their mental health. They are prone to anxiety especially when they compete. So, they should prepare not only their bodies but also the psychological aspect."
Like physical skills, mental skills take time to develop. This is why Dr. Trinidad encourages athletes to consult with a sports psychologist before a competition.
Even before the 2016 Rio Olympics, Hidilyn had been availing of the PSC's psychological services. But at the time, the powerlifting athlete's sessions weren't as regular. "She would just go visit the unit or office every once and a while. But after she got the silver medal in Rio, she went back to the office. She asked me, 'Doc, mag-Olympics pa kaya ako?' So I countered, 'Do you think kaya mo pa ba?' Because when we talk about the Olympics, we're talking about four years of preparation."
According to Dr. Trinidad, Hidilyn initially confided that she couldn't imagine herself training every day for four years. The sports psychologist then advised Hidilyn to do something else besides training. Upon learning that Hidilyn wanted to finish college, Dr. Trinidad helped her look for a school.
The then silver medalist took up business management at De La Salle-College of Saint Benilde in 2017. However, she had to pause her studies to focus on her Olympic training. Still, Dr. Trinidad said that studying made a positive impact on Hidilyn. "Because she was studying, those four years flew by. She was also happy because she was able to socialize outside the sport. Studying developed her cognitive thinking and time management skills."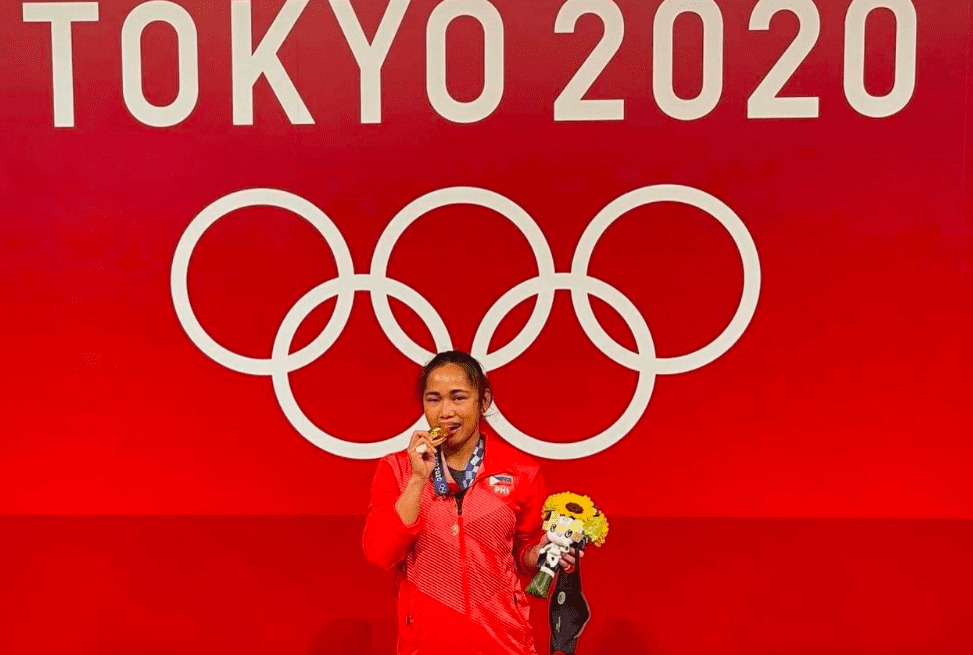 Hidilyn biting her gold medal (photo from Hidilyn Diaz's Facebook Page)
Hidilyn's Psychological Training
Team HD was formed sometime in 2018. But before that, Hidilyn had already been training under the experts. Team HD was formally formed prior to the 2018 Asian Games in Indonesia. In that competition, Hidilyn took home her first gold. Ever since, Team HD has accompanied the weightlifting champ in all her games.
To facilitate Hidilyn's mental health, Dr. Trinidad advised her the following:
"Remember your why."

Because of the pandemic, the Tokyo Olympics was either going to be postponed or canceled. This uncertainty wreaked havoc on Hidilyn's well-being. "Her anxiety level was high at the time, so we had to regulate it," Dr. Trinidad said. "She had to always go back to 'why'. Why is she doing this?" Reminding herself of her original motivation pushed Hidilyn to continue training.
Improve confidence level.

"You gain confidence through training, experience and feedback," Dr. Trinidad stated. Days before the Olympic finals, Dr. Trinidad reminded Hidilyn of her long experience in the sport. Hidilyn, who began weightlifting at 11 years old, is now 30 years old. "I told her that she's already an expert in the field, so she should be confident. Lifting the barbell is something she can do automatically."

Because Hidilyn was the oldest among the weightlifting participants, people were questioning if she would succeed. Dr. Trinidad waved away this doubt. "No one can limit you. As long as you like what you're doing, you can be successful."
Engage in self-talk.

To drive home the weightlifting technique of "one motion, chest out", during the finals, Hidilyn was often seen mouthing the phrase like a mantra. "It's a way to remind herself of what she should do. In weightlifting, one moment or one second of doubt can already interfere with your performance. So, we really thought of the best self-talk that would be effective for her," shared Dr. Trinidad.
Do mental imagery.

Before Hidilyn competed, her coaches would make her go up the podium so she can familiarize herself with the environment. Before the Olympic finals, Team HD arrived ahead of Hidilyn's competitors. "We requested the officials to let Hidilyn go up the stage. Even if it was only for a few minutes, she was able to get a feel of her environment," recounted Dr. Trinidad.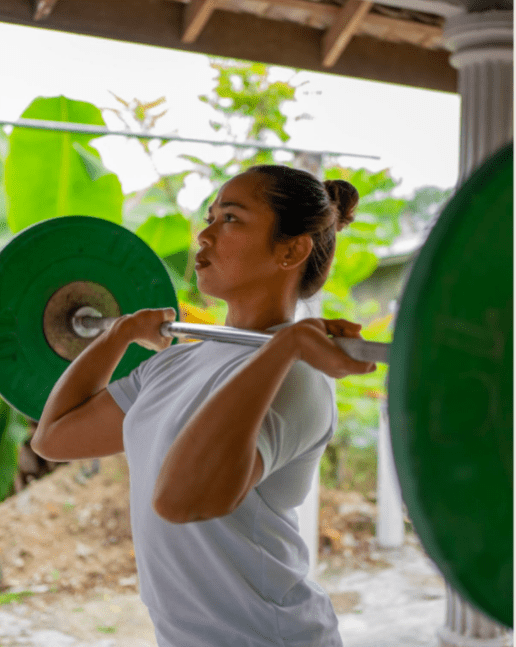 Hidilyn training in Melaka, Malaysia (photo from Hidilyn Diaz's Facebook Page)
Training in Malaysia
Before the Olympics, Hidilyn stayed in Malaysia throughout the pandemic. Dr. Trinidad recalled how Hidilyn was filled with self-doubt back then. "She'd call us one by one via Zoom to ask if we were going to stick with her. We assured her that whether the Olympics would push through or not, we were going to support her."
Dr. Trinidad believes that training in Malaysia was good for Hidilyn. "It was a provincial environment, something she was used to. It's not in a city setting, so she was able to relax and stay away from distractions. Hidilyn is someone who cannot say no. If she stayed in Manila, she would probably have many commitments and wouldn't able to focus."
To push Hidilyn's limits, Dr. Trinidad advised her to improve her performance by 1% every day. "Her success is well-deserved because it's a product of hard word, determination and motivation. She did it not only for herself but also for the country."
Science and Sports
After Hidilyn's victory in addition to the 2 silver and 1 bronze medals the country collected from the Olympics, Dr. Trinidad hopes that more athletic organizations would be open to scientific training. "Sports today is already scientific. It's something measurable. Also, mental health should be considered because the more athletes compete, the more pressure they experience. If they don't care for their well-being, they will eventually burn out. We're going to lose good athletes along the way."
Being mentally healthy means being able to adjust to new environments, and enjoying a sense of balance. "At the end of the day, the body and mind get exhausted. Our approach should be holistic—physical, psychological and mental."
But what's next for Hidilyn? Dr. Trinidad said that Hidilyn is still unsure, because she was focused solely on the Olympics. But whatever the champion decides, Dr. Trinidad's advice remains timeless. "I told her that with this pandemic, life is short. It's ok if you want to compete as long as you enjoy what you're doing. You have to think for yourself, not for other people. Because at the end of the day, it's your life."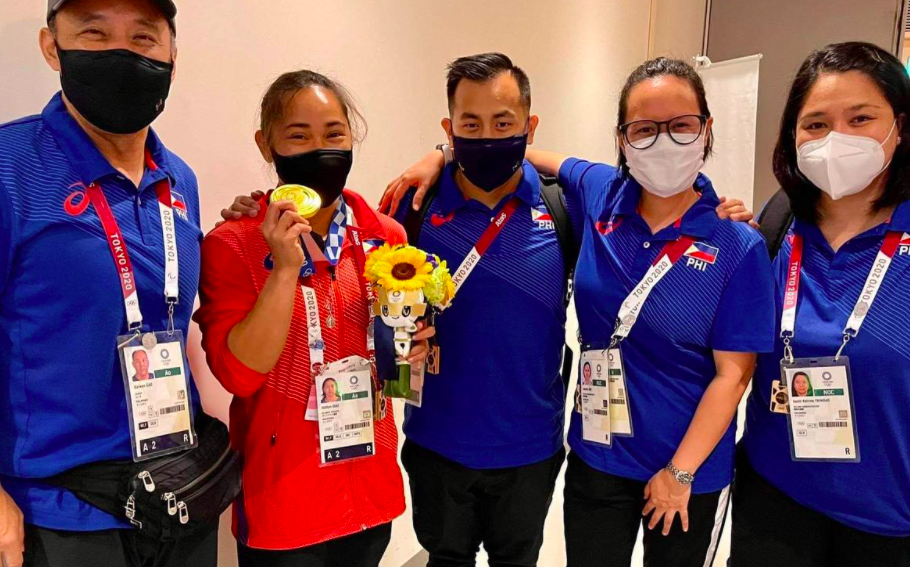 Hidilyn with Team HD after her win (photo from Hidilyn Diaz's Facebook Page)
Watch the full interview with Dr. Karen Katrina Trinidad here.