What It Really Means to be a Ninong or Ninang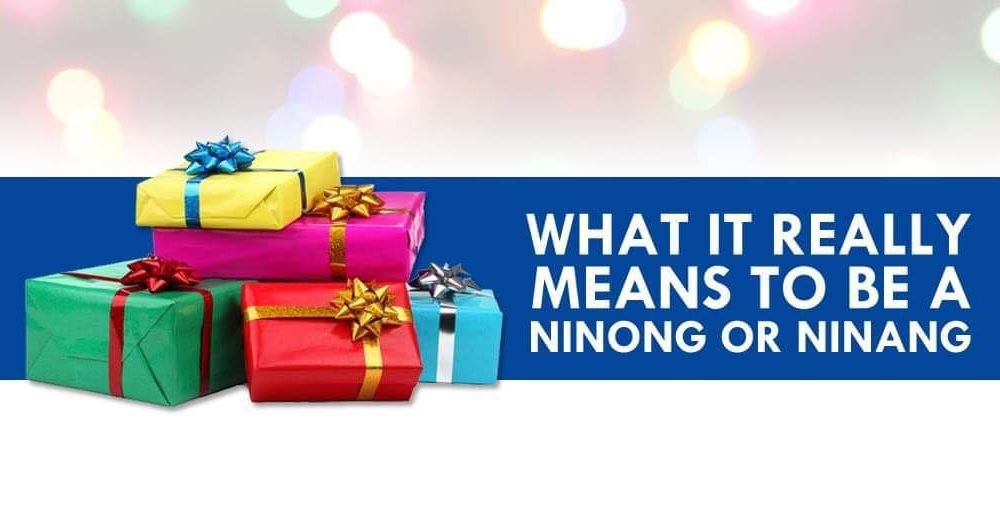 Mano po, Ninong
Mano po, Ninang
Narito kami ngayon
Humahalik sa inyong kamay
Salamat, Ninong
Salamat, Ninang
Sa aginaldo pong inyong ibinibigay
This timeless Christmas song by lyricist Ador Torres and composer Manuel Sr. Villar illustrates how popular godparents are during the holiday season, particularly in the aspect of gift-giving. During this time, jokes about being hunted down by a deluge of aginaldo-seeking godchildren are common, as if giving cash or gifts is the sole duty of the ninong or ninang. But is this really all there is to being a godparent?
Godparents, a brief history
According to Suzanna Roldan, who teaches Sociology and Anthropology at the Ateneo de Manila University, the ninong and ninang are part of the "compadrazgo relationships", which came with Christian rituals such as baptism, confirmation, and marriage introduced by Spanish colonization. Our forefathers readily accepted the compadre/comare concept because even before the Spanish came, they had already been marking life events with rituals and social sanctions. "Anthropologists studying kinship systems observe that we consider who our relatives are based on biological, social and cultural ties. In categorizing who our relatives are, we trace blood lines, adoptive kin and kin through marriage or in-law relationships," says Roldan. "There is one category of relatives that extends the notion of family. These are called fictive kin, or kinship established through rituals found in many, if not all, societies. In our case, the compadrazgo system is our way or reinforcing existing close kin or close social connections with people not necessarily our relatives."
While godparents serve as witnesses to their godchildren becoming part of a religious community or a sanctioned marriage, the ninong or ninang also take on the role of spiritual guides. "If parents perished, godparents are expected to help in the spiritual formation of the child. We want godparents who can raise children as good Christians, or in the case of godparents to a couple, they can give spiritual advice on how to nurture good marital or parental relations. But this goes beyond spiritual formation and extends to the actual care of a child when the parents are unable to fulfill parental duties due to death, work, or moments when parents have to be apart from their children," explains Roldan.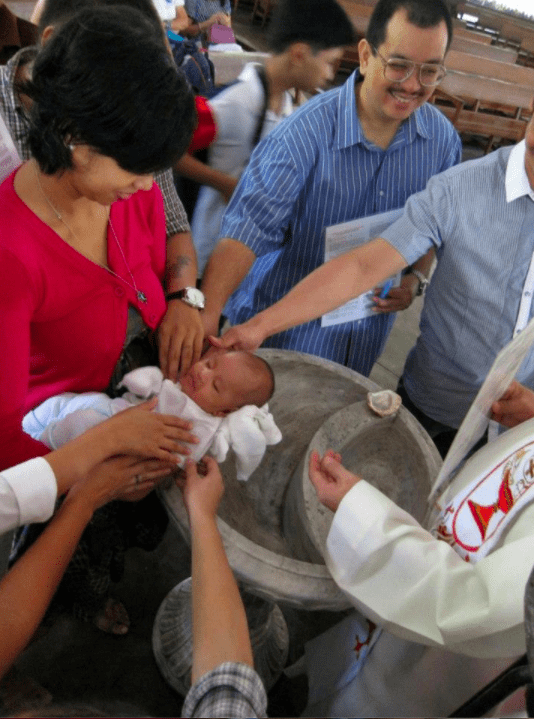 Photo by Denise Lazaro
Selection of godparents
Until now, parents usually choose reliable godparents who are good role models, and have child-rearing values aligned with their own. Social proximity or close ties with godparents also plays a role. Roldan elaborates, "Parents select someone who is very close to the family or has regular interaction with them at the moment of selecting who the godparent would be. Our ninong and ninang are often siblings of our parents, playmate cousins, or our barkada from childhood whom we know we can entrust our children to in case something happens to us."
Sometimes, economic reasons also play a part in the selection. "Some parents select well-known, high-status ninong and ninang whom one can turn to in times of need—even if they do not have a strong personal relationship with those individuals." These include political figures, wealthy members of society, or someone who has achieved high occupational positions that indicate status.
Being a Godparent in Modern Times
Nowadays, it's common to see godparents arrive in multiple pairs, crowding around the wed couple or the baptized child because of their sheer number. It's a stark difference from decades ago, when a pair of godparents was enough to stand witness to religious rituals. As to why this has happened, Roldan offers this explanation: "Perhaps, it may be related to having less children these days compared to before. In the past, parents had more children, so they made sure to assign worthy godparents for all their children."
Sometimes, the reason lies in having a big social circle. "For those with large friend groups and with one or two children, parents have to name more godparents per child so as not to exclude and hurt the feelings of their friends. Still, there are some who intentionally pick several godparents to compensate for the costs of the celebration, or expand the circle of elders they can approach for advice."
Despite this practice, Grace, who has 10 godchildren, strives to fulfill her role. "I don't get to talk to all of them except for my nephew who's also my inaanak, but I do talk to their parents regularly. I know that most children see — and even expect — their godparents to give them gifts during Christmas and their birthdays. I think that's okay especially when they're young. That was how I saw my godparents too when I was a kid."
Jason, who has about the same number of inaanak, shares that he only gets to interact with godchildren whose parents he's still in contact with. "If I get to hang out with their parents, I also get to see my godchildren. I make small talk, maybe give cash. But now with social media, I can ask how they are from time to time. As a ninong, I look out for their welfare."
Grace sees herself as a co-parent, ensuring that her godchildren grow up properly. She expects this same dedication from the godparents she'd chosen for her child. "There's a saying, 'It takes a village to raise a child'. It's not easy to be a parent. As much as we want to provide for our kids' mental, physical and emotional needs all the time, we can't do it alone. And that's where the ninongs and ninangs we have chosen, come in. After all, most of them are our childhood friends, high school and college buddies or our closest colleagues. They were there during our first crush, first heartbreak, and other milestones. So it only follows that as we go through this parenting journey, we go through it with them."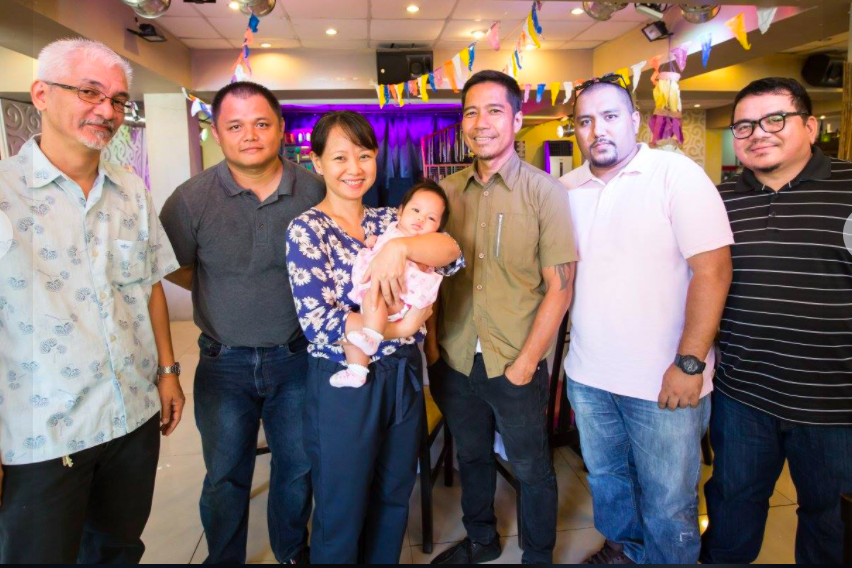 Jason, 2nd from left, poses with his goddaughter Maya during her baptism.
The pandemic may discourage or even prohibit face-to-face interaction among godparents and godchildren, but phone calls, text message and online social platforms still make close communication possible all throughout the year. "Social support, particularly gift-giving during the holidays will continue. People shop online, send presents through various delivery modes. Ninangs and ninongs may send cash through online banking— at least for some sectors of society who are not affected by unemployment woes during the pandemic. We can expect more practical exchanges through social networks, or donations made instead of presents given during the pandemic," Roldan ends.
To learn how you can enjoy a happy yet safe Christmas celebration during the pandemic, watch Be Safe: Pagiging Ligtas ngayong Holiday Season.