Making Online Meetings More Fun and Engaging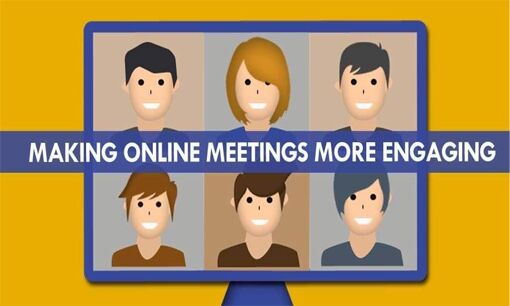 Never before have we been more dependent on the internet than this pandemic. The virtual space has become a hub for our daily activities—learning, shopping, working, and catching up with friends and family. To foster business continuity, companies have been conducting video conferences instead of face-to-face encounters. Panahon TV is no exception, holding its weekly general assembly online since March.
But if you've ever participated in a video conference, you notice how starkly different it is from a real meeting. Participants don't share the same physical space, which means you see them with different backgrounds, lighting, and video quality. Internet speeds also vary, causing glitches and sudden disconnections. At times, this causes delay and the poor relay of information.
According to this article, experts warn that "distortions and delays inherent in video communication can end up making you feel isolated, anxious and disconnected." In fact, a 2006 study on remote interpreters at the United Nations and European Union Institutions revealed that after translating discussions via video, they experienced signs of alienation and fatigue because they lacked the "visual perception of the meeting room."
Because of the challenge of encouraging employee participation in the virtual realm, these simple steps were taken by Panahon TV to make their weekly meetings more enjoyable and engaging.
QOOTD (Quarantine Outfit of the Day) Challenge
Because participants are in the comfort of their own home, and screens only show their upper bodies, they often don't feel the need to dress up as formally as they would in an office setting. But Visual Consultant Jazel Villamarin would always make an effort to dress up for meetings from head to toe. "Since day one, I would be in full get-up— complete with makeup, accessories, nail polish and shoes. Several virtual meetings later, I was able to persuade everyone to make an effort, hence the QOOTD theme was born."
At the end of each assembly, Villamarin announces the QOOTD theme for next week's meeting.
"The themed meetings are like a visual journal that reflects the passage of time. We had themes like 'Use Your Favorite Bag with Pandemic Necessities" and "Interview Outfit" because we've been doing a lot of virtual interviews. For Christmas, our supervising producer gifted us with "I Survived 2020" shirts so we incorporated that into a sporty attire because we all want to be fit and healthy this year. We also had fun themes to lighten up the mood like "Crazy Hats", "Make Your House Dress More Fashionable", "Animal Prints", "Wear Something with Sentimental Value" and so on."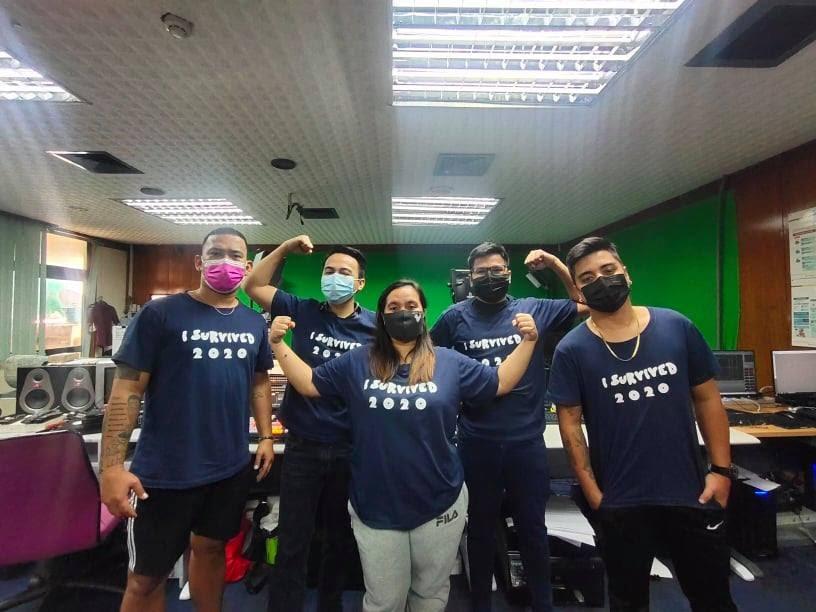 The tough gets going: the studio team wearing "I Survived 2020" shirts
Director Julius Melo shares that the themes make online meetings lively and engaging, encouraging employees to look and feel good. "It promotes creativity, and stimulates us mentally, emotionally, and physically. It gives us the chance to open our wardrobe again and put on our favorite clothes and accessories." Technical Operator Robi Robles enjoys the challenge of putting together ensembles that fit the themes. "If it weren't for the QOOTD, our general assembly would be boring. Every week, I look forward to seeing my workmates in their unique outfits."
Julius, often seen in Nike shirts in the office, elicited gales of shocked laughter when he showed up in an online meeting wearing his wife's dress during the "Wear Skirt or Formal Pants" theme.
But the requirement doesn't end with the outfits; during meetings, employees take turns to explain their reasons for choosing their attire. This brings out their humorous and personal side, allowing them to unload during these difficult times.
For Villamarin, the most memorable theme so far is "Wear Something with Sentimental Value" because of the personal memories that came with the clothes. "Some wore clothes which belonged to loved ones who've passed away. I fell in love with the team more after this, and I think it brought us closer like a family."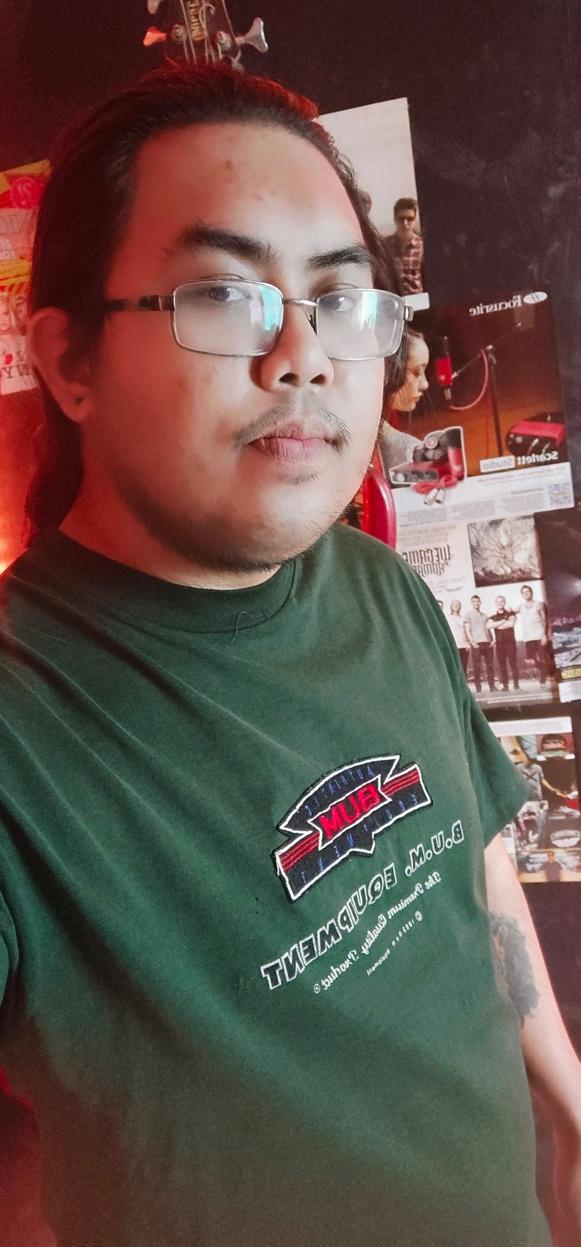 Bon wearing his father's shirt
Case in point is Video Editor Bon Galang, who often keeps quiet during meetings. But when it was his turn to share, he talked about the shirt he wore, which was his father's. "My dad passed away when I was in high school, and out of the clothes he left, I kept this shirt because it was the only one that fit me. Wearing it brings back my memories of him." The same QOOTD theme prompted Weather Reporter Patrick Obsuna to wear his family reunion shirt. "Since I was a kid, I was raised by my parents to always put family first, but this pandemic, we weren't able to conduct our yearly reunion. It made me sad but I remembered the quote that went '2020 isn't the year to count the things you didn't have, but to be thankful for things you already have.' Although we weren't able to see each other this holiday season, there's another Christmas to look forward to, wherein, hopefully, we can all be together again."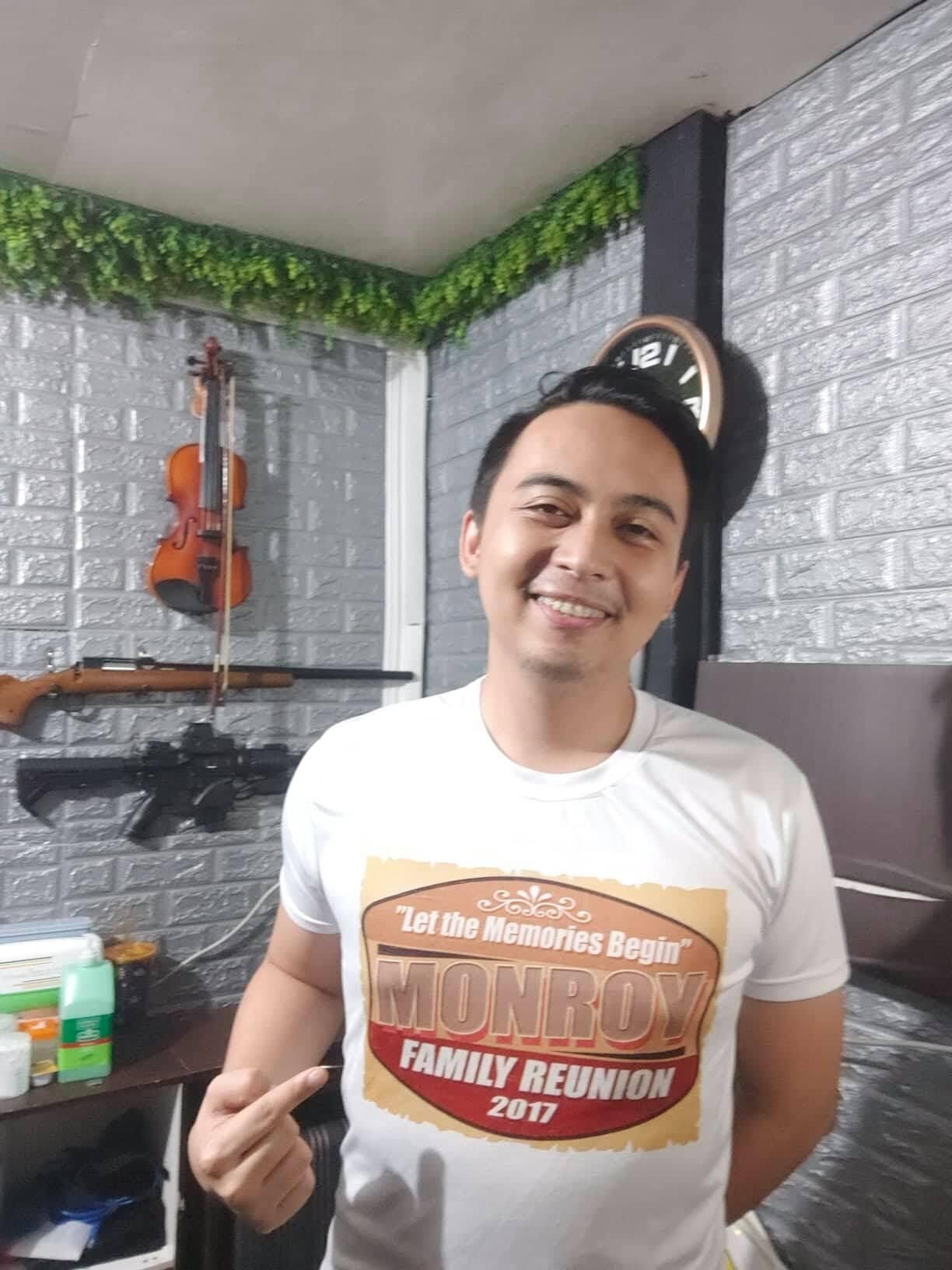 Patrick in his family reunion shirt
For Executive Producer Donna Lina, these stories are precious. "Some themes are fun, while some—I don't think we really intended this—managed to show the deeper side of our colleagues. I see another side of them that helps me understand them better." Villamarin believes that there's more to the weekly challenge than meets the eye. "Dressing up is a form of self-care; you try to look good for yourself. Judging from the level of participation among employees, I think the QOOTD has successfully fostered teamwork. These are tough times, and we have different ways of coping with daily anxieties. Through this, we get to lighten things up, have fun and enjoy each other's company albeit virtually."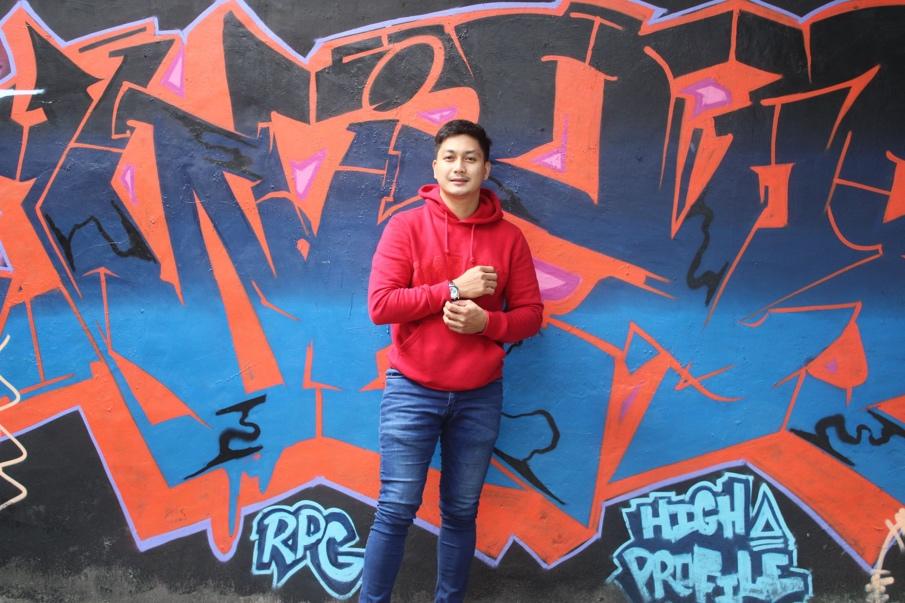 Robi wearing his red hoodie, a gift from his brother.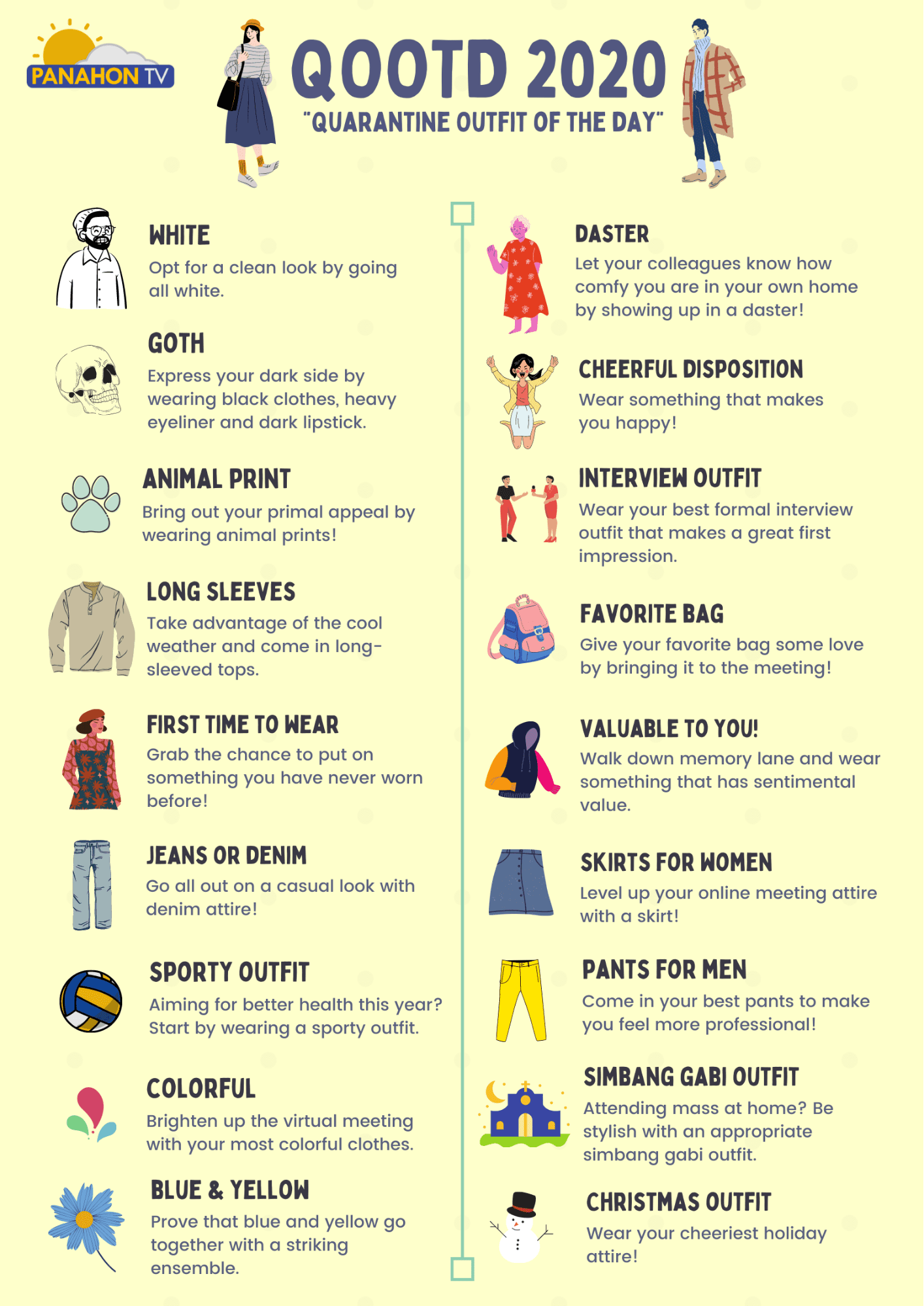 COVID-19 barangay updates
The main reason for virtual meetings cannot be escaped. The Panahon TV team tackles this issue head-on by reporting weekly updates of COVID-19 cases in their respective barangays.
Lina, who initiated this practice, believes this is part of being a responsible citizen. " One way to manage the cases is having an informed and involved citizenry. As our team reports on daily cases on our show and social media platforms, we also make sure that we ourselves are on top of the situation by knowing the cases in our barangay. If these aren't updated, we nudge our barangays to give us an update."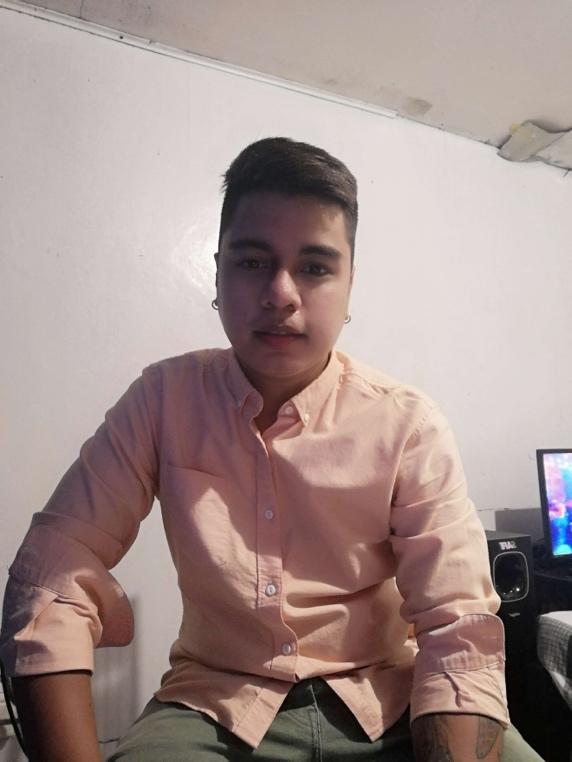 Jearom in his favorite QOOTD theme, "Interview Outfit"
Graphic Artist Jearom Martinez says that the reports let him know "if we are safe in our areas", while Robi shares that the practice has made him be more vigilant. Meanwhile, Patrick comments: "Aside from learning how our barangays are faring, it also gives us a real grasp on how each barangay is tackling the pandemic." The learnings from this exchange have given rise to new content, such a critique of the government's communication techniques during the pandemic.
Recently, updates on the employees' barangays vaccination plans have been included in the agenda.
Weekly Photo Contest
Though the weekly photo contest, which aims to improve the employees' visual storytelling skills, is now on its third year in Panahon TV, the viewing of entries remains to be one of the most-awaited portions of the online meetings.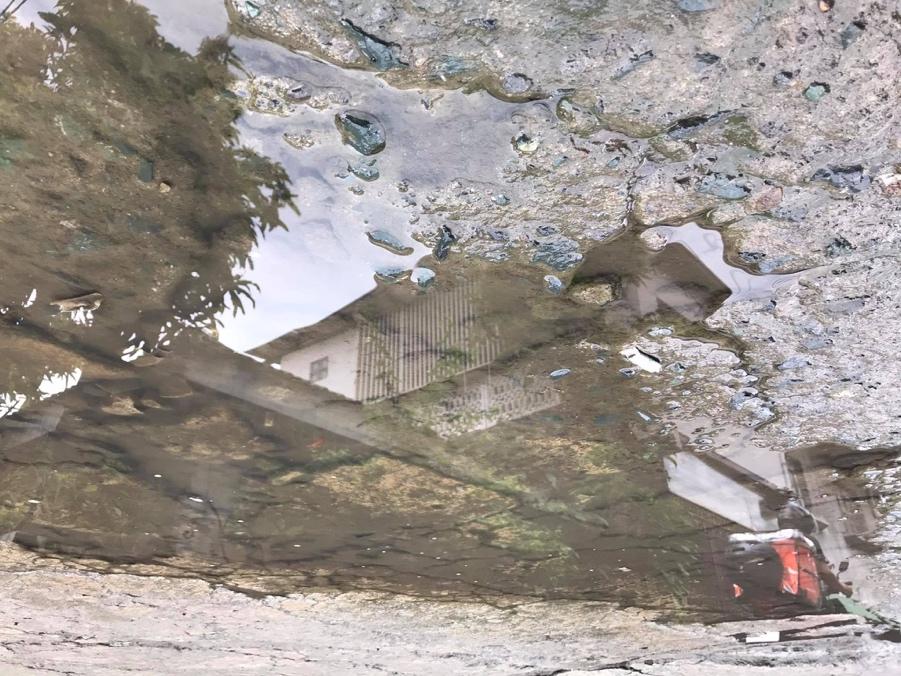 "Element of Water" by Marmick Julian
"Continuous improvement is what we'd like to see here," Lina says. "The photo contest is both an engagement and educational activity. Through this exercise, we've upskilled our members coming from computer science and journalism to be more visual."
Each week, Villamarin choses a theme for the photo exercise. "Photos taken during the pandemic are more personal and intimate because we are all spending a lot more time at home and with our families." Instead of being the sole contest judge, Villamarin has begun selecting only the top three entries, and letting the previous week's winner choose the best photo. "This new process came from an employee's suggestion, so the team can practice critical thinking."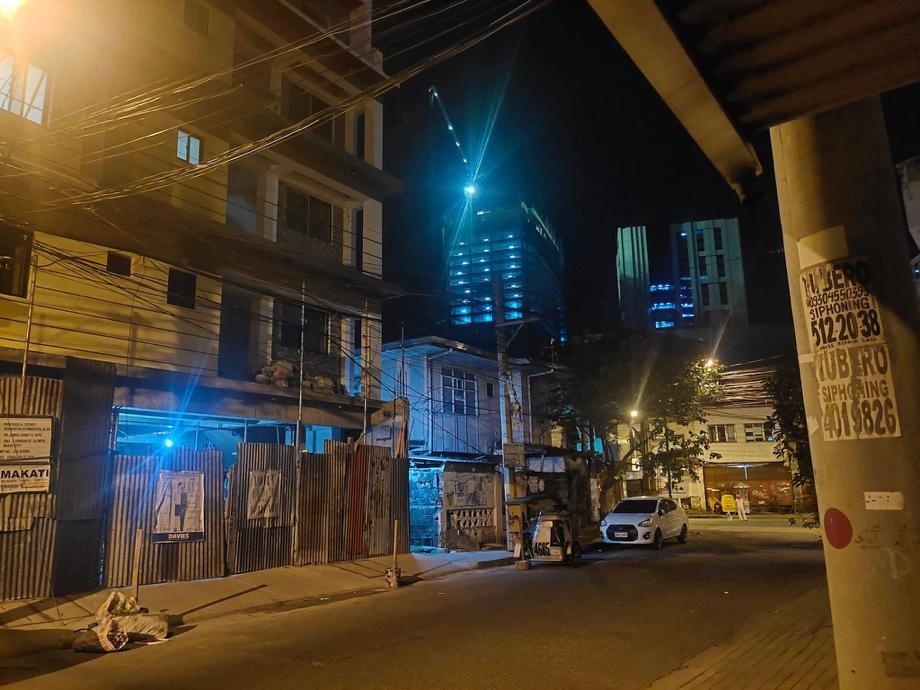 "Dawn" by Patrick Obsuna
For the employees, the photo exercise is a welcome challenge. "It pushes me to study composing the photo before taking it," shares Bon. For Jearom, it doesn't only improve his skills, but also "reduces my anxiety during the pandemic." Robi is able to apply his learned skills as a communications graduate, while Patrick has observed his improvement in creative visual expression. "I got better in framing and choosing an angle for my subjects. Aside from looking at the photo entries, I also enjoy hearing the funny explanations my co-workers share about their photos. This lessens my emotional burden from the pandemic. I think the fun and hilarious things we do in our meetings are due to the fact that we're like family—this is why we're comfortable in expressing our feelings and keeping our mental health in check."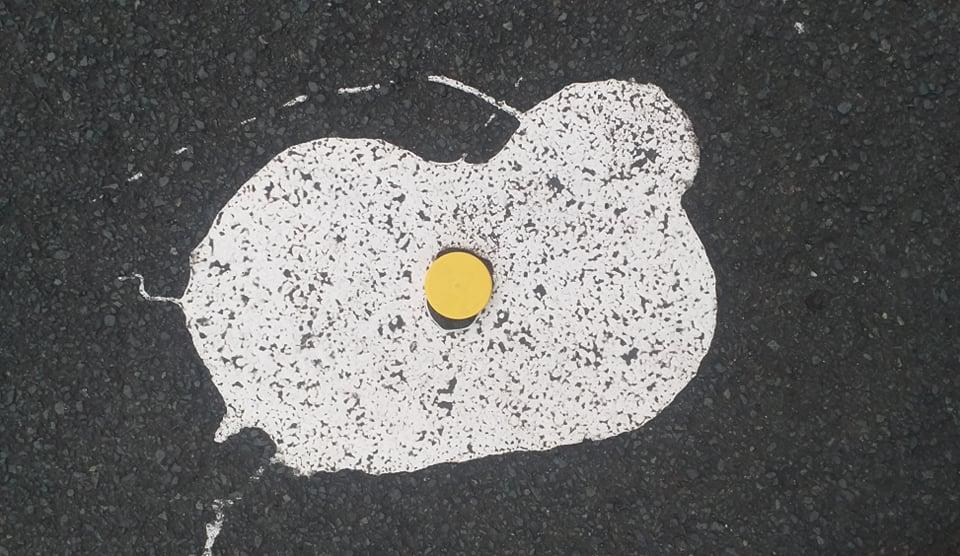 "Shape of You" by Raffy Vicente
Villamarin agrees. "It's nice to hear them give feedback on each photo, and in a way, we get to know each other more. It's a pleasant surprise to hear their interesting points of view." She ends, "I believe these QOOTD-themed virtual meetings and photo assignments are a way of taking care of each other. They give proof of life that we survived 2020 together, and that we are here for each other."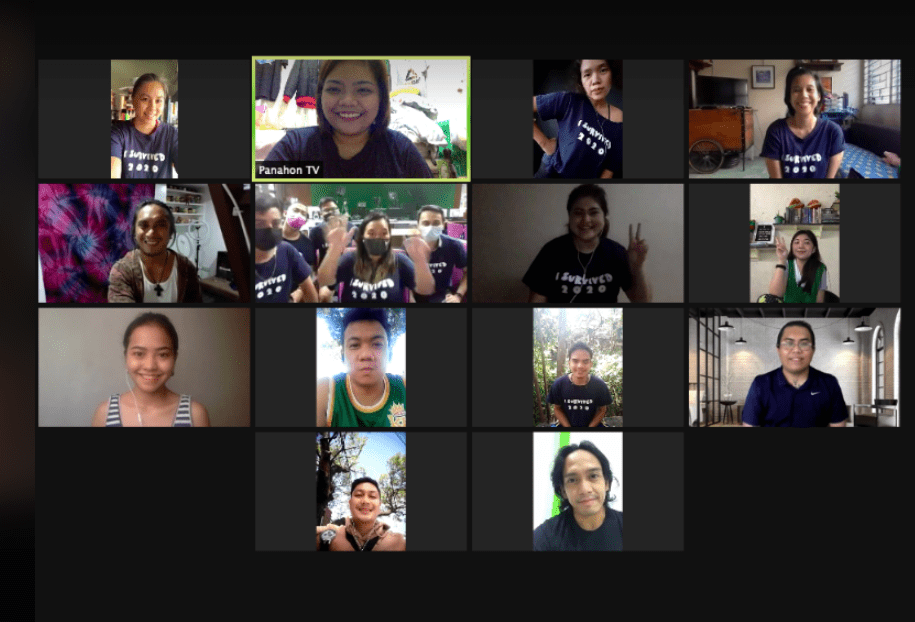 Employees in "Sporty Attire" theme