In December last year, the International Labor Organization (ILO) reported that over 10 million Filipinos may experience job disruption in the way of salary cuts, decreased working hours, or total job loss because of the pandemic. In the Asia-Pacific region, approximately 81 million jobs were lost in 2020, which may raise the region's unemployment rate by over 2% from 2019.
Given the job market's volatility, workers should to be able to quickly adjust when faced with job disruption. With lessened pay and working hours, they need to find additional sources of income. With limited job openings, sudden unemployment might require, not only changing employers, but a career shift.
But how can one shift roles? For example, if you've been working in law for some time, and you wish to shift to being a writer, it pays to have soft or transferable skills that allow career mobility. Specialization or the mastery of one skill may increase your marketability, but only up to a certain point. With technological advancements and global crises such as the COVID-19 pandemic, your specialized skills run the risk of being outdated, which may lead to unemployment.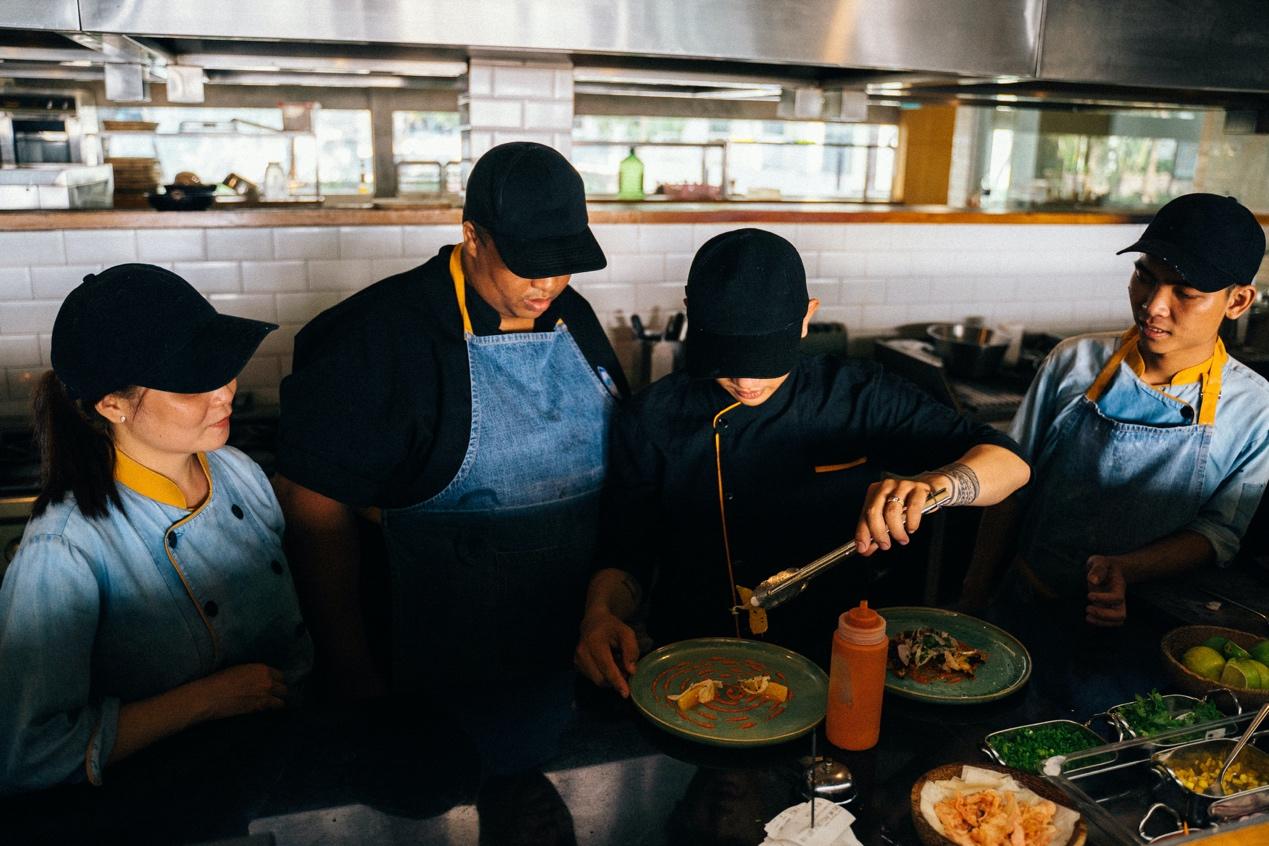 Hard Skills vs Soft Skills
While hard skills comprise technical knowledge or specific training for a particular area, Psychologist Roselle G. Teodosio, owner of IntegraVita Wellness Center, defines soft skills as "interpersonal skills that shape who you are, and how you work or deal with others." Hard skills are more teachable, while soft skills are cultivated. Teodosio adds that hard skills can be thought of as IQ (intelligence quotient) while soft skills are equivalent to EQ (emotional intelligence). "Nowadays, a lot of companies look for people who have higher EQ. Emotional intelligence is seen as something that enhances and bolsters hard skills. A lack of soft skills would hinder an employee from thinking outside the box, or imparting their knowledge."
In her two-decade career, Karen Seno has successfully shifted across roles in TV and video production, corporate communications, and human resources (HR). As the current HR manager of a holding company, Seno believes that soft skills are vital during these challenging times. "Soft skills are key in fostering an effective and productive virtual-work environment grounded on empathy. By developing soft skills, employees are able to add value both to their professional and their personal lives. It shows their commitment to self-development beyond the technical aspects of the job they hold."
Teodosio agrees that soft skills show a person's capacity to grow in a company. "Since employers tend to invest in their employees, they would want to have someone on a long-term basis. Companies also look for team players. A person who can adapt to different personalities, and shows good leadership and work ethic in times of crisis represents the company and what it stands for, especially to potential clients and business partners." Such valuable soft skills also promote job security. "If there will be downsizing, economic slowdown or even a pandemic, then the employee who has shown these skills will likely be retained than let go," Teodosio adds.
Though both hard and soft skills are necessary and complimentary to each other, Seno believes that that the latter trumps the former. "In most cases, I would say an ideal mix would be 60% soft skills and 40% hard skills."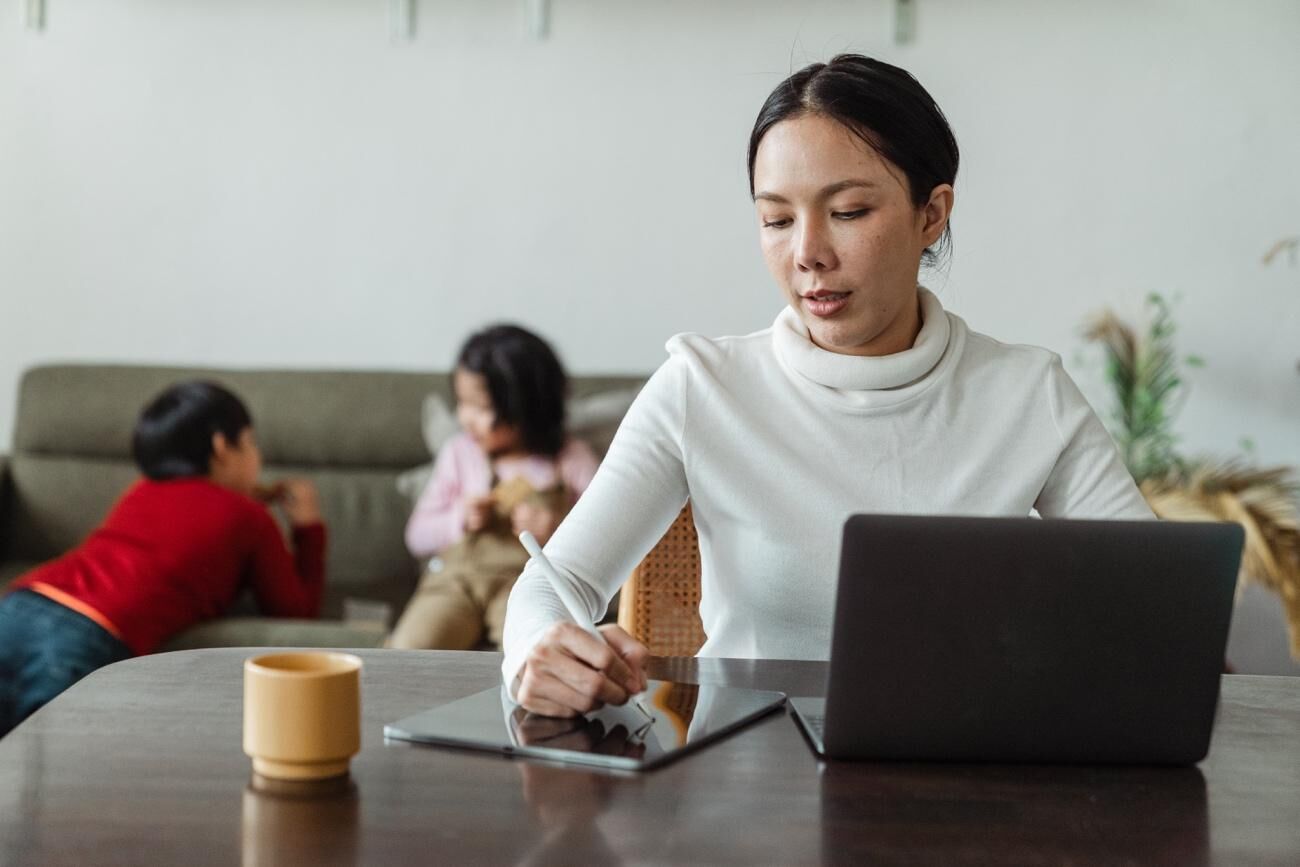 Top 5 Soft Skills Employers Seek
With the pandemic affecting businesses and employment, Teodosio says the need for soft skills is more relevant than ever. "Companies are very careful in choosing the employees that will be most beneficial to them in terms of productivity and flexibility at least cost. It is to the advantage of companies to retain employees who can play a lot of roles in the company to maintain productivity while cutting back on overhead expenses."
But pandemic or not, employees need to step up their game to cope with the ever-changing landscape of industries. According to the World Economic Forum, the top 5 skills employers are looking for are also soft skills.
Communication
Seno shares that shifting to a virtual work setup has limited our personal interactions, yet has increased the amount of time we spend on meetings. "Effective communication can then save on time and resources, bridge gaps, and establish stronger relationships." Teodosio follows this up with by saying that clear communication should be carried out across all levels—"may it be the big bosses or their co-workers, one on one or as a team. Effective communicators build connections inside and outside the company."
How to improve this skill:
Be open to feedback.

Constantly practice getting your message across.

Be concise and get to the point.

Be mindful of your non-verbal communication (body language, tone of voice, facial expressions).

Be clear with your desired action from your listener or receiver.
Problem Solving
Problem solving demonstrates a person's self-reliance. Seno explains, "Companies need people who are concerned not just with delivering the basics according to their job description, but who can thrive when things don't go their way." Teodosio agrees. "A good employee is able to stay calm and rational when problems arise. Rather than emotions, his decisions are guided by logic and common sense."
How to improve this skill:
Learn to identify and simplify problems.

Collaborate with stakeholders in brainstorming possible solutions.

Be open to changes.

Go beyond your comfort zone.
Analytical Skills
Seno states that analytical skills are key in gaining an in-depth understanding of a topic or issue. "This is useful for goal-setting during project planning, or for coming up with solutions for complex problems."
How to improve this skill:
Learn all that you can about a topic or issue.

Be observant.

Ask questions.

Interact with different personalities who offer various perspectives.

Develop a learning mindset.
Customer Service
Communication is the foundation of excellent customer service. Though this skill in useful in building a solid clientele, Seno stresses that "A good employee treats all their stakeholders—be they internal or external—as customers." An openness to feedback and improvement ensures quality outcomes for customer satisfaction.
How to improve this skill:
Manage customer expectations.

Give services a personal touch.

Focus on solutions to achieve customer satisfaction.

Build positive relationships.
Leadership
"Leadership requires accountability, authenticity, and empathy. Effective leaders are like lighthouses—they give a general direction for guidance as team members navigate the rough seas," Seno illustrates. Teodosio says that "If an employee has good leadership skills, it follows that he is able to communicate himself well to others."
How to improve this skill:
Take the initiative.

Listen.

Develop situational awareness.

Empower or motivate others.

Encourage honest feedback.
While these traits have always been relevant in the workplace, Teodosio says they are even more important now during the pandemic. "The pandemic has brought on feelings of isolation and anxiety, to name a few. If one cannot handle such a stress, then how will he be able to address the other stressors work can bring?"
Tips for job hunters
Job hunting may be extra challenging these times, so our experts offer these bits of advice:
Widen your network. "Do not limit yourself to one or two fields," says Teodosio. "Instead, try to look at other fields of expertise that you find interesting. It is not the best time to be picky."
Boost your skills. Both experts agree that now is the perfect time to expand one's knowledge. "Explore free online classes. The additional skills will make your CV shine," advises Teodosio.
"Creating your own 'personal brand' will make companies notice you. You need to focus on what is unique about you."
Prepare for virtual interviews. Because first impressions last, small details such as your clothes, background, and even the way you sit matter.
Be patient. If you don't find a job right away, don't be too hard on yourself. "A lot of companies are affected by the pandemic," Teodosio says. "So, they are quite choosy with candidates. Just be on the lookout for job openings you are interested in."
Flooding is a perennial problem in the Philippines, which, according to PAGASA, experiences the greatest number of tropical cyclone visits than anywhere else in the world. With a yearly average of 20 tropical cyclones, the country has its share of major floods, including those from Typhoon Ulysses in November, which caused 67 deaths and agricultural damage worth 16 billion pesos.
But with climate change in the picture, the frequency and effects of disasters continue to rise. According to a report from the United Nations Office for Disaster Risk Reduction, major floods across the globe has doubled in the last 20 years. Among all the climate-related disasters, storms and floods were the most common events.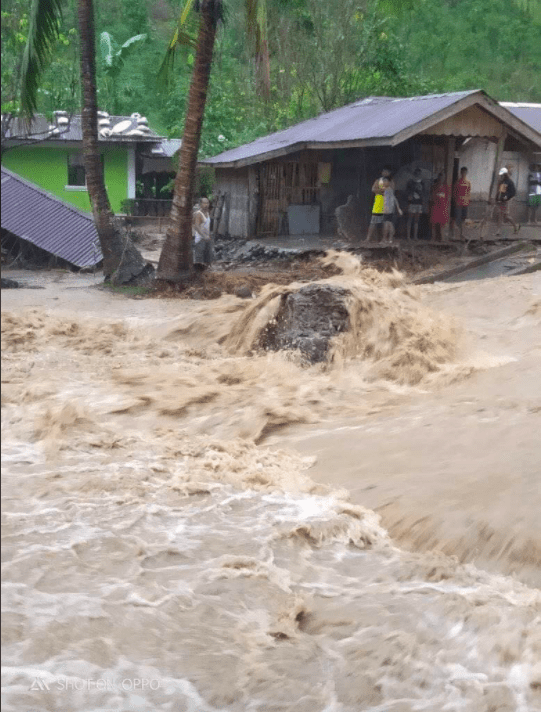 Flash flood in Oriental Mindoro last Dec. 4 due to heavy rains (photo by Shen Francisco Fabon)
Types of Floods
PAGASA Hydrologist Rosalie Pagulayan explains that floods can be classified according to their location and how they occur.
River flooding is caused by the swelling of rivers, also called water basins. "Just like basins, our rivers have limited carrying capacities," she says. "If the water level exceeds these capacities, water overflows and causes floods."
Urban flooding occurs in highly-urbanized areas. Paved roads seal off soil, which absorbs rain. Pagulayan mentions a foreign study stating that in urban places, 50% of rainfall becomes run-off water. In cases of excessive rain, drainage systems and culverts are not enough to store water, creating floods.
Meanwhile, flash floods are one of the most dangerous flood types because of how fast they rise. Possibly occurring mere minutes after rainfall, flash floods leave little or no time for residents to prepare. "These usually happen when nearby rivers are too narrow and have limited carrying capacities. Flash floods can carry harmful debris, such as rocks," says Pagulayan.
Coastal flooding happens in coastal areas, and can be attributed to storm surges caused by tropical cyclones pushing water toward the shore. Tsunami, produced by offshore earthquakes, may also generate coastal flooding and even more devastating impacts.
Though technically, landslides are not a flood type, Pagulayan feels compelled to mention them as a significant impact of strong rainfall. "When there's excessive rain in mountainous areas, water saturates soil and loosens it, which may lead to landslides. The steeper the slope, the faster loose soil can roll down and create devastation."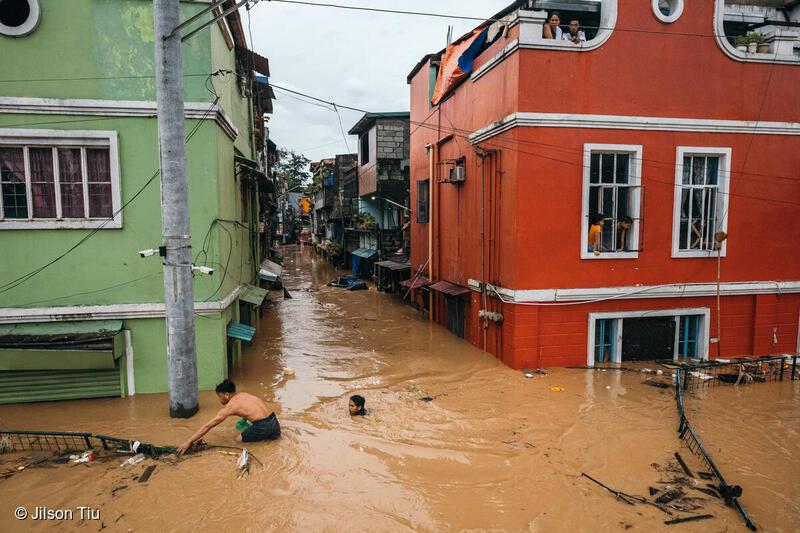 Marikina flood after Typhoon Ulysses (photo by Jilson Tiu/Greenpeace)
Causes of floods
Rains are the primary cause of floods, but the flood intensity depends on numerous factors such as the affected area's landscape and its river's carrying capacity. "Another factor is the siltation in rivers. These sediments may lessen our rivers' capacity to carry water, which is why the Department of Public Works and Highways carries out desilting operations." When river protection structures such as dikes break, this leads to the sudden rush of water which creates floods. Tidal patterns also induce floods, especially in low-lying areas like Malabon and Navotas.
But a major flood contributor unrelated to meteorology is human intervention, which is a "very glaring factor" according to Pagulayan. "It's basic science. Canopies and good vegetal cover intercept rains, protecting the soil from water saturation and erosion. Now we see that the water flowing down from the mountains are heavily silted, which means there aren't enough trees to hold in the soil."
River garbage is also a significant factor. "Typhoon Ondoy in 2009 showed the overwhelming amount of trash in our rivers. Rivers are a major source of our livelihood, and throwing garbage in them makes them a source of devastation."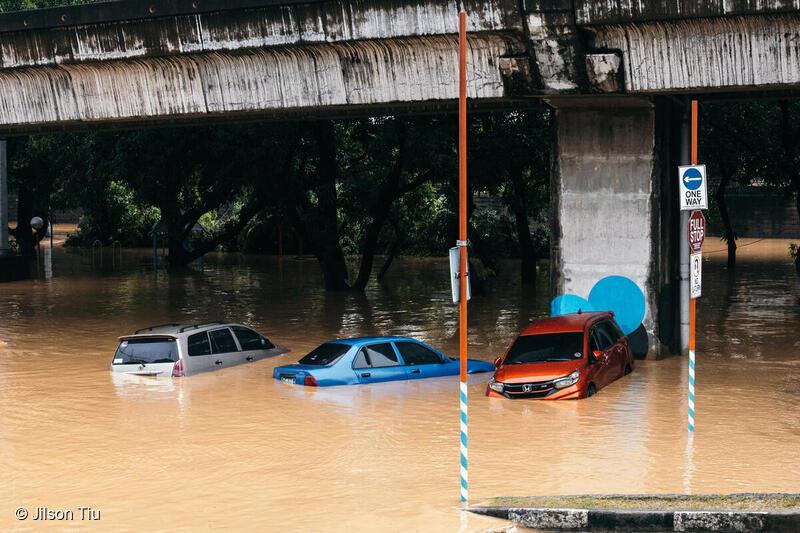 Typhoon Ulysses caused the Marikina River to swell and submerge vehicles in flood. (photo by Jilson Tiu/Greenpeace)
Flood Mitigation
To lessen the possibility of floods in the urban setting, Pagulayan suggests simple measures. "In other countries, they use cement mixed with semi-permeable asphalt so the soil underneath can absorb some of the rain. Other LGUs (local government units) put bricks on walkways instead of cementing them. I think little things like these can make a big difference in the long run."
As for Filipinos building residences and structures near rivers, Pagulayan states, "We actually have a law that addresses this. The Water Code of the Philippines provides guidelines on how far away structures should be built from bodies of water. In urban areas, easement should be more or less 3 meters. In agricultural areas, it is 20 meters, while forest areas should have an easement of 40 meters."
To manage coastal areas, Pagulayan emphasizes the importance of mangroves, which protect against storm surges. "Mangroves also facilitate fish development. When there are plenty of fish near the shore, our fishermen don't have to go far."
She shares that PAGASA carries out flood mitigation measures in two ways. "We have the structural and the non-structural. Structural involves moving the water away from the people, while non-structural is moving the people away from the water. Structural measures include the building of dams, dikes, and river walls. The main concern with the structural aspect is that it's very expensive. To make your structures sturdy, the more you have to spend."
Meanwhile, an example of non-structural measures is PAGASA's early warning system, which aims to translate data into actionable information. "If we foresee a 100-millimeter rainfall, we can't just release that data to local governments and communities. We have to give them a clear picture of the impact. Instead, we say that the projected flood is knee-deep. This way, people can better understand the situation and prepare for it."
Aside from conducting education campaigns and public information drives, PAGASA also releases weather forecasts and tropical cyclone warnings, flood bulletins and advisories, hydrological, climatological and farm weather forecasts. "The structural and non-structural measures should complement each other. Hazard maps highlight danger and safe zones, so people will be aware where to build their homes, and where to seek refuge when they need to evacuate. With all these kinds of information, we hope to reach out to more people," Pagulayan ends.
Watch Panahon TV Reports: Understanding Floods for more information.
The COVID-19 pandemic continues to be in full swing with currently over 20 million confirmed cases worldwide. In the Philippines, the total number of cases has reached 148,000 with over 2,000 people dying from the disease.
But the pandemic isn't the only crisis the country faces. Right now, the Philippines is in the middle of typhoon season. According to the Philippine Atmospheric, Geophysical and Astronomical Services Administration (PAGASA), more tropical cyclones enter the Philippine Area of Responsibility (PAR) than anywhere else in the world each year. An annual average of 20 tropical cyclones develop in the region, 8 to 9 of them traversing the Philippines.
The peak of typhoon season, wherein 70% of typhoons develop, happens between July to October. According to PAGASA, the country may experience 8 to 13 tropical cyclones from August until the end of the year. More than ever, Filipinos need the weather bureau's comprehensive and reliable forecasts to help them ensure their safety this pandemic.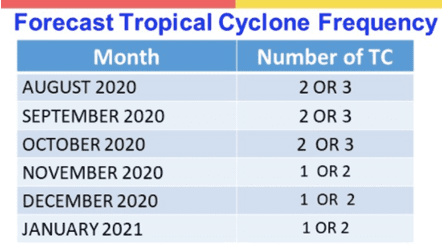 Source: PAGASA
Getting to Know PAGASA
PAGASA traces its roots back to the Observatorio Meteorologico de Manila (now Manila Observatory) a scientific research institution established by the Jesuits in 1865. Involved in the systemic observation of Philippine weather, it first issued typhoon warnings in 1880.
In 1901, the observatorio was re-organized and was formally named as the state's weather bureau. Today, PAGASA, under the Department of Science and Technology (DOST) is mandated to "provide protection against natural calamities and utilize scientific knowledge as an effective instrument to ensure the safety, well-being and economic security of all the people, and for the promotion of national progress." (Section 2, Statement of Policy, Presidential Decree No. 78; December 1972 as amended by Presidential Decree No. 1149; August 1977)
With its mission to be a center of excellence for weather-related information, PAGASA seeks to protect lives and properties through its following products and services:
weather forecasts and tropical cyclone warning
flood forecasts and warnings
climatological and farm weather
research and development
information, education, and public outreach
astronomical services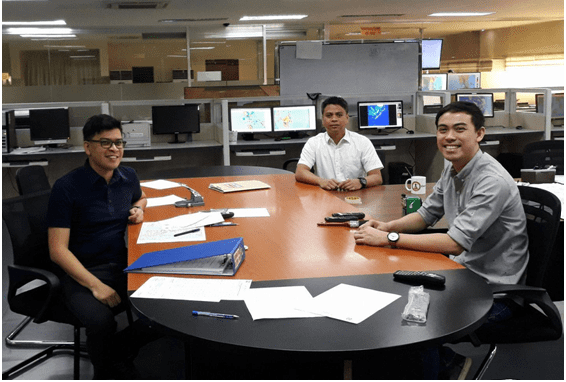 PAGASA weather forecasters before the pandemic (L-R: Nikos Peñaranda, Chris Perez, Ariel Rojas)
PAGASA and the Pandemic
The pandemic impacted public mobility, businesses, services, and many other aspects of daily living. According to Chris Perez, PAGASA spokesperson and senior weather specialist, the weather bureau was no exception. "The restrictions put into effect by the national government to prevent the further spread of the virus affected PAGASA's day-to-day operations in the sense that only a few personnel are required to report to the office. This posed a great challenge in ensuring the continuous delivery of the agency's products and services despite the limited manpower."
PAGASA's limited physical manpower at the office has been supported by work-from-home personnel since the Enhanced Community Quarantine (ECQ) last March 16. Those assigned to report to office are provided company transportation from their homes to the office then back to their homes after a 3-day or 5-day work assignment. Perez adds, "The same personnel are given grocery allowances, and sleeping quarters to rest after their duty. Key personnel such as the PAGASA Administrator and higher officials report to the office when needed—during the event of a tropical cyclone, the processing of payrolls, and other duties."
Because health vigilance is a must during the pandemic, PAGASA's weather division has formed a committee to oversee the health and well-being of its employees—both in the office and working from home. "This ensures that the appropriate number of working personnel is met whenever the situation warrants," Perez explains. "In the case of a personnel getting 'sick' and not being able to report for work, this committee will handle the matter in accordance with the national government's established health protocols."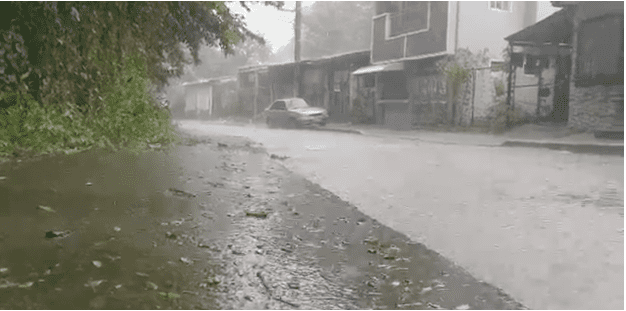 The habagat may enhance tropical cyclones, bringing more rains in the country. (Photo by PM Caisip)
Currently, PAGASA holds webinars to conduct climate forums and educate sectors on the natural hazards the rainy season brings. During the National Disaster Resilience Month last July, PAGASA's webinars targeted religious organizations and focused on preparedness among children.
Season of both Typhoons and the Pandemic
Since the government's announcement of the country's first COVID-19 case in January, 7 tropical cyclones have entered the PAR as of writing.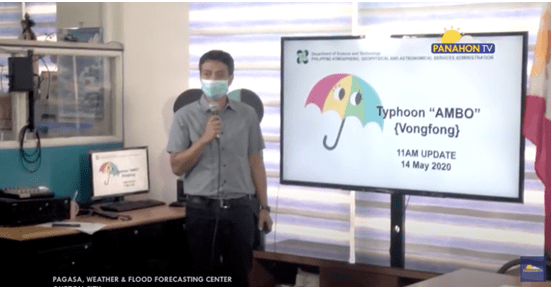 Perez holding a press briefing for Typhoon Ambo last May
May 14
Typhoon Ambo (international name: Vongfong) made its first landfall in Eastern Samar. PAGASA recorded five more landfalls that weakened the weather system before it headed inland to Luzon. According to the National Disaster Risk Reduction and Management Council (NDRRMC) last May 20, Ambo caused an estimated damage of Php2 billion in agriculture and infrastructure, and left 5 people dead.
June 11
Tropical Depression Butchoy (international name: Nuri) made its first landfall in Pollilo Island in Quezon. Because Butchoy was expected to produce heavy rainfall in Albay, , the province was placed under disaster "response status." Butchoy's rains prompted PAGASA to declare the start of the rainy season in the country last June 12.
July 13
Tropical Depression Carina headed for the Luzon Strait near Batanes and Cagayan. Before leaving, the weather disturbance left over PHP19-million worth of damage in Ilocos Norte in crops and properties.
August 1
Dindo (international name: Hagupit) strengthened from a tropical depression into a tropical storm on August 1. Though Dindo enhanced the southwest monsoon (habagat), bringing more rains, Dindo did not have a direct impact on the country, and exited PAR on August 3.
August 8
PAGASA upgraded a weather disturbance into Tropical Depression Enteng (international name: Jangmi). The next day, it intensified into a tropical storm, enhancing monsoon rains in MIMAROPA, Pangasinan, Benguet, Zambales, Bataan and Antique.
August 9
Just seven hours after Enteng left PAR, Tropical Depression Ferdie developed, raising Public Storm Warning Signal No. 1 in parts of Luzon. While maintaining its strength, Ferdie exited PAR on August 13.
August 13
Tropical Depression Gener entered PAR. No public storm warning signal was raised since Gener was expected to weaken as it moved westward of PAR.
PAGASA's Crucial Role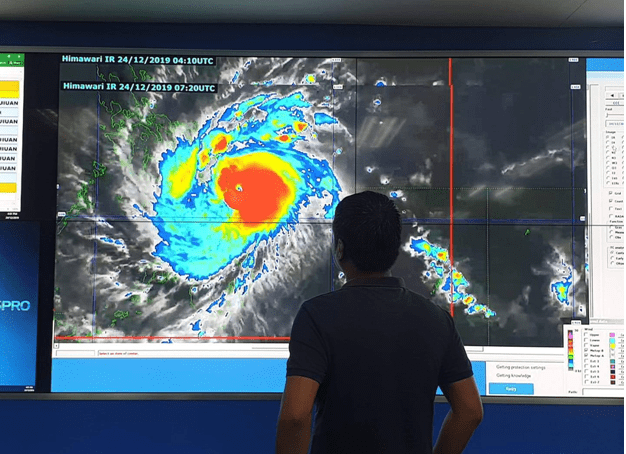 Perez studying a tropical cyclone's movement
Even before the pandemic, PAGASA has always been an important source of information essential to public health and safety. "PAGASA's products and services are of vital importance in day-to-day activities," Perez says. "Matters related to the pandemic can be planned and executed—such as the transport of medical personnel, products and services, or even the usual buying of groceries and medicines of the general public—in accordance with the expected weather."
Weather forecasts are even more relevant now that natural disasters such as typhoons can hamper health services and damage health infrastructure. According to Christopher Trisos, director of the African Climate and Development Initiative at the University of Cape Town in South Africa, natural disasters can also disrupt the supply of clean water and eat into government budgets already stretched thin by the pandemic response. Physical distancing is also challenging in often-crowded evacuation centers.
Last May, India and Bangladesh were ravaged by Category 5 Hurricane Amphan, leaving over a hundred dead and displacing thousands of families. Partnered with the pandemic, the disaster can impact even more lives.
In the Philippines, the second half of the year marks the time when most tropical cyclones directly affect the country. And coupled with the habagat season commencing from July to September, tropical cyclones can bring continuous moderate to heavy, and even at times, torrential rains, which may cause flooding in low-lying areas and landslides near mountain slopes. These winds and rains, regularly experienced during this period, may inflict damage to properties, causing disruptions in major services such as power, transportation, health and food. "There is a tendency that the current situation may worsen—such as an increase in the number of affected persons or casualties— when there is a disruption to the provision of the these products and services due to weather-related hazards," Perez explains.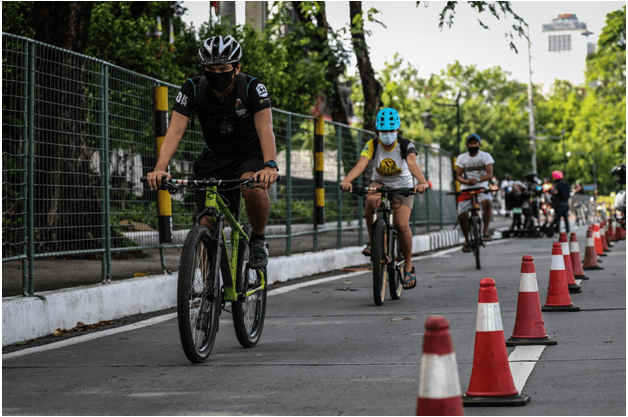 The typhoon season may worsen public mobility already hampered by the pandemic. (photo by Jire Carreon)
Right now, PAGASA is testing a new prediction model called the 2-Week Tropical Cyclone Threat Potential Forecast that shows the development of cyclones two weeks before they occur. The agency's researchers developed this weather forecasting model in partnership with Taiwan's Central Weather Bureau.
The situation may look grim, but Perez says we can do our part in alleviating it. While we can't stop weather systems from entering our country, we can slow down the rise of COVID-19 cases in the country. "Heed the government's call to just stay at home as much as possible, and follow the established health protocols being implemented," Perez urges. "Lastly, make it a habit to monitor every day the various PAGASA weather updates as these may guide you in planning your day-to-day activities."
With additional reports from George Gamayo
Time flies when you're having fun, and seems to slow down when you're in a less desirable situation. But time is more than the numbers glowing on our phones and watches; it is a fascinating ode to astronomy.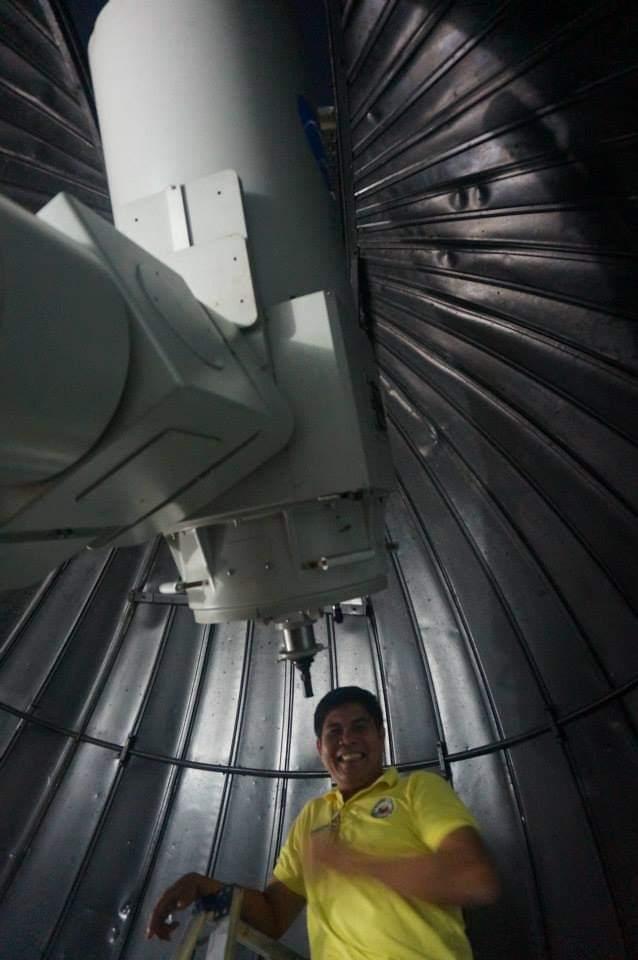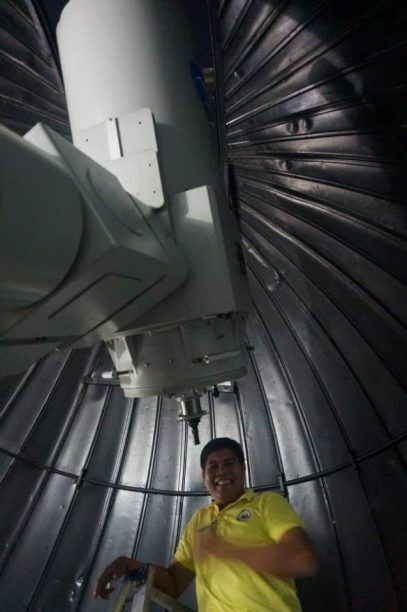 Raymundo with a 45-cm GOTO Telescope, the largest optimal telescope in the country, at the PAGASA Astronomical Observatory in the University of the Philippines.
When Electrical Engineer Mario Raymundo first entered the Philippine Atmospheric, Geophysical and Astronomical Services Administration (PAGASA) office in 1993, he was assigned to the weather's bureau's time service unit. Here, he learned how time could be measured by observing the movement of celestial bodies, and how time zones in different parts of the world are based on the fact that it takes the Earth one hour to turn 15 degrees.
As time went by, it seemed almost natural for Raymundo to gradually expand his knowledge and duties to include astronomy. "As an engineer, I was well-versed in mathematics, including trigonometry. But in astronomy, I learned spherical trigonometry to make observations on the celestial bodies."
Decades later, Raymundo is now chief of the PAGASA Astronomical Observation and Time Service Unit. "We use a 45-centimeter telescope to observe variable stars. During the daytime, we study and photograph sun spots." Sun spots or dark spots that appear on the Sun's photosphere may have an effect on the Earth's weather patterns. Meanwhile, variable stars or stars that change their brightness are studied to possibly discover other stars and signs of life in the galaxy.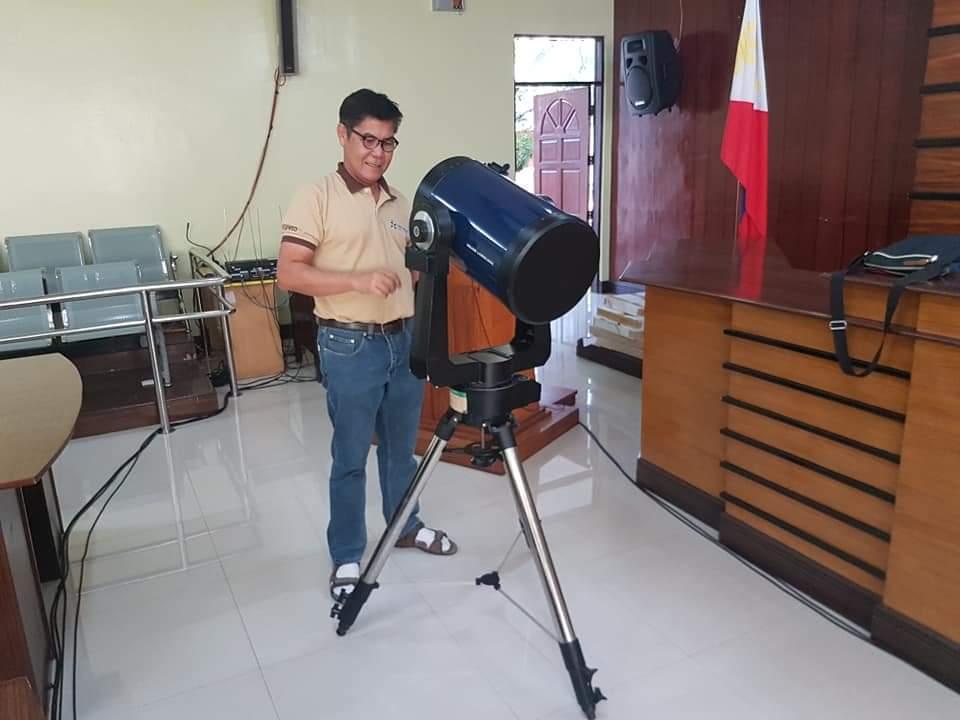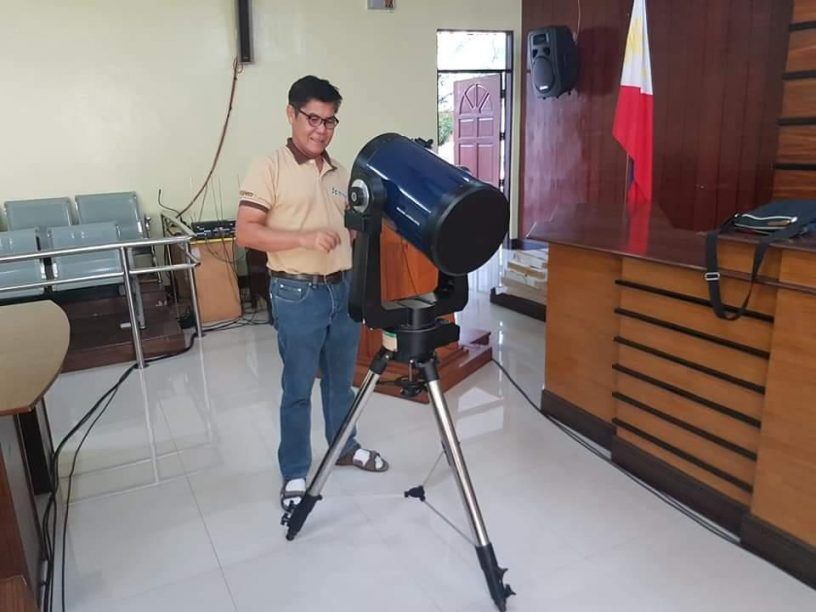 Raymundo with a compound telescope
Astronomy for Filipinos
Raymundo admits that the study of astronomy in the Philippines is limited because of the lack of funding for high-cost equipment. "Astronomy equipment is very expensive. A 1-meter telescope alone costs a million (US) dollars, which is roughly 50 million pesos. You can feed a lot of Filipinos with that amount." Still, Raymundo believes that PAGASA provides a good foundation for future Filipino astronomers. "We have to start somewhere to impart the knowledge to future generations. Before the pandemic, we regularly visited schools with our mobile planetarium to conduct lectures."
Despite the challenges, Raymundo says astronomy remains significant for Filipinos. "A lot of Filipinos are hungry for astronomical knowledge. In science textbooks in schools, only 7 to 8 pages are dedicated to astronomy, offering only general facts. When we conduct lectures, we give students direct knowledge. Through the planetarium, they better understand why celestial bodies are positioned in certain ways, and the importance of the Polaris or North Star. It's easier to explain things that way."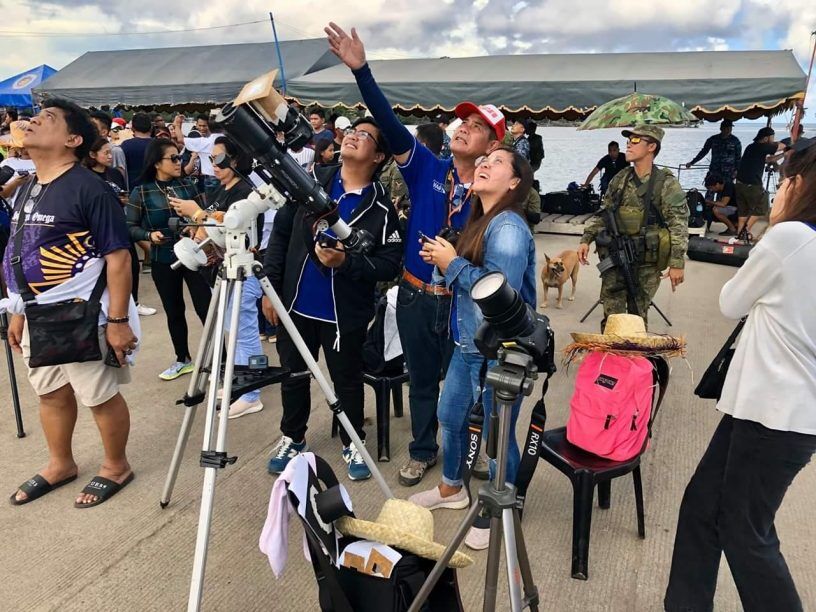 Annular Solar Eclipse in December 2019 in Balut Island in Saranggani, Davao Occidental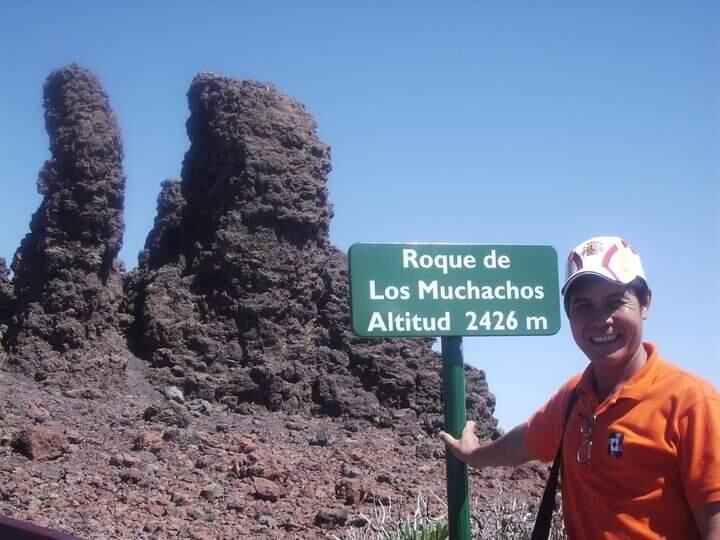 Training in Spain on Astronomical Observation which lasted for several months
Astronomy saves lives
But astronomy is not only a passive observation of the skies; it can also save lives. In 2013, an asteroid about the size of a six-story building blasted over Chelyabinsk in Russia. Its explosion generated a shock wave that shattered glass and injured over a thousand people. "Outer space can bring disasters," Raymundo says. "In reality, thousands of meteors enter our planet, but they usually disintegrate before hitting our surface. The one that exploded in Russia was unexpected, so we need people to be aware that this kind of disaster is possible."
On July 15, Panahon TV will host a free webinar called Understanding Space with Raymundo as the speaker. "I'm excited because it's my first time to conduct an online lecture. It's a different approach and I'm looking forward to the results." When asked what he's excited to share with the webinar participants, Raymundo says, "I hope to better explain to them the things they read in books. Everything from the constellations to the zodiac, I will be able to describe in detail."
Catch Chief of PAGASA Astronomical Observation and Time Service Unit Mario Raymundo in Panahon TV's free webinar, Understanding Space, on July 15, 2020 at 2 pm. To register, click here: https://bit.ly/2Z7TJa4
After the Quadrantids Meteor Shower last January 4, the skies will once again be illuminated by another major astronomical event—the Penumbral Lunar Eclipse.
Eclipses come in pairs
A solar eclipse is always paired with a lunar eclipse. A solar eclipse only happens during the new moon, while a lunar eclipse occurs during the full moon. For an eclipse to occur, the new and full moons have to take place within the eclipse season, wherein the Earth, Sun, and Moon are perfectly aligned. This happens twice a year, about six months apart.
What is a Penumbral Lunar Eclipse?
On January 11, 2020 at 1:07 a.m., the Penumbral Lunar Eclipse will be visible in the country. It occurs whenever the Earth passes between the Moon and the Sun, blocking out sunlight and casting a shadow on the Moon's surface.
Unlike other types of eclipses, a Penumbral Lunar Eclipse is more subtle and much more difficult to observe. According to Fred Espenak, an American Astrophysicist, about 35% of all eclipses are penumbral. Another 30% are partial eclipses, while the remaining 35% are total eclipses of the moon.
Where will the Penumbral Eclipse be visible?
The eclipse will be visible in Africa, Oceania, Asia, Europe, and Northern America.
In Manila, the Penumbral Lunar Eclipse starts at 1:07 a.m., reaching its peak at 3:11 a.m. and ending at 5:12 a.m. The next eclipse for the year will be visible on June 6.
2019 has just begun, but the superstitions from our ancestors still thrive in our culture. Even an everyday thing such as the weather isn't immune to such baseless beliefs. To help us debunk some weather-related superstitions, we consult experts from no less than PAGASA.
"Bawal magsuot ng pulang damit o gumamit ng pulang payong kapag umuulan. Baka tamaan ka ng kidlat." (Don't wear red or use a red umbrella when raining to prevent getting hit by lightning.)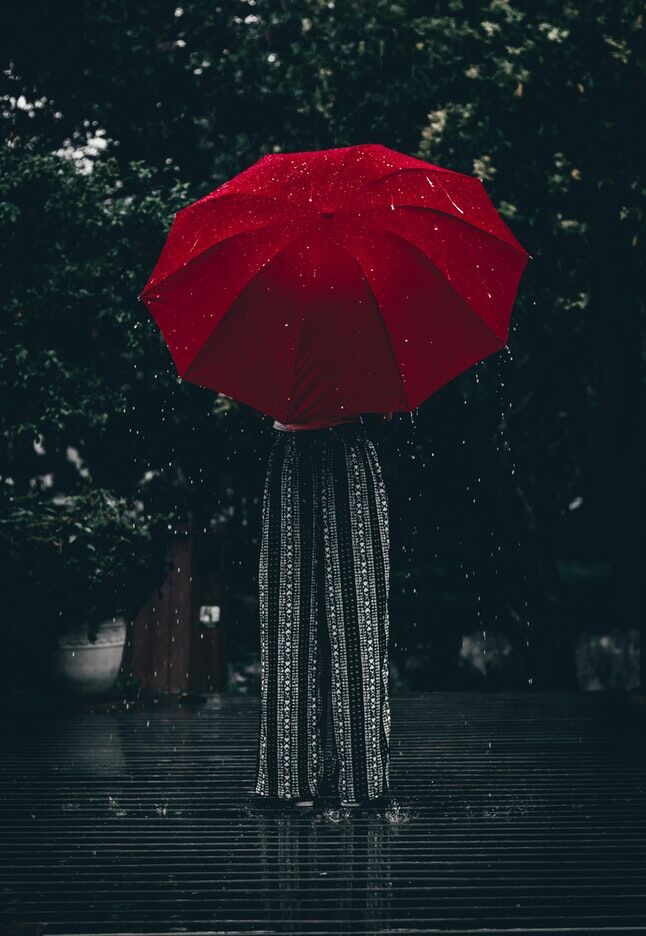 This is a usual saying we hear before heading out during the rainy season. Maybe this is rooted in the fact that red is a strong color and attracts whoever sees it—even lightning.
What PAGASA Weather Specialist Chris Perez says:
"Lightning can strike anything, anywhere. It is dependent on the concentration of charged particles–positive and negative charges within a thunderstorm cloud and on the ground. The negative charges at the bottom of a thunderstorm cloud are attracted to the positive charges on the ground. These positive charges can be from anything (trees, metal objects, even people)
.
Regardless of your shirt's or umbrella's color, we have to be extra careful whenever we go outside during a thunderstorm. https://panahon.tv/beta/v2/web/blog/2015/06/squat-if-you-must-how-to-keep-yourself-safe-during-thunderstorms/
"Sasakit ang tiyan mo kapag nakaamoy ka ng alimuom." (The damp ground's smell will give you a tummy ache.)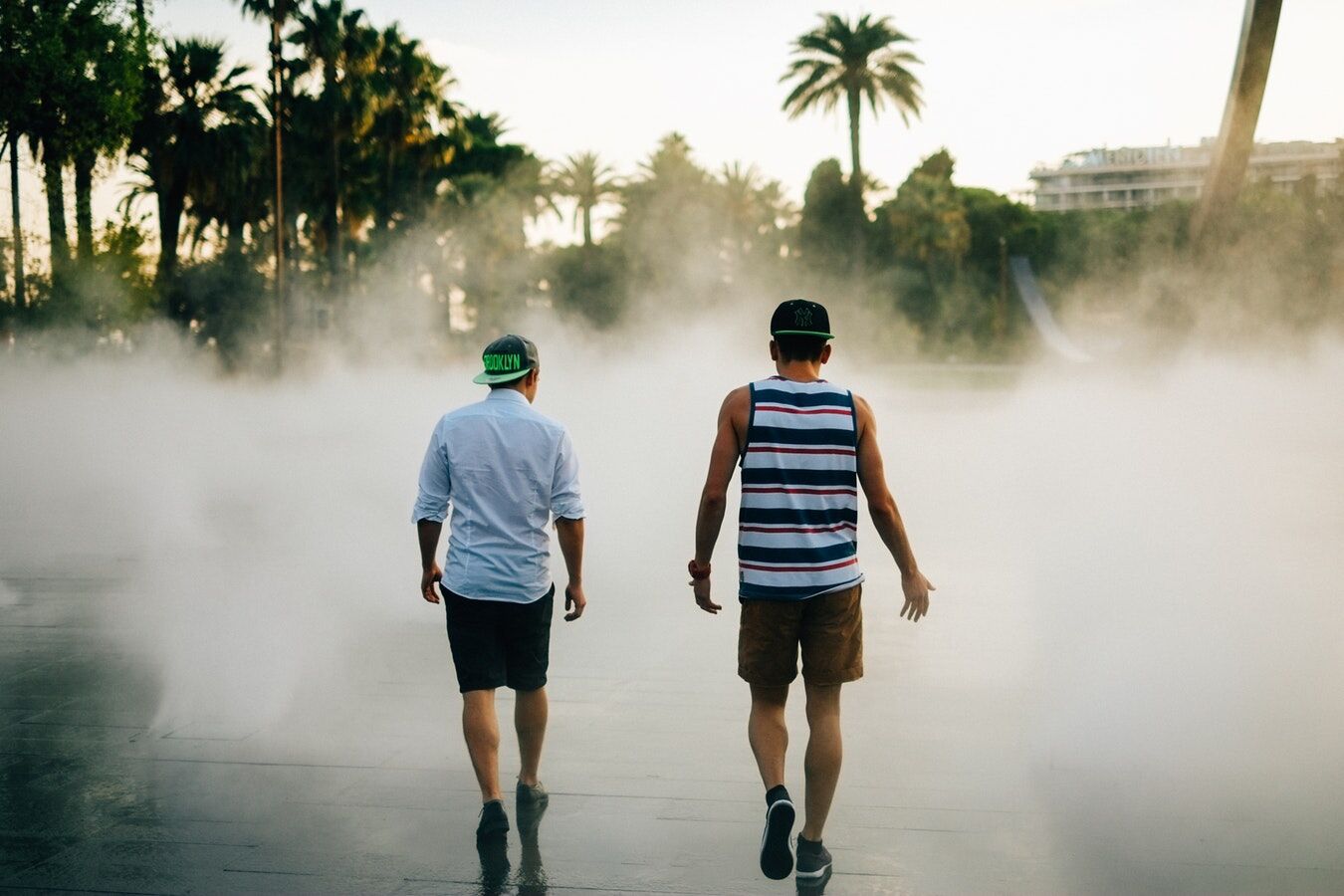 The earthy scent produced when rain falls on dry soil is called petrichor. Such odor may smell unpleasant to some people.
What PAGASA Weather Specialist Ariel Rojas says:
Petrichor is not known to cause any bodily harm – chemical, biochemical or otherwise. So have no fear of getting those tummy aches when inhaling that scent because it's a bluff!
"Kapag kumanta ang taong hindi maganda ang boses, uulan." (When someone sings off-key, it will rain.)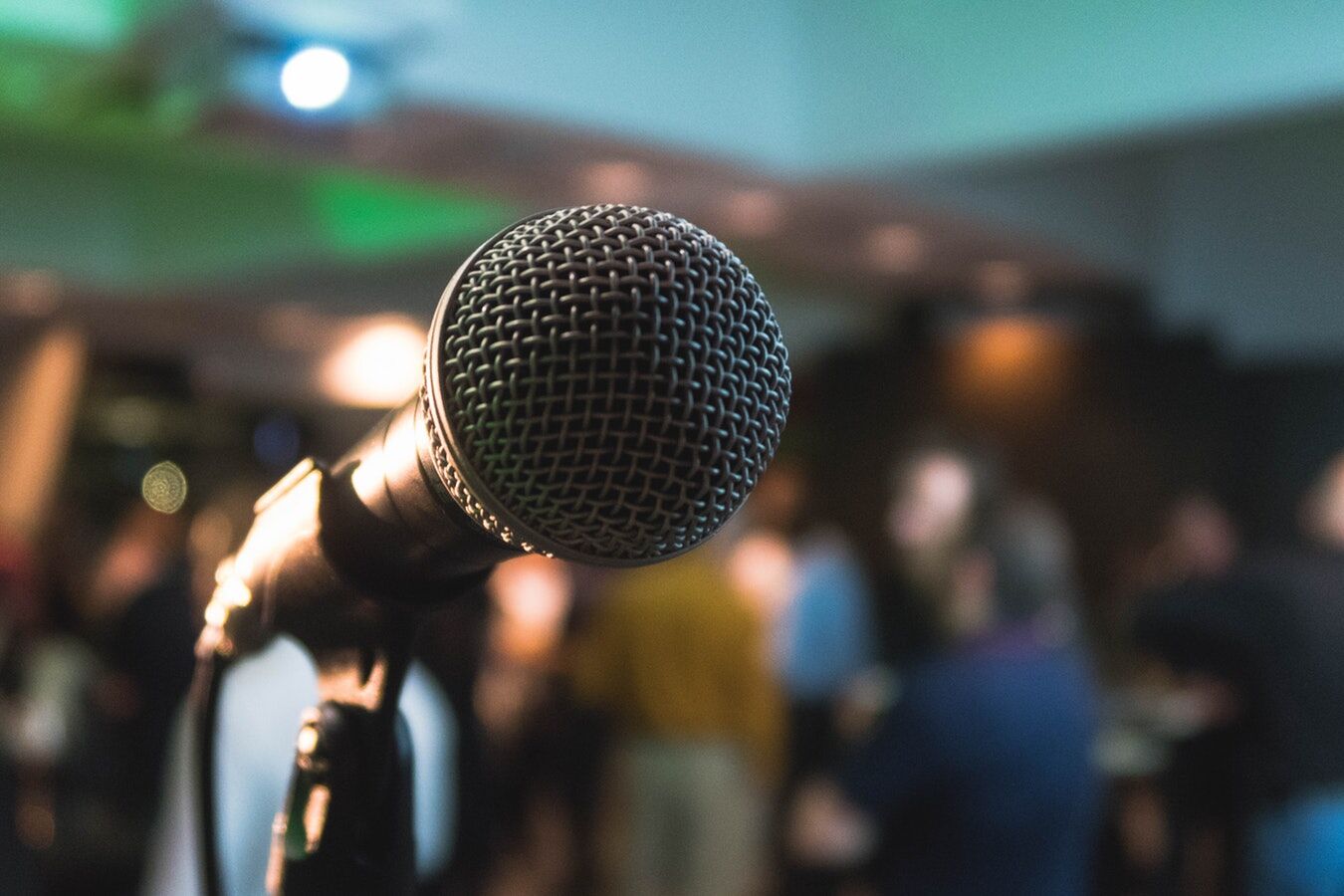 Nope, this one doesn't need a scientific explanation. A person's singing voice doesn't have anything to do with the weather. This superstition may have been coined to discourage people who can't sing to belt out tunes.
"Kapag umuulan habang umaaraw, may ikinakasal na tikbalang." (When the sun is shining at the same time it's raining, it means a werehorse is being wed.)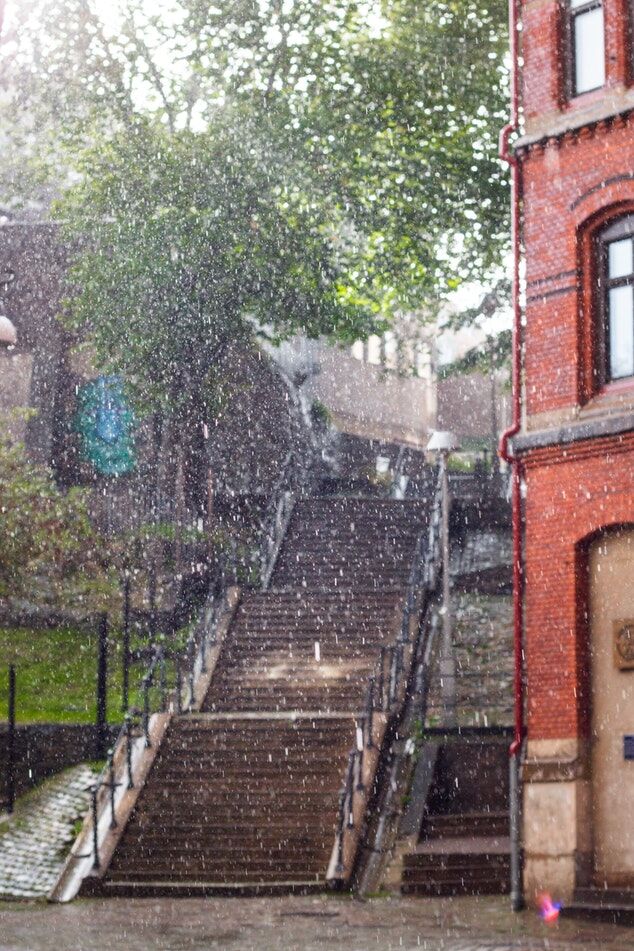 This myth, involving a tikbalang (a half human, half horse creature from Philippine folklore) is probably the most popular weather-related superstition. Across the globe, it is generally believed that such weird weather indicates the wedding day or birthday of a trickster figure (e.g. witch, monkey, fox, etc.). That is why on these characters' special day, the weather pulls its own prank on us, humans.
What PAGASA Weather Specialist Chris Perez says:
This scenario usually happens during the Hot and Dry, and Monsoon seasons. Isolated thunderstorms, which brings rain showers, can occur anytime during a hot, sunny day. Winds associated with a thunderstorm can blow raindrops into an area with no clouds, resulting in a sunshower.
Now that the expert have given their two cents, you can now face the day with your head held high, knowing that what you wear or how you sing won't affect the weather. But remember, whatever the weather, it's best to prepare for it to ensure your safety.
By: Pamela Avigail E. Jayme
Panahon TV Intern
Can We Live on Mars?
Can other planets supporting life? Are we alone in this vast universe? These are some of the questions curious minds are interested in. And it's this intense kind of curiosity that has led to one of our most ambitious space projects, the Mars Exploration.
Meet Mars
Mars is sometimes called the "Red Planet". It's red because its surface has iron oxide or rusty particles. Its only half size of Earth and like our planet, Mars has volcanoes, weather, seasons, polar ice caps and canyons. Its thin atmosphere is made of nitrogen, argon and carbon dioxide. These characteristics encouraged scientist to dig deeper into Mars's history to find out if it once supported life – and maybe able to in the future.
The Mars Mission
So far, almost 50 spacecraft have visited Mars, but not all of them were successful in landing on its surface or in orbiting around the planet. Mars is the only planet scientists have sent rovers to –. These vehicles drive around the planet to take photos and measurements.
Scientists begun to send probes to the red planet in 1960. But Mars Exploration Program funded and led by the National Aeronautics and Space Administration (NASA), officially begun in 1994. The first six spacecraft all failed to reach Mars orbit.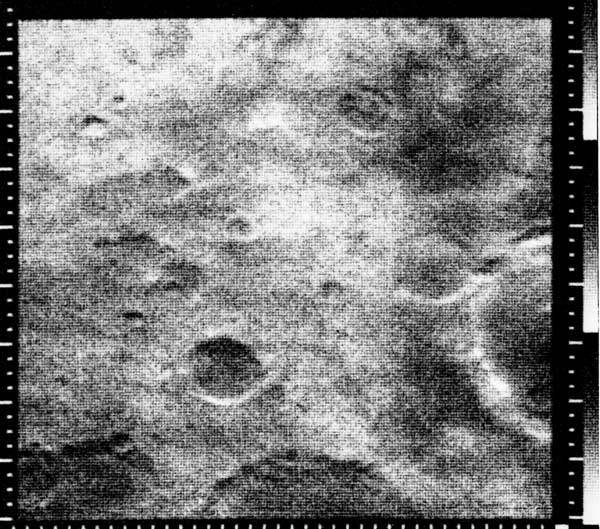 Mariner 4 was the first successful flyby attempt that entered the planet's orbit, arriving on July 14, 1965. This mission provided the first close up images of the planet.
The most recent successful landing on Mars happened just last November 2018. The Interior Exploration using Seismic Investigations, Geodesy and Heat Transport (InSight), is a robotic lander designed to study the deep interior of the planet and to listen to Marsquakes.
The Possibilities of Mars
Scientist are exploring Mars to determine if life ever arose on Mars, to characterize its climate and geology; and ultimately, to prepare for the human exploration of Mars. The Mars Exploration Program is a science driven program that seeks to understand whether Mars was, is, or can be, a habitable world.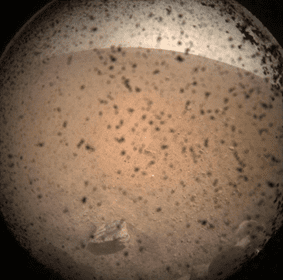 Terraforming is the primary ingredient of the concept of Mars – colonization. This is a speculative course of alteration of the conditions of the planet to make it habitable for lives that are existing on Earth without any life supporting system.
In order to make Mars a habitable planet, Bruce Jakosky, a planetary scientist and principal investigator for NASA's Atmosphere and Volatile Evolution and Christopher Edwards an assistant professor for planetary science, said that by using greenhouse gases that already present on Mars, we could, theoretically, raise temperature and change the atmosphere enough to make Mars an Earth – like.
Mars has exactly opposite problem as Earth. Mars as we all know is a cold planet, in fact the current climate on Mars is at average of about minus 81 degrees Fahrenheit (– 62.78°C), though the temperature can vary wildly. That is why scientists want to make Mars hotter and thicken its atmosphere, so its polar ice caps can melt. Considering more water means more opportunities for microbial life to do its work.
The idea of using microbes to begin a terraforming project on Mars is so encouraging that NASA has already begun initial tests. The Mars Ecopoiesis Test Bed is proposed for development to be included with future robotic mission to Mars. This is something look like a drill with hollow chamber inside with container full of cyanobacteria. The drill would bury itself in the Martian soil, preferably in a place with the presence of liquid water and then the container with cyanobacteria would be release into the chamber and the built – in biosensor would detect whether the microbial life produce any oxygen or other bvproducts.
The first phase of this project was conducted in a simulated Martian environment here on Earth, and the results were promising. But even still, there are some major challenges we'll have to face if ever we want to use microbially terraform Mars on a large-scale.
Conclusion
We are clearly excited about what the future may bring. Pushing ahead, trying to understand what Mars may have for us. Uncertain of what the outcome may be, but McKay once said, "Life may not be scientifically preferred explanation, but it cannot be yet disproven".
By: May Dacula, PanahonTV Intern
Sources:
https://history.nasa.gov/marschro.htm
https://science.nasa.gov/solar-system/programs/mars-exploration
https://bigthink.com/surprising-science/using-bacteria-to-terraform-mars
"The moon is a loyal companion. It never leaves. It's always there, watching, steadfast, knowing us in our light and dark moments, changing forever just as we do. Every day it's a different version of itself. Sometimes weak and wan, sometimes strong and full of light. The moon understands what it means to be human. Uncertain. Alone. Cratered by imperfections."
– Tahereh Mafi
Nights aren't not complete without the presence of the moon. Let's get to know our nocturnal friend better with these fun facts:
1. It's smaller than the Earth.
The National Aeronautics and Space Administration (NASA) says that the radius of approximately 1,737.5 kilometers. If the Earth were the size of a nickel, the moon would just be as big as a coffee bean.
NASA added that around 30 Earth-sized planets could fit in the distance between our planet and the moon, which is 384,400 kilometers away.
2. You can't live on the moon.
According to NASA, the moon has a very thin and weak atmosphere, which doesn't protect it from the sun's radiation or impacts of meteoroids. This is also the reason why temperatures on the moon are extreme, ranging from boiling hot to freezing cold depending on the orientation of the sun.
Astronauts who explored the moon were equipped with spacesuits that had several layers of insulation and equipped with internal heaters and cooling systems.
3. The moon is responsible for the rising and falling of ocean tides.
Around each new and full moon, the pull on the tides increases due to the gravity of the sun that reinforces the moon's gravity. During these phases, the tides are at their maximum.
Meanwhile, during the first quarter and last quarter phase, the sun's gravity works against the gravity of the moon. This is when the tide's range is at its minimum.
4. There may be earthquakes on the moon!
NASA confirmed that the moon may be seismically active. This is based on data gathered between 1969 to 1972, when Apollo astronauts placed seismometers at their landing sites on the moon.
Because the moon is dry, cool and mostly rigid, moonquakes are continuous unlike earthquakes that usually last for half a minute.
5. The moon has its own festival.
The Moon Festival is a holiday in China and several Asian countries. It's one of the most important celebrations in the Chinese calendar, traditionally held when the moon is at its fullest and roundest.
This event gathers families and friends that admire the bright mid-autumn moon and eat moon cakes. Moon cake is a sweet pastry with red bean or lotus-seed filling. It is believed to be the symbol of completeness and unity among families.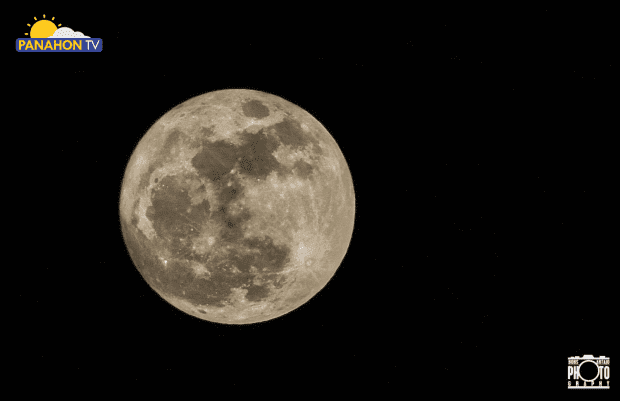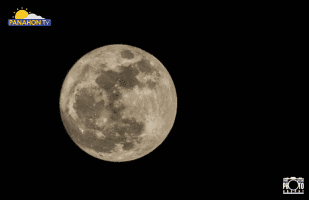 Photo by: Bobs Artajo, one of the Top20 Supermoon Photo Contest winners
6. The full moon has a different name each month.
The names of the Full Moon originated from the Algonquin tribes of Native America which was adapted by some of the Colonial Americans.
January – Full Wolf Moon
It is believed that this full moon appeared when wolves howled in hunger.
February – Full Snow Moon
Usually the heaviest snow falls in February, making hunting difficult.
March – Full Worm Moon
During spring, the ground softens and earthworm casts reappear. Also known as the Sap Moon, it marks the time when maple sap begins to flow and the annual tapping of maple trees begins.
April – Full Pink Moon
This full moon signaled the appearance of the moss pink or wild ground phlox, one of the first spring flowers.
May – Full Flower Moon
Flowers become abundant during this month.
June – Full Strawberry Moon
The Algonquin tribes consider this moon as a sign of the perfect time to gather ripening strawberries. It is sometimes called as the Rose Moon.
July – Full Buck Moon
During this time, the antlers of bucks are in full-growth mode.
August – Full Sturgeon Moon
Some Native American tribes knew that the sturgeon, or a type of fish that lives in the northern part of the world, was mostly caught during this full moon.
September – Full Corn Moon
This corresponds with the time of harvesting corn.
October – Full Hunter's Moon
This is the time for hunting as preparation for the long winter ahead.
November – Full Beaver Moon
This is the time when beavers actively build their winter dams in preparation for the cold season.
December – Full Cold Moon
This is the month when the winter cold speeds up.
7. The moon doesn't have its own light.
The moon merely reflects light from the sun. The light that we see from the moon is an illusion of the reflected light.
Astronomers say it will take hundreds of thousands of moons to get the same brightness of the sun. Even when a moon reaches its full phase, it always shines with a lower magnitude that the sun.
8. The US first conquered the moon.
According to NASA, there were three men who first stepped in the moon. Neil Armstrong, Edwin Aldrin and Michael Collins were the astronauts on the successful Apollo 11 mission in 1969. Armstrong and Aldrin landed on the moon while Collins stayed in orbit around the moon, doing experiments and taking images.
On July 20, 1969, Neil Armstrong became the first human to step on the moon. He and Aldrin were able to walk around the moon for a few hours, picking up bits of dirt and rocks for experiments. They also installed a U.S. flag on the moon.
9. The moon has inspired idioms!
"Once in a blue moon" refers to an even that is rare, seldom or surreal. Blue Moon refers to the second full moon in a month. Normally, there is one full moon each month but there are also rare instances that a second one sneaks in.
This doesn't literally mean that the moon turns into a bluish color. However, it is believed that during the 1883 Krakatoa Volcano explosion in Indonesia, people noticed that the moon turned blue. Scientists explained that this phenomenon was more likely because of the ash clouds that rose to the top of the Earth's atmosphere.
10. Some people love staring at the moon!
If you are fond of staring at the moon, you may be a "selenophile" or a person who loves the moon. "Selene" is the Greek name for the Goddess of the Moon while the suffix "phile" comes from the Greek "philos" which means "loving".
Sources:
National Aeronautics and Space Administration (NASA)
http://www.moonconnection.com
https://www.space.com
http://earthsky.org
http://aa.usno.navy.mil
http://seismo.berkeley.edu/blog/2009/07/20/quakes-on-the-moon.html
Once in a Blue Moon? You mean once every two and a half years. Blue moons are rare occurrences, but are not as rare as people think.
Tonight, the world will experience a "blue moon", according to the Philippine Atmospheric, Geophysical and Astronomical Services Administration (PAGASA).
But in this case, the moon doesn't literally turn blue. The moon is called blue when it's the second full moon within a month. Usually, there is only one blue moon in a month, with of course, the exception of blue moons.
The lunar cycle is 29 days long, which means that eventually, there will be an appearance of two moons in one month. This usually happens when a full moon appears at the very start of the month, either on the first or second day.
A blue moon happens roughly once every two and a half years on average, the last two happened in August 2012 and July 2015. In rare cases, there are two blue moons in one year. The "double blue moon" occurred last 1999, and will happen again this year – one tonight, and another in March. On the other hand, when double blue moons occur in January and March, February does not have a full moon, partially because it only has 28 days.
Bluer than Blue
There have been cases of an actual "blue moon," which are rarer than its conventional meaning. The moon changes hue when there are volcanic eruptions or large fires that leave particles in the atmosphere.
One of the longest times a blue moon occurred was when the Indonesian volcano Krakatoa erupted in 1883, equal to the blast of a 100-megaton nuclear bomb. People reported to have heard a cannon-like noise up to 600 kilometers away. Ash and particles about 1 micrometer wide rose up to the Earth's atmosphere, causing selective light to pass through and reach the surface. The moon "turned blue" for days in areas near Krakatoa.
Reported sightings of a "blue moon" also happened after Mount Pinatubo erupted in 1991. Forest fires are also a cause for blue moons because of the smoke and particles they create. In these occurrences, "lavender suns" are also reported to be seen, also caused by particles in the air.
Historical Mix-up
Originally, the blue moon was considered the third out of four full moons in a season (winter, spring, summer, fall). Each season usually experiences 3 full moons, hence the appearance of a 4th moon, or the Blue Moon, which came rarely and is considered the 13th moon in a year. This was based on Maine Farmer's Almanac from 1819, which farmers used as reference for agricultural purposes.
However, in 1946, an article on Sky & Telescope misinterpreted the blue moon as the 2nd moon in a month, inferring from the idea that the blue moon appeared as the 13th full moon in a year. The article was titled "Once in a Blue Moon", a phrase which integrated itself into pop culture meaning something that happens very rarely.
From this misinterpretation, a blue moon can be considered either of the following:
1. It is the extra full moon within a season, which usually has three moons (Maine's definition); or
2. It is the second full moon within a month (Sky & Telescope's definition).
The latter is the more popular and commonly used definition for a blue moon nowadays, with the other definition practically defunct.
Catch the blue moon tonight, peaking at 8:51 PM (Philippine Standard Time).
SOURCES:
http://www.seasky.org/astronomy/astronomy-glossary.html#B
www.skyandtelescope.com/observing/what-is-a-blue-moon/
PAGASA
NASA