Earth Day is less than a week away with this year's theme of "Restore the Earth." Earthday.org expounds on it by saying, "Together, we can prevent the coming disasters of climate change and environmental destruction. Together, we can Restore Our Earth."
It is a fitting theme after the World Meteorological Society (WMO) declared 2011-2020 as the hottest year on record. Ocean heat is also hitting record levels due to greenhouse gas emissions. WMO Secretary-General Prof. Petteri Taalas explained, "In 2020, the annual Arctic sea ice minimum was among the lowest on record, exposing Polar communities to abnormal coastal flooding, and stakeholders such as shipping and fisheries, to sea ice hazards." In a Panahon TV feature, PAGASA Hydrologist Rosalie Pagulayan warned that excess ocean heat may also fuel stronger tropical cyclones (bagyo). "Warmer oceans result in more evaporation. When there's more moisture in the atmosphere, this could lead to intensified tropical cyclones. This means stronger rains, storm surges, and the possibility of tornadoes. Coastal communities will be inundated even those that do not usually experience floods."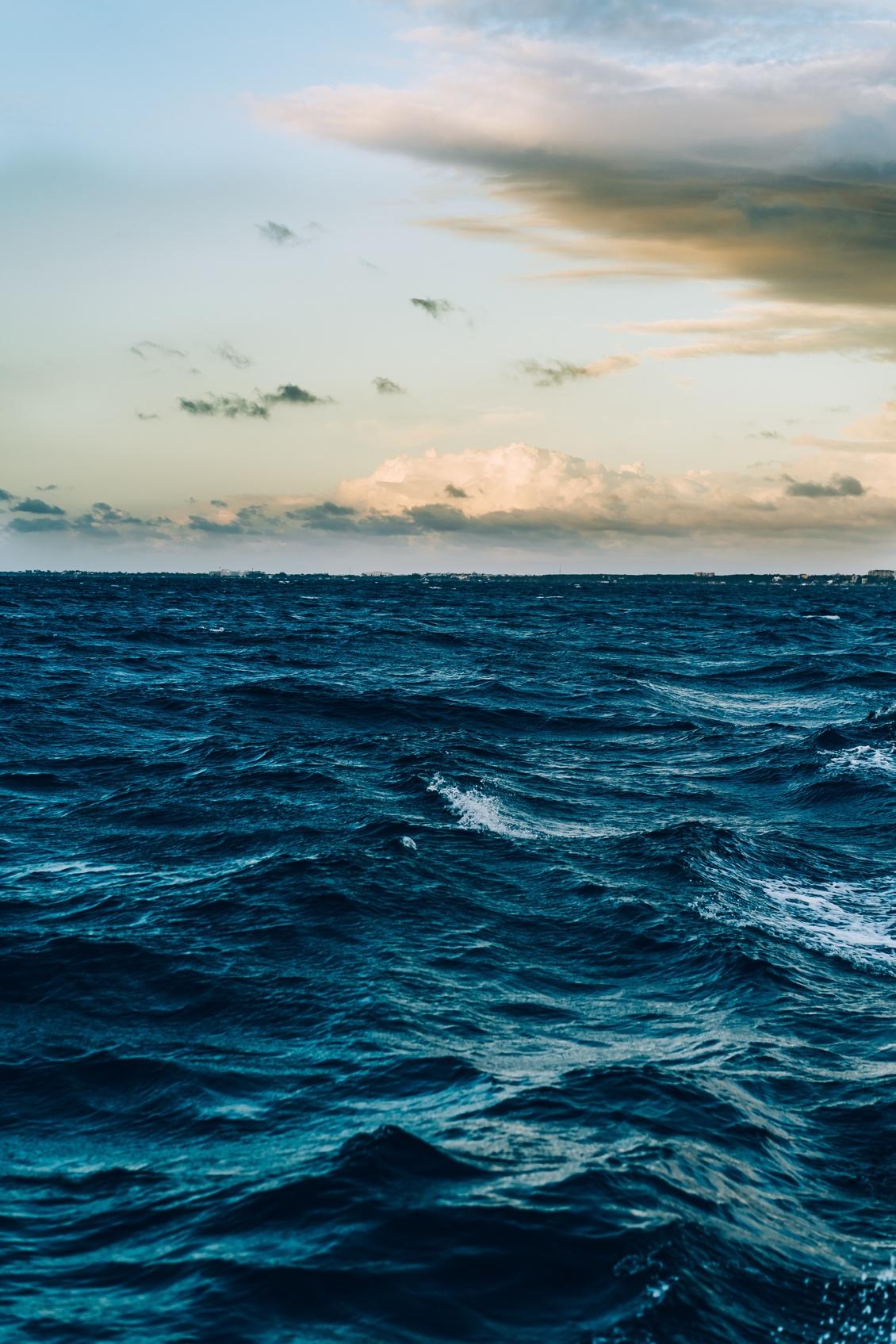 Warmer oceans lead to intensified tropical cyclones. (Photo by Ricardo Esquivel from Pexels)
As the planet heats up, more climate-related disasters occur. The United Nations Office for Disaster Risk Reduction (UNDRR) reported that in the last 20 years, floods have doubled while storms increased by almost 40 percent. Major increases were also observed in droughts, wildfires and extreme temperature events.
Volcanic Eruptions and Earthquakes
The Philippines sits in the Pacific Ring of Fire, an area that experiences the most number of earthquakes and volcanic eruptions. But according to this article, climate change might also have an effect on such disasters. It mentions a study that links small earthquakes to typhoons in eastern Taiwan, suggesting that decreased atmospheric pressure, which comes with typhoons, may cause earthquake faults to loosen and create tremors.
Meanwhile, a study from the University of Miami proposes that tropical cyclones and earthquakes are connected. It suggests that excess rainfall leads to landslides, which in turn reduces the weight on the fault below the earth's crust, causing it to be more volatile.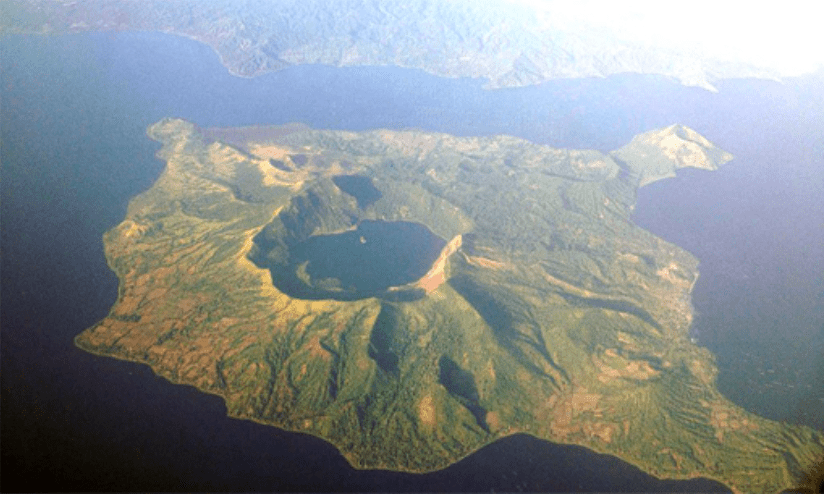 Taal Volcano is currently at Alert Level 2 according to PHIVOLCS.
But how about volcanic eruptions? With Taal Volcano in Batangas currently at Alert Level 2, and its January 2020 eruption still fresh in our minds, should we be worried about climate change stimulating volcanic activity? The same article mentions the possibility of heavy rains triggering eruptions of the Soufrière Hills in Montserrat, and seasonal changes affecting Pavlof Volcano in Alaska.
However, in a Panahon TV interview, Dr. Renato Solidum Jr, officer-in-charge of the Philippine Institute of Volcanology and Seismology, and undersecretary for Disaster Risk Reduction and Climate, stated that global warming has no effect on earthquakes and current volcanic activities in the country. "Volcanic eruptions are caused by magma beneath the earth, and not by the Sun," he explained in Filipino. "The same goes for earthquakes, which are caused by fault movement. This energy pushes the plates around the fault."
But Solidum was quick to stress the fatal combined effects of volcanic eruption and extreme rainfall. "Because of global warming, evaporation is sped up, causing more rainfall. When a volcano has just erupted and is followed by rain, the water combines with the spewed-out ash and becomes lahar." This was exactly what happened when Typhoon Diding followed the Pinatubo eruption in 1991, causing lahar attacks in Pampanga, Tarlac and Zambales, and burying entire towns.
Heavy rains can also exacerbate earthquake impacts. "Heavy rains can already cause landslides," said Solidum. "But if an earthquake occurs while it's raining, there might be stronger and more frequent landslides. Many more people will be affected."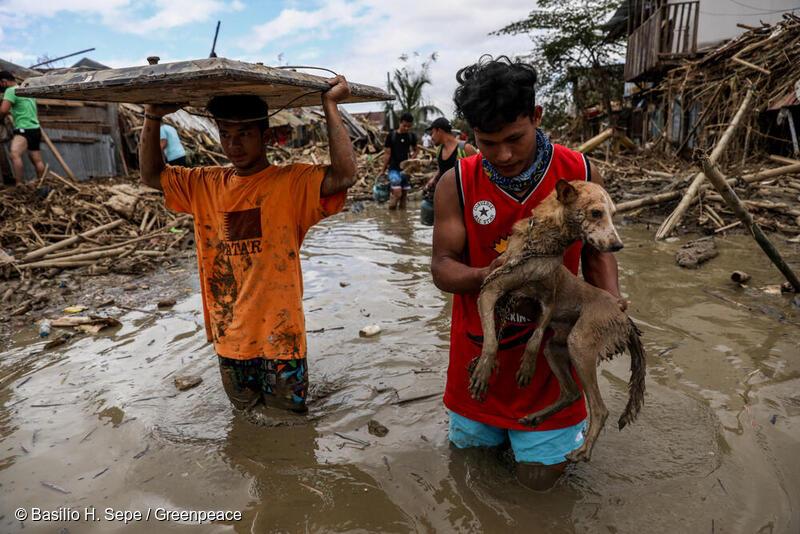 Residents in Rizal wade through flood caused by Typhoon Ulysses in November 2019
Environmental Care is Disaster Preparedness
Though geologic events such as earthquakes and eruptions happen naturally with or without climate change, Solidum explained how manmade activities can worsen their impacts. "Landslides occur in steep places or those with soft ground. Destroying our mountains through deforestation or housing developments leads to faster erosion and lowland flooding. The eroded soil along with improper waste disposal fill up our rivers and drainages, also causing floods."
Solidum recalled the landslide that occurred in a subdivision in Antipolo, Rizal in 1996, which caused over 300 buried houses and 60 deaths. "The landslide was traced to the ground being disturbed during development. When heavy rains fell, the already loosened ground eroded. The disaster was human-influenced. That's why houses shouldn't be built on stiff slopes. The improper placement of septic tanks and drainages can also cause soil erosion."
More recently, Cagayan province experienced massive floods after the onslaught of Typhoon Ulysses in November 2020. Though fingers were pointed at Magat Dam's release, environmental groups also cited quarrying and illegal logging in the Sierra Madre mountain range as a major cause of the disaster. Cagayan Governor Manuel Mamba also faulted the heavy silt in Cagayan River for causing floods that resulted in 29 deaths.
Though it is vital to prepare for disasters with go bags and other preventive measures, Solidum stated that environmental care is just as important. "Protecting our environment is equivalent to caring for our communities and ourselves, so we can better prepare for natural hazards. These hazards become more fatal if we don't care for our environment. Environmental care should be part of our disaster preparedness."
Read up on how plastic pollution harms our health and environment, and take our quiz to find out how much of a zero-waste advocate you are.
In 2019, "climate emergency" was chosen as the Word of the Year by the Oxford Dictionaries, which defined it as a "a situation in which urgent action is required to reduce or halt climate change and avoid potentially irreversible environmental damage resulting from it."
Since the United Kingdom's climate emergency declaration in 2016, more than a thousand local governments in 28 countries have made their declarations, pushing for more urgent measures to address global warming.
In the beginning of 2019, then 16-year-old Greta Thunberg, a Swedish environmental activist, urged global leaders who attended the World Economic Forum to act on climate issues. Her now infamous words, "Our house is on fire," sparked youth-led environmental rallies all over the globe. On September 20, 2019, around 4 million people worldwide took the streets to participate in Global Climate Strike, the biggest climate protest in history.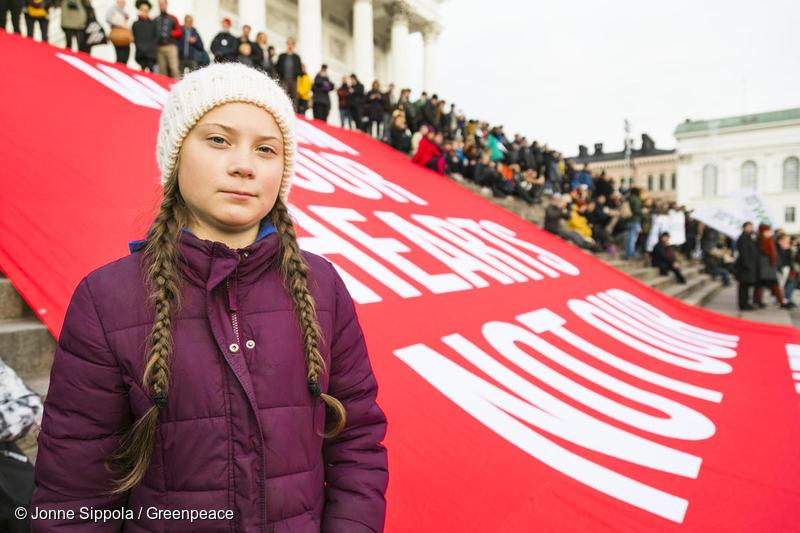 Greta in 2018, participating in a Helsinki rally
Why Climate Emergency Became a Buzzword
2019, which marked the last year of the hottest decade on record, saw a wave of climate emergency declarations across the globe. It was also the year when the Intergovernmental Panel on Climate Change (IPCC) released its first comprehensive report on how agriculture and other forms of land use worsen climate change, and vice versa. With rising temperatures come extreme weather events, droughts, forest fires and pest outbreaks that threaten global food supply.
The United Nations Office for Disaster Risk Reduction (UNDRR) supplemented these findings with a report published on the International Day for Disaster Risk Reduction last October 13. The UNDRR report on the human cost of disasters from the past 20 years (2000-2019) showed a staggering 45% increase in major recorded disaster events, compared to data gathered between 1980 and 1999. In the past two decades, over 7,000 disasters claimed more than a million lives, resulting in global economic losses of US$2.97 trillion.
Majority of the disasters are climate-related, particularly floods—which have doubled in the last twenty years— and storms, which increased by almost 40 percent. Major increases were also observed in droughts, wildfires and extreme temperature events.
With these planet-threatening climate impacts, climate emergency declarations seek to compel all sectors of society, including the government, businesses and the media, to recognize the need to take immediate action.
Indonesians joining the Global Climate Strike on Sept. 20, 2019
Declaring a Climate Emergency in the Philippines
The Philippines has yet to declare a climate emergency, something which environmental group Greenpeace has been pushing for since December last year, when Typhoon Tisoy devasted Northern Samar and Bicol, prompting provinces to issue a state of calamity. The typhoon, which halted Manila's airport operations for twelve hours, forced hundreds and thousands of people into evacuation centers, and left 17 dead.
Greenpeace activists marched to Malacañang, calling on President Rodrigo Duterte to immediately declare a climate emergency. "Year after year, Filipinos are identified among the most impacted globally by this crisis, an emergency situation made worse by the big polluters—fossil fuel companies who have lied and covered up about how their operations have been driving the climate crisis and who have been raking in trillions in profits at the expense of millions of people who suffer from its impacts," said Lea Guerrero, Country Director of Greenpeace Philippines.
According to the Germanwatch-published Global Climate Risk Index 2020, the Philippines ranked 2nd in the counties most affected by impacts of weather-related loss events in 2018. But in terms of facing the highest risk of climate change hazards, the country topped the list of the Global Peace Index. Greenpeace stressed the need for climate impacts to be addressed since the country's poorest regions and provinces are the most prone to sea level rise, extreme weather events, and landslides.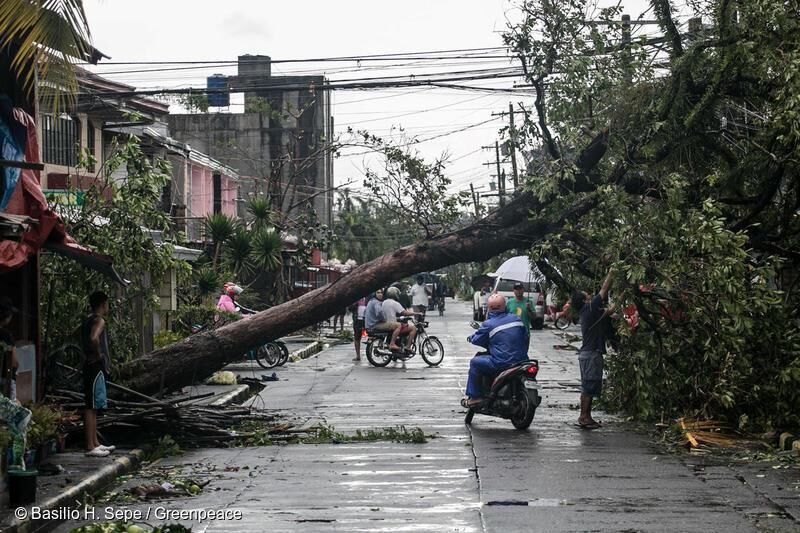 Typhoon Tisoy's devastastion in Legazpi City, Albay
Climate Emergency and the Pandemic
This year, Greenpeace renewed its call for a climate emergency declaration, pushing for climate action and climate disaster risk reduction to be at the heart of the government's COVID-19 recovery plan. "Unless the worst impacts of the climate crisis are averted, the cost in human lives and economic losses will continue to rise to catastrophic proportions," said Greenpeace Philippines Climate Justice Campaigner Virginia Benosa-Llorin. "The Duterte administration must use the opportunity of the COVID recovery to build in strong climate action into a response that will enable the country to weather other future crises that may happen alongside the climate emergency."
A way to do this is to maximize renewable energy (RE) sources, also strengthening the country's commitment to the the Paris Agreement on Climate Change, which aims to keep global temperatures below 1.5 degrees. According to Greenpeace's Southeast Asia Power Sector Scorecard, the Philippines was an early leader of RE after the introduction of the 2008 RE Act. But through the years, this commitment died down, causing coal to make up more than half of the country's energy mix. Because of this, the country has grown dependent on imported fossil fuels, which have tripled in less than a decade.
But the report states that isn't too late to make a turnaround. If the country transitions to RE, increasing it to 50% by 2030, it can still meet its global climate targets while ensuring a better recovery after the pandemic. Allocating the national budget for eco-friendly measures on health, energy, transport, water, food, waste and education, is believed to strengthen the country's resilience and sustainability.
Less Talk, More Walk
Greenpeace demands the following concrete steps from the government:
Putting climate urgency at the heart of policy decision-making from local to national levels.

Holding fossil-fuel companies accountable for driving climate change and inflicting harm on the Filipino people.

Demanding industrialized nations to enhance their emissions reduction ambitions in order to meet the Paris Agreement

Ensuring the Philippines' rapid and just transition to a low-carbon pathway through a massive uptake of renewable energy solutions

Phasing-out coal, and stopping all plans for future coal and fossil fuel investments
Last October, Department of Energy Secretary Roy Cimatu, who also heads the Cabinet Cluster on Climate Change Adaptation, Mitigation and Disaster Risk Reduction, released a statement in favor of the country's declaration of a climate emergency. "The Philippines has already suffered billions of losses, damages and disruptions due to the impacts of hydrometeorological hazards, so there's an urgent need to address more projected adverse impacts to ensure climate justice for the current and future generations of Filipinos," Cimatu said.
In the meantime, Greenpeace and other environmental groups continue to monitor the government's decisions and actions to make sure that their words are concretized by effective action.
Last September 10, residents of California cities, particularly San Francisco, Oakland and Berkeley beheld an eerie sight of orange skies. Such was the result of wildfires raging in the US West Coast, their smoke and ash blotting out sunlight and creating the rust-colored haze.
According to the California Department of Forestry and Fire Protection, the wildfires began as early as January, and have already burned down more than 3 million acres in the state. Since the increased fire activity last August 15, there have been 24 deaths and over 4,000 damaged structures. But outside these figures, the wildfires have wreaked havoc in the atmosphere, putting areas under Air Quality Indexes of "very unhealthy" and even "hazardous", forcing residents to stay indoors.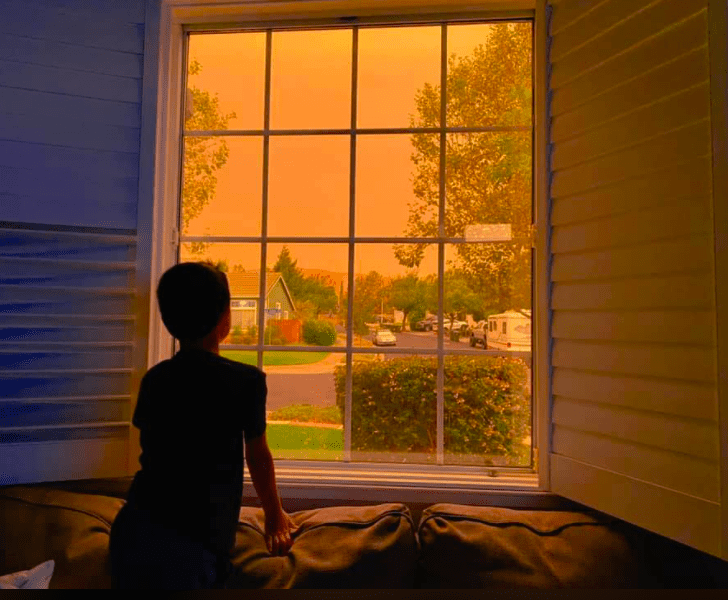 Orange-tinged skies in the Bay Area in San Francisco last Sept. 10 at 10:30 a.m. (photo by Irma Cruz-Dimaisip)
The Pollution Problem
Even without the wildfires, ambient air pollution is a global problem, causing over 4 million deaths each year. According to the Centre for Research on Energy and Clean Air, pollutants are linked to severe respiratory and heart diseases, and lowers resistance against airborne viruses, making one vulnerable during the COVID-19 pandemic.
According to the World Health Organization (WHO), these human activities are the major sources of outdoor pollution:
Fuel combustion from motor vehicles (e.g. cars and heavy duty vehicles)

Heat and power generation (e.g. oil and coal power plants and boilers)

Industrial facilities (e.g. manufacturing factories, mines, and oil refineries)

Municipal and agricultural waste sites and waste incineration/burning

Residential cooking, heating, and lighting with polluting fuels

Poor urban planning, which leads to over-dependence on private vehicles
Combustion engines, fossil fuels and industrial activities produce Particulate Matter (PM), which contains sulphate, nitrates, ammonia, sodium chloride, black carbon, mineral dust and water. Most dangerous is PM2.5, which has a diameter of less than 2.5 micrometers. Because of its tiny size, PM2.5 is easily inhaled, allowing it to penetrate the lungs and blood stream, causing illnesses, which may lead to premature death.
WHO data further states that more than 80% of people living in urban areas that monitor air pollution are exposed to air quality levels that exceed WHO guideline limits. The most affected countries with the greatest toll are in the Western Pacific— and Southeast Asia, which includes the Philippines.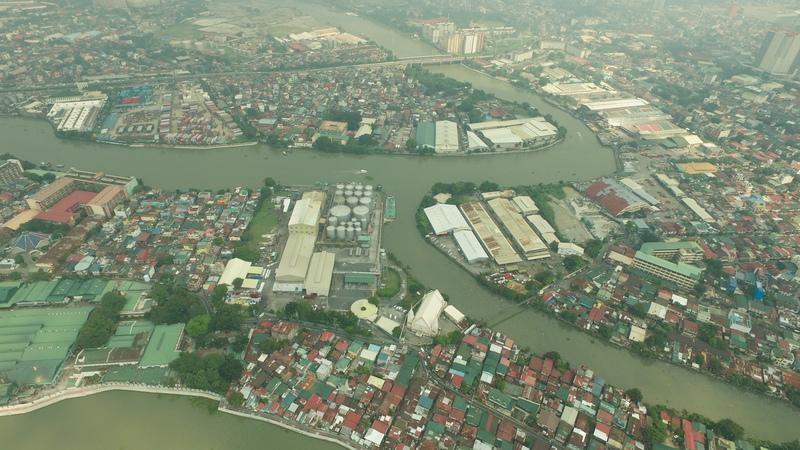 Aerial view of the Pasig River (photo by Enrico Empainado/Greenpeace)
Metro Manila's Alarming Air Quality
Greenpeace Philippines reported a dramatic improvement in air quality during the enhanced community quarantine (ECQ) in Metro Manila from March 15 to May 15, 2020. With this measure to curtail the spread of COVID-19, most of the National Capital Region's 2.5 million vehicles were kept off the road, resulting in PM2.5 levels dropping by an astounding 180%.
But this improvement was short-lived. Since the region shifted to general community quarantine (GCQ) last June 1, smog and pollution levels continue to climb, slowly reverting to the poor air quality experienced before ECQ.
Prior to the lockdown last February, groups such as Greenpeace, Clean Air Asia and the Center for Energy, Ecology and Development (CEED), Health Care without Harm, the Philippine Movement for Climate Justice (PMCJ), and the World Wildlife Fund for Nature (WWF) Philippines had called on the government to overhaul its monitoring and analysis of air pollution data to provide more accurate information. This was in response to the recent 2019 Air Visual report, which placed the Philippines in the 58th spot out of 98 countries. The groups argued that though the country's ranking wasn't high, data still showed that the country's air quality was getting worse. In 2018, the country's air pollution level of 17.6 micrograms per cubic meter was well beyond WHO's safety limit of 10 micrograms per cubic meter.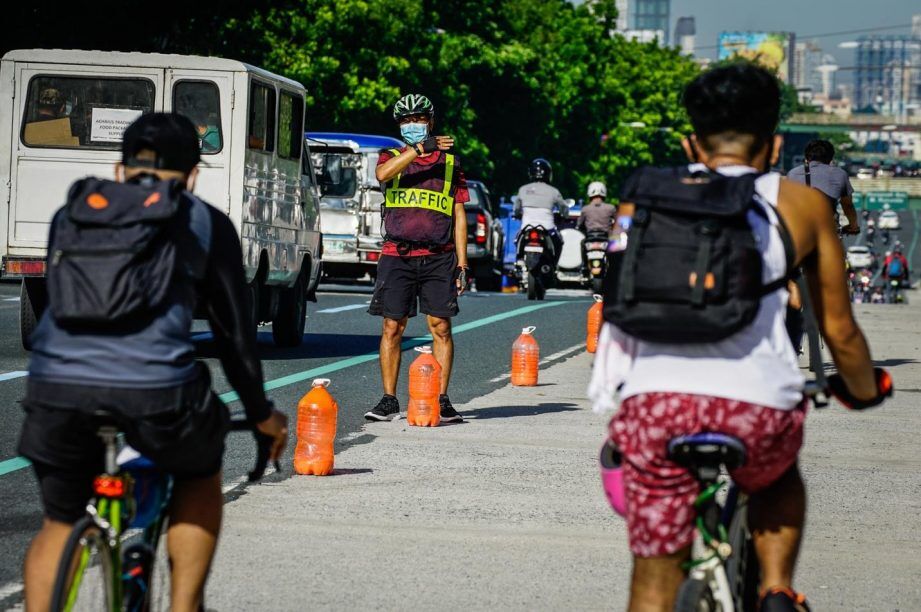 Bikers during ECQ (photo by Jire Carreon)
A Greenpeace Philippines report released in February, showed that toxic emissions could cost Filipinos as much as a 1.9% loss in Gross Domestic Product, as well as 27,000 premature deaths. For a clearer picture of the country's air pollution, the groups urge the government to place monitoring stations near coal-driven power plants and areas of high traffic.
"The Philippine government should see the data as an impetus to overhaul air quality monitoring systems in the country, as well as to transition away from highly polluting facilities such as coal plants. Our safety standards for air pollution haven't changed since 1999," said Khevin Yu, campaigner of Greenpeace Philippines. "This situation has allowed industries and facilities to pollute the air we breathe with impunity."
Meanwhile, Greenpeace campaigner Rhea Jane Pescador-Mallari believes that the ECQ showed Filipinos that healthy, clean air is possible in the metro. "Moving forward, if the government is willing to use the opportunities and lessons learned from the pandemic and amplify it through policies and infrastructure, active mobility and micro mobility, as well as invest in efficient and safe mass public transport, then a return to the massive pollution levels before COVID-19 can be avoided."
Clean Air for All
The severity of recent global wildfires are fueled by climate change, which brings about soaring temperatures, drier conditions and pest outbreaks that weaken trees. According to WHO, air pollutants like black carbon and methane contribute to global warming and glacial melt. The Climate and Clean Air Coalition also states that air pollution threatens food and water supply by blocking sunlight, and affecting the movement and intensity of monsoons.
To secure the Filipinos' health, Greenpeace Philippines advocates for the stricter implementation of the Clean Air Act, and the following measures:
Maintaining flexible remote work arrangements or staggered work shifts, where possible




• People-centric urban design, where public spaces should be planned in parallel with the establishment of mobility programs




• Rebuilding trust in mass transit and supporting displaced transportation workers, possibly with LGU-centric green mobility services

Low-cost, active and carbon-neutral transport options that enable micro-mobility




• Tightening vehicle emission standards from Euro 2 to 4 to 6, and implementing accordingly




• Developing capabilities for real-time monitoring of dangerous pollutants in cities




• Strengthening industrial air pollution standards and wider adoption of renewable energy
Greenpeace believes that the efforts to solve air pollution are the same ones needed to mitigate the climate crisis. "As epicenters of growth, cities need to provide an environment that puts in high premium the health and wellness of both people and the planet. At the local level, addressing air pollution is a key aspect of making cities livable and sustainable. At the national level, it means addressing the climate crisis while helping build climate-resilient communities," said Mallari.
Our country's natural environment is in a dire state. According to the United States Agency for International Development (USAID), the Philippines is highly vulnerable to climate change with its increased weather events, and rising sea level and temperatures. A study conducted by the World Health Organization (WHO) in 2018 revealed that the Philippines ranks third in deaths due to air pollution. The country also ranks third as a source of plastic pollution in the oceans according to a 2015 report by Ocean Conservancy.
Pro-environment speeches always talk about how we need to save the environment for the next generation. But to solidify this advocacy, we need the next generation to fight alongside us in the name of environmental protection. And one effective way to do this is through children's books that nourish young minds in engaging ways.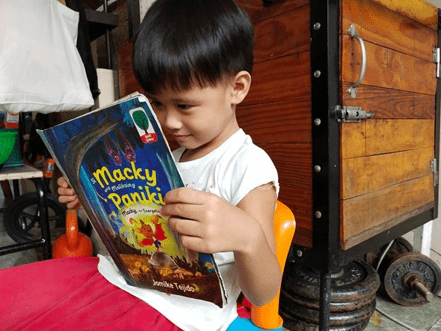 According to the 2017 Readership Survey by the National Book Development Board, picture books and storybooks for children are the second most-read book genre among respondents. Among children and even young adults, over 72% read the said genre.
Building on these statistics, Panahon TV celebrates Buwan ng Wika this August by featuring writers with a heart for Mother Nature. Their children's books written in Filipino capture the next generation's imagination, while instilling in them a love for the environment.
Writers slash Eco-Warriors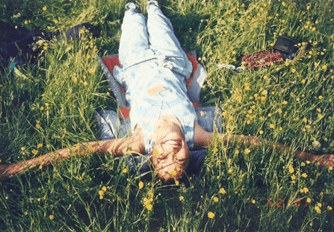 Liwliwa Malabed
With 16 children's books published and 4 more waiting in the wing, Liwliwa Malabed has been writing for young readers for 18 years. Some of her books have been recognized by the Philippine Board on Books for Young People through the PBBY-Salanga Writers' Prize. We shine the spotlight on her environmental book Luntian, Ang Bungang May Pakpak (Luntian, the Winged Seed Pod), illustrated by Aaron Asis and published by Lampara Books. The story talks about Luntian, a seed pod who dreams of becoming a sturdy forest tree like her mother. While chasing his dream, Luntian goes on an adventure, meeting a Northern Luzon giant cloud rat and a Rafflesia, the world's largest flower.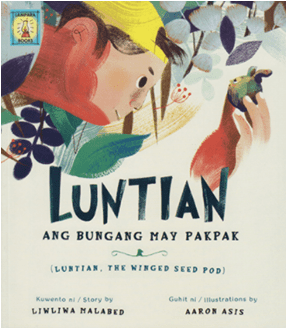 How did the concept for the book come about?
Luntian was written after a visit to the Makiling Center for Mountain Ecosystems (MCME) in Los Baños, Laguna. There, I saw towering native trees like the Red Lauan. Our guide told us about indigenous species that depend on these trees to survive. Somehow, the idea that one tree can support all these creatures stuck and I went back to Manila with the imprint of the lauan tree in my mind.
How did you craft the story?
First, I researched on dipterocarps. I learned about how their seeds have wing-like parts so they can ride the wind and reach far. I also looked up the animals and plants that live on these trees. I personified my characters because I needed the seed pod to come alive, to have an active role its story. It is still a seed, yes— but with an impatient desire to become a giant.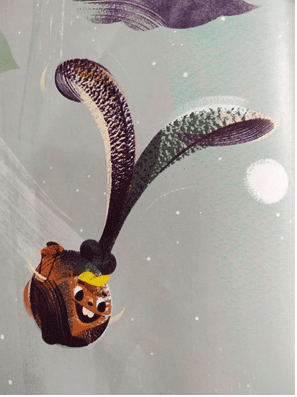 What do you think are your book's strongest points?
I made a conscious decision to write it in Filipino and I am glad I did. A story resonates more with children when told in a language they can easily understand. I am also happy with the story within the story part of the book, that Luntian wants to grow into a giant tree so she can be a home to forest creatures because of a tale told by Lolo Ninok, a Philippine scops owl. The illustrations by Aaron Asis are wonderful! The artist's work is the puzzle piece that completes the narrative.
What do you hope children will learn after reading your book?
I am hoping that children will be more aware of how magnificent and valuable trees are, that planting native trees is beneficial to the environment because they are more resilient against strong winds and flooding brought about by typhoons. Also, endemic species prefer to live in native trees.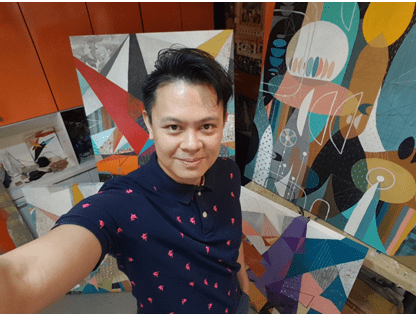 Jomike Tejido
Jomike Tejido is both a writer and illustrator with over 50 children's books under his belt. In 2010, he won two National Book Awards for writing and illustrating Tagu-Taguan, and for illustrating Lub-Dub, Lub-Dub about pioneering pediatrician Fe del Mundo. Also an architect, Jomike has been writing children's picture books since 2001. One of them is the Anvil-published endangered species series, which features lovable stories about the pawikan (marine turtle), dugong, Philippine eagle, and tamaraw (Mindoro dwarf buffalo) among others.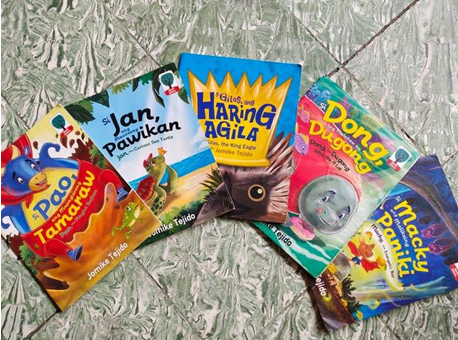 5 of 7 books in Jomike's endangered species series
How did the concept for the endangered species series come about?
The series was commissioned by Anvil Books in 2007 and it was my first experience in having a commissioned set of three stories. Then the series picked up and more titles sprang. They must have commissioned me for it due to my long-running daily comic strip that dealt with the lighter side of environmental issues. Mikrokosmos in the Philippine Daily Inquirer ran from 2000 to 2007.
How did you craft the stories?
I took into consideration some pointers I learned from the writers' workshop I attended, wherein a child psychologist talked about a child's psychological needs. From there, I made my stories more mundane and specific. Pao Tamaraw was inconsiderate and playful, while Gilas Agila was boastful and had a superiority complex. All these traits are flaws relatable to children, and personified by animals in their habitat. As children can sometimes act like "wild animals," I could easily relate animals to kids. I worked with Haribon Foundation, and I had a pack of endangered animal flashcards I used as my main list. Then I worked with credible websites to fill in other factual details.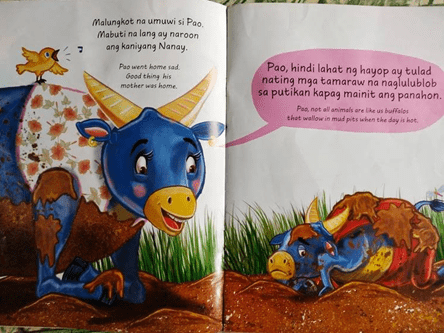 What do you think are the strongest points of this series?
The strongest points are my low word count (thus short storyline), relatable characters and whimsical digital art. I made it a point that the science part wasn't didactic or rammed into the readers' minds.
What do you hope children will learn after reading these books?
I hope that children can learn to love animals, especially those endemic to our country, and not feel that just because they are local, they are uncool. I'd like young Filipinos to be proud that these creatures come from their land. I want them to know where these animals live and what they eat, just like how kids are familiar with foreign creatures from TV or books.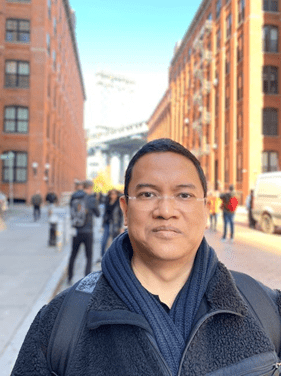 Augie Rivera
Writing for the classic Filipino children's show Batibot propelled Augie Rivera to be a children's book writer. His books have received recognition from award-giving bodies, including the prestigious Carlos Palanca Memorial Awards for Literature. Recently, he was awarded with the 2020 Gawad Pambansang Alagad ni Balagtas for Children's Literature in Filipino. Last year, Augie's 19th book, Bayan ng Basura, illustrated by Jill Arteche, was published by Adarna House and Greenpeace Southeast Asia – Philippines. The protagonist is a pawikan who, after a storm, ends up in the deep end of the ocean littered with trash and ailing fellow sea creatures.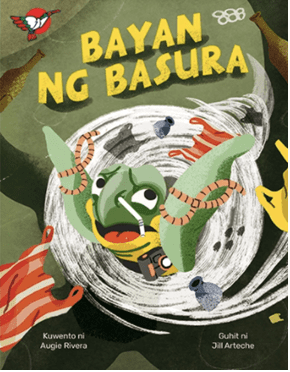 How did you come up with the story's concept?
The book was commissioned by Greenpeace because they wanted to tackle the issues of single-use plastics and ocean pollution. I based the story on real-life events, such as the marine turtle that had a plastic straw shoved up its nose in Costa Rica in 2015. I also read up on the dead whale in Compostela Valley which had 40 kilograms of plastic in its stomach. Then I saw a footage of a British diver in Bali who showed the incredible amount of garbage floating on the sea. These bits of news fueled my imagination, which was why my story had a post-apocalyptic feel to it, wherein there was more garbage than sea creatures.
What do you think are your book's strongest points?
I really like the book illustrations by Jill Arteche. The first time I saw them, the style reminded me of Maurice Sendak's work. When I met Jill, I found out that Sendak is one of her major influences. When the pawikan was surround by trash, the illustrations were dim. They brightened when the trash disappeared.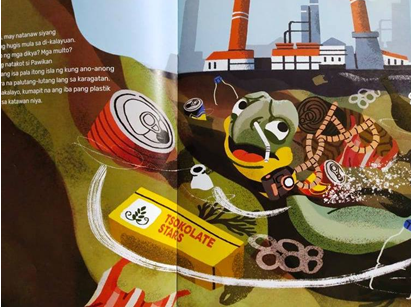 What do you hope kids will learn from story?
I want them to be aware that they can do something to solve a big problem such as ocean pollution. They can do their part in their own little ways because that's how big problems start—from little things. I want them to be mindful of their actions because humans are not the only living things here on earth.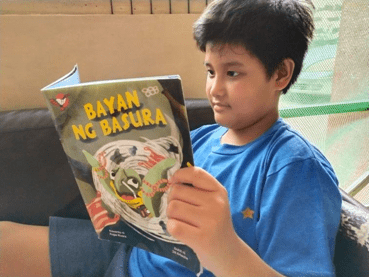 Practicing What They Preach
These writers don't only write about caring for the environment; in their own homes, they also practice eco-friendliness. Liwliwa, for instance, was brought up by a grandmother who taught her how to reuse and recycle. "At home, we try to be mindful of our carbon footprint, conserving water and energy, and refusing single-use plastic."
Jomike reuses product packaging, and passes on environmental values to his children. "I teach my kids to save water and energy by turning off faucets and appliances when not in use. I let them watch nature documentaries to expand their world view, and see animals wider than the scope of domestic pets," he shares.
Ever since Augie moved to Marikina a few years ago, he's been more conscious of waste segregation. "Once, I accidentally mixed vegetable peel with non-recyclable waste, and I had to go to the City Environment Management Office to either pay the fine of P2,000 or do community work. I never made the mistake again." When he goes out, Augie brings his own eco bag, straw and utensils. "I agreed to write Bayan ng Basura because I really support environmental advocacies."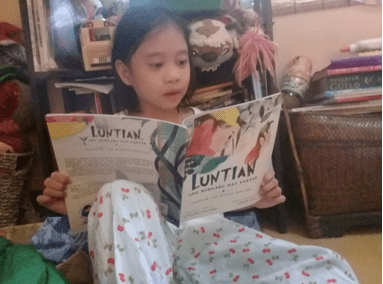 Linaaw, Liwliwa's daughter, reads her mother's book
Telling Mother Nature's Stories
All these children's book writers agree—it's vital to write environmental stories for children.
"It's important to imbue the love for animals and care for the environment at a young age," Jomike shares. "Stories like mine aim to foster the love for these creatures by letting kids feel that these characters are like their friends (or themselves), who have flaws like any normal person and can be taught to become better."
Liwliwa thinks that these stories are more important now during the pandemic. "Nowadays, children are always indoors, and stories connect them with the outside world," she says. "Stories about the environment make children realize how nature makes it possible for us to live our lives and how children can participate in protecting our planet."
Augie believes that stories about the environment gives hope to the next generation. "As grownups, we didn't do our part in saving our planet. So we should raise our children's awareness on the issues, and encourage them to do their part and hope for a better world to live in."
At the start of the COVID-19 pandemic, reports came in that warm weather slowed down the spread of the deadly virus. But this was proven a fallacy as countries such as the Philippines still experienced a steady increase of COVID-19 cases during its hot and dry season.
In fact, the opposite might be true. According to Scientific American, research suggests that the continued rise of global temperatures may boost the risk of pandemics.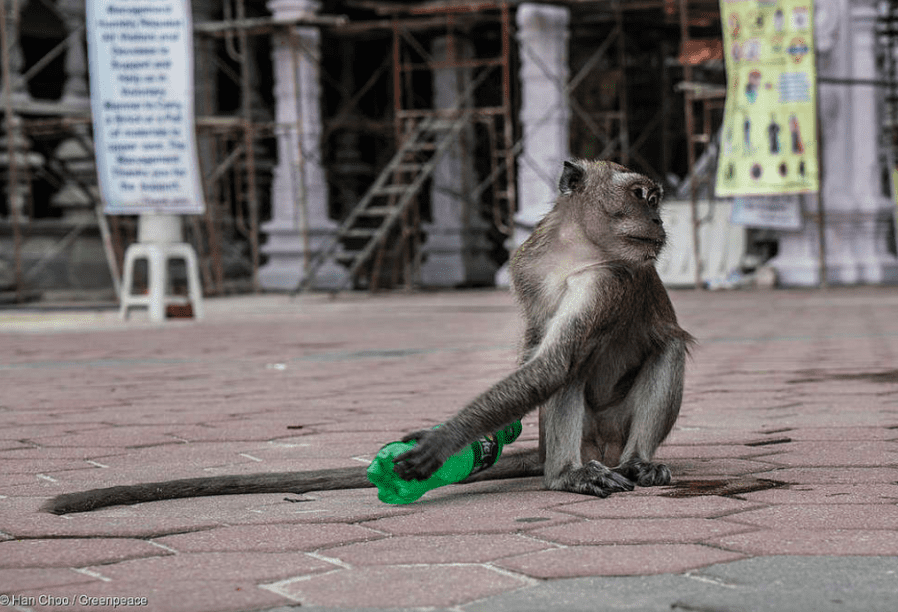 Monkeys in Malaysia dig for trash left behind by tourists (Photo by Han Choo from Greenpeace)
Dynamics between humans and animals
The United States Agency for International Development (USAID) states that 75% of infectious diseases including the new ones are zoonotic in nature, which means they emerged from animals. Examples include the Severe Acute Respiratory Syndrome (SARS), avian influenza (bird flu), and the H1N1 (swine flu).
To adapt to climate change—a major cause of which is deforestation—wildlife species may change their behavior and migrate to new locations closer to humans. At the same time, humans have been foraging deeper into the forests and oceans to meet the demand of its growing population. Both these factors, including the culture of wildlife markets, facilitate a closer interaction between humans and animal carriers, increasing the possibility of epidemics.
In 2013 to 2016, West Africa experienced its worst outbreak of Ebola infecting more than 28,000 and killing 11,310 people. A majority of the 17,000 Ebola survivors experienced post-recovery symptoms that required medical attention for months or even years.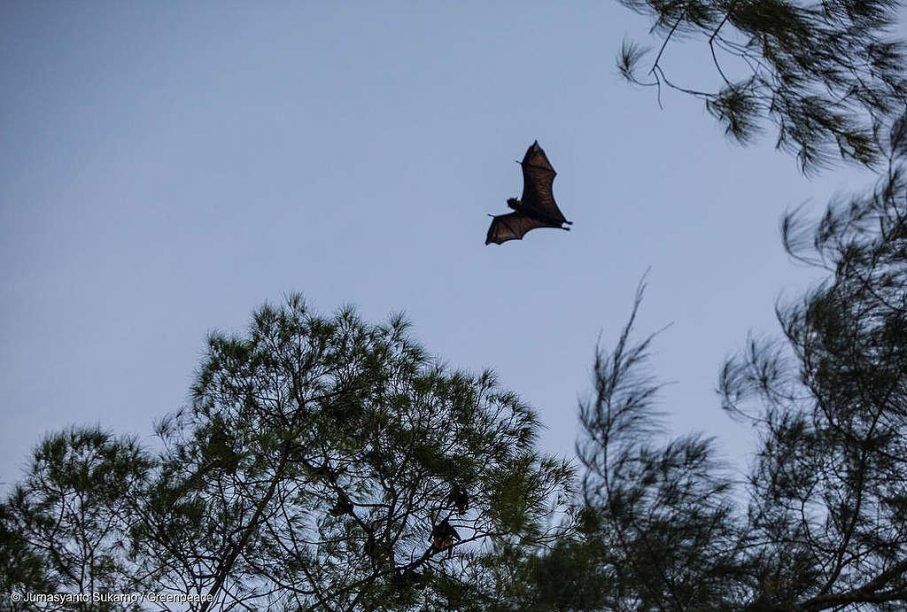 A bat in flight over West Papua (photo by Jumasyanto Sukarno of Greenpeace)
According to the Earth Institute of Columbia University, the Ebola virus can live in animals for a prolonged period of time without harming them. Yet humans who acquire the virus through contact with an infected animal may experience a deluge of symptoms: fever, sore throat, muscle pain and headaches, which may lead to the decreased function of the liver and kidneys, resulting to both internal and external bleeding, and eventually, death.
Some experts believe that climate change may have contributed to the Ebola outbreak. Extreme weather events, particularly heavy rainfall following the dry season, produced abundant fruit eaten by bats, the suspected Ebola virus carriers. The large gathering of bats might have increased the chance of humans interacting with them. As climate change threatens food security, people were also likely to explore other food sources including bushmeat like bats, enhancing the likelihood of disease transmission from animals to humans.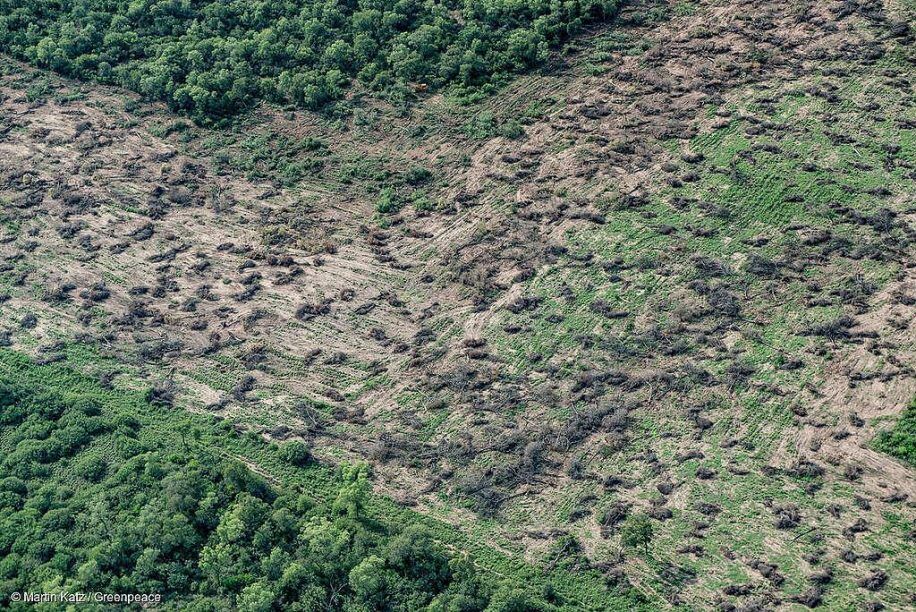 Deforestation of Gran Chaco, South America's second largest forest next to the Amazon (photo by Martin Katz of Greenpeace)
How nature protects us from diseases
Ebola was widespread in Sierra Leone, which, according to United Nations Guinea, lost 96% of its forests in the 1920s. Meanwhile, Biology Professor and Greenpeace volunteer Lia Patsavoudi stresses the importance of natural habitats in acting as barriers between humans and wildlife. Thriving ecosystems facilitate a rich and diverse animal population, creating a "dilution effect". Patsavoudi explains, "This is because the higher the species variation, the lower the density of potential hosts for a virus. Species variation decreases the number of highly-susceptible populations in a species, which lowers the probability of transfer to humans."
The World Health Organization (WHO) confirms the link between climate change and disease transmission. Malaria, in particular, is sensitive to long-term climate change with increased humidity and monsoon rains boosting breeding and survival among mosquitoes. Human actions such as improper waste disposal, intensified agricultural activities and the use of crop insecticides, and urban crowding can result in disease outbreaks.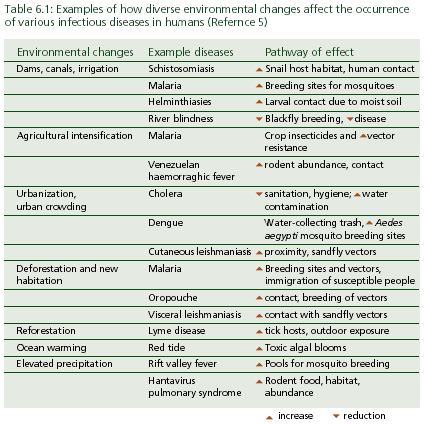 Source: WHO
As the world holds its breath for a COVID-19 vaccine and citizens practice the safety measures of washing hands, wearing masks, social distancing and staying home, the deeper solution to pandemics remains to be environmental protection.
We, humans, are prone to forget that we are never separate from our environment; we are an essential part of its degradation—and most importantly, of its conservation, which has always been the key to our survival.
International Summit Council for Peace
World Leaders to Address "Rally of Hope"
August 9, 2020, at 8:40 AM (Manila time)
PRESS RELEASE
Despite material advances and the amassing of unprecedented wealth, serious global problems remain unsolved. This is all the more striking when it is seen alongside worldwide efforts to maintain peace, resolve conflicts and end poverty by major international peace-keeping bodies, public and private.
Territorial disputes, religious and racial discord, the collapse of family values, and an aggregate of environmental issues are flaring up on all continents. Added to this is the COVID-19 pandemic which has caused catastrophic economic debt. It seems like a perfect storm.
Just such dilemmas drew the late Rev. Dr. Sun Myung Moon and his wife Dr. Hak Ja Han Moon to speak out for the realization of an ideal world. Their vision: one human family bound together by the love of God. For decades, they have advocated the philosophy of interdependence, mutual prosperity, and universal values which challenges us with the novel concept of seeing our own purpose in life fulfilled in the well-being of others.
To emphasize these values and help address related problems, the Universal Peace Federation (an NGO in general consultative status with the Economic and Social Council of the United Nations), will be hosting the latest in a series of on-line virtual summits. The Rally of Hope will be held August 9, 2020 beginning at 8:40 AM (Manila time). The official theme is, "One Million Rally of Hope for the Realization of a Heavenly Unified World of Interdependence, Mutual Prosperity, and Universal Values."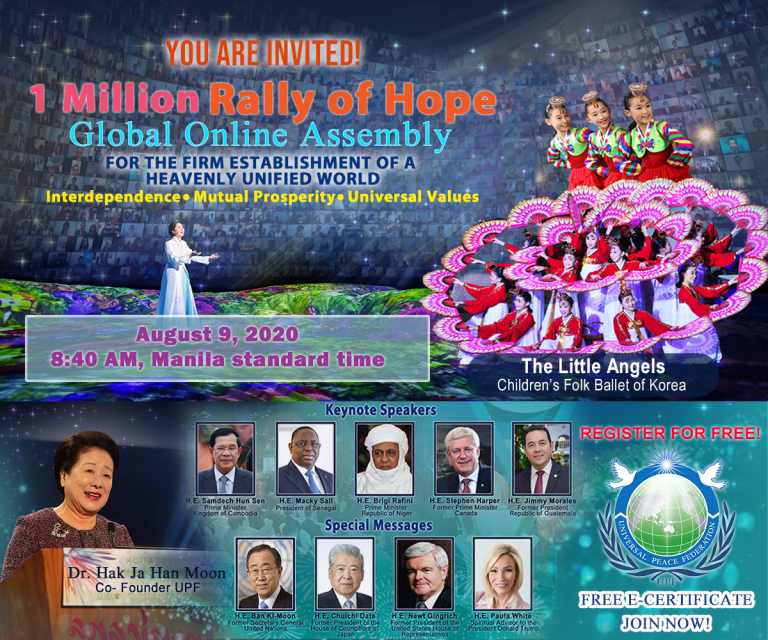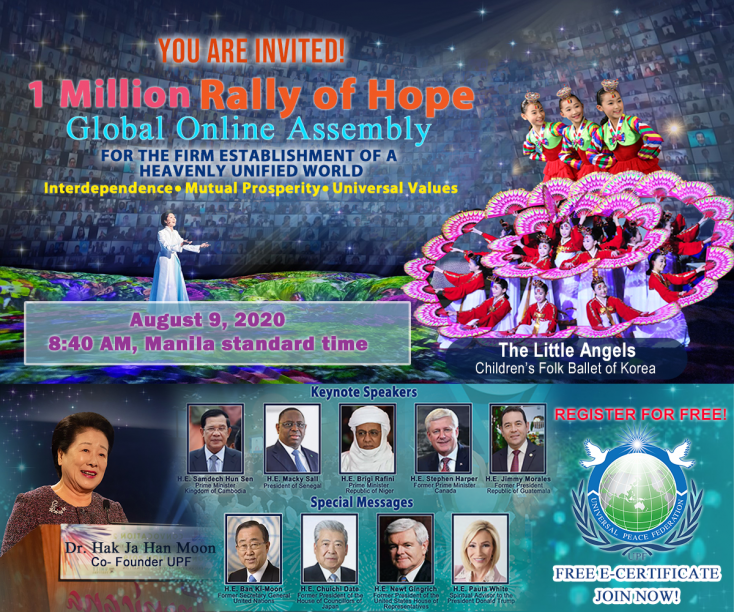 Ban Ki-moon, former UN Secretary-General and Chairman of the National Council on Climate and Air Quality in Korea, will give the welcome address. Following this, Rev. Paula White, spiritual advisor to President Donald Trump, will give her special remarks. Congratulatory messages from the Hon. Chuichi Date, former President of the House of Councillors of Japan, and the Hon. Newt Gingrich, former speaker of the United States House of Representatives will follow.
Interspersed with first-class entertainment, keynote addresses will be given by H.E. Hun Sen, Prime Minister of Cambodia; H.E. Macky Sall, President of Senegal; the Hon. Brigi Rafini, Prime Minister of Niger; H.E. Dick Cheney, former Vice-President of the United States of America; and other world leaders. Finally, Dr. Hak Ja Han Moon, co-founder of the Universal Peace Federation and host of the Rally, will give her keynote address.
E-certificates will be available upon request. In addition, all participants will have a chance to learn more about the Universal Peace Federation and its worldwide movement.
To register for the Rally of Hope visit http://www.upfasia.org/rallyofhope-register.
UPF is an NGO in General Consultative Status with the Economic and Social Council of the United Nations 32 Samar Avenue, Brgy. South Triangle, Diliman, Quezon City Telephone number: (63)(2)924 1833 Website: www.upf.org Email: upfphils.pr@gmail.com
SEOUL, South Korea- Delegates consisting of students and leaders from various nations, beliefs and sectors, including the academe, media, and business, attended the 2020 World Peace Summit on February 2 to February 8, 2020 amidst the global threat of the coronavirus.
With its theme Unification of the Korean Peninsula and the Realization of Peace in the World through Interdependence, Mutual Prosperity, and Universal Values, this gathering of peacebuilders coincides with the centenary of the founder of the Universal Peace Federation, Rev. Sun Myung Moon.
Media Summit
Its mission to promote lasting peace through dialogue is manifested in the various parallel conferences during the summit. The Media Summit featured the various innovations around the globe, highlighting Artificial Intelligence and machine learning, as well as challenges that the industry faces, such as disinformation and fake news. The conference highlight is the formation of the International Media Association for Peace.
Addressing Climate Change
Nobel Laureate Mario J. Molina, the scientist who identified the ozone layer and helped solve its depletion, discussed climate change and encouraged cooperation to help solve it.
"We have to respect the welfare of future generations, even our own welfare because we are already having this very large problem. It will be tremendously irresponsible not to do something about climate change," said Molina. "We are now calling it a climate emergency."
4th Sunhak Peace Prize Award Ceremony
Ban Ki-moon, former United Nations Secretary General received the Founders' Award- 2020 Sunhak Peace Prize for his tireless efforts in bridging lasting peace, and focusing on finding solutions for climate change by pushing for the 2015 Paris Agreement. This aims to reduce the rise of global temperature, and promoting the Sustainable Development Goals, which the global community uses as guide in living in this modern world.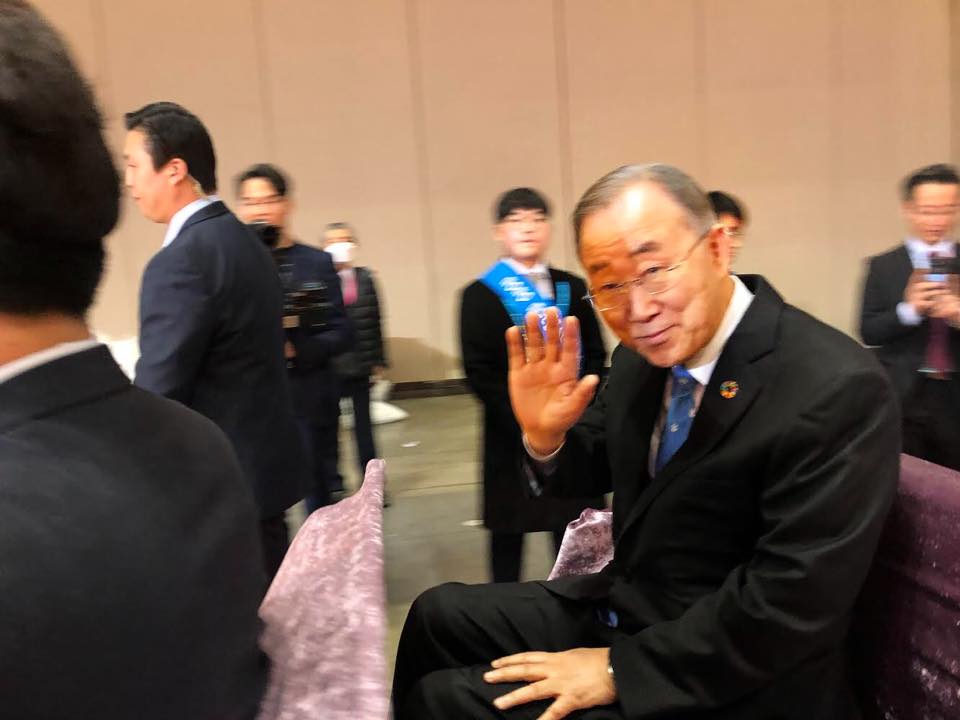 Former United Nations Secretary General Ban Ki- Moon greeting the guests at the 4th Sunhak Peace Prize Ceremony at the Korean International Exhibit Center on February 5, 2020
Senegalese President Macky Sall received the Sunhak Peace Prize for his transparent leadership in policy making and reducing his own presidential term in Africa. Meanwhile, Bishop Dr. Munib Younan also received the Sunhak Prize for leading the peaceful resolution of the Israel-Palestine conflict.
After the conference, a musical tribute to its founder, Rev. Sun Myung Moon and his wife, Dr. Hak Ja Han Moon, as well as a mass wedding for thousands of couples, were held at the Cheongshim Peace World Center in Gapyeoung.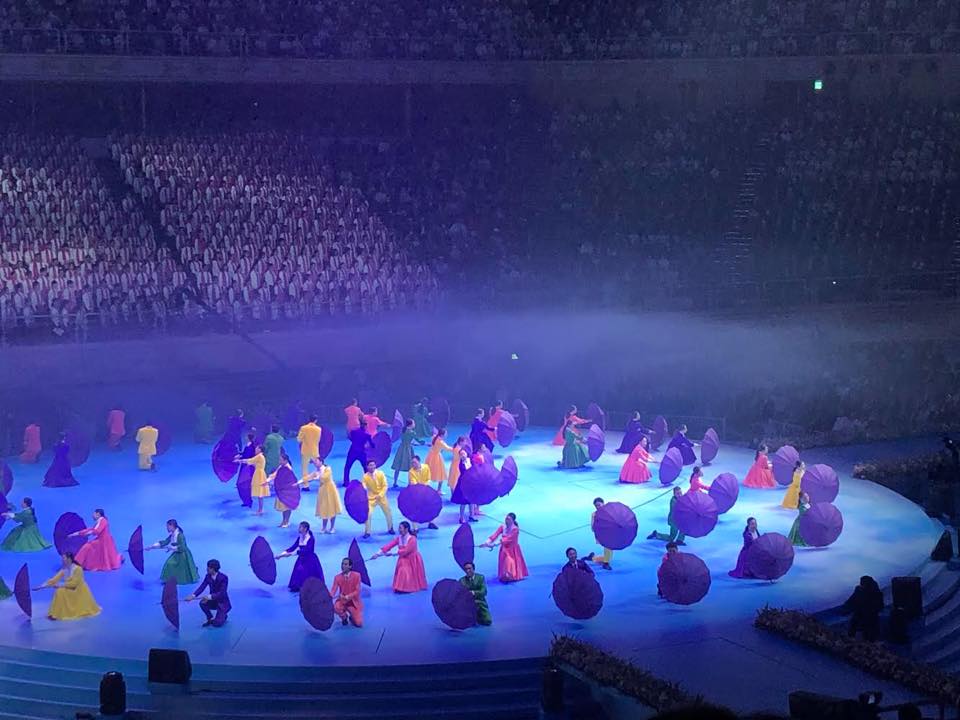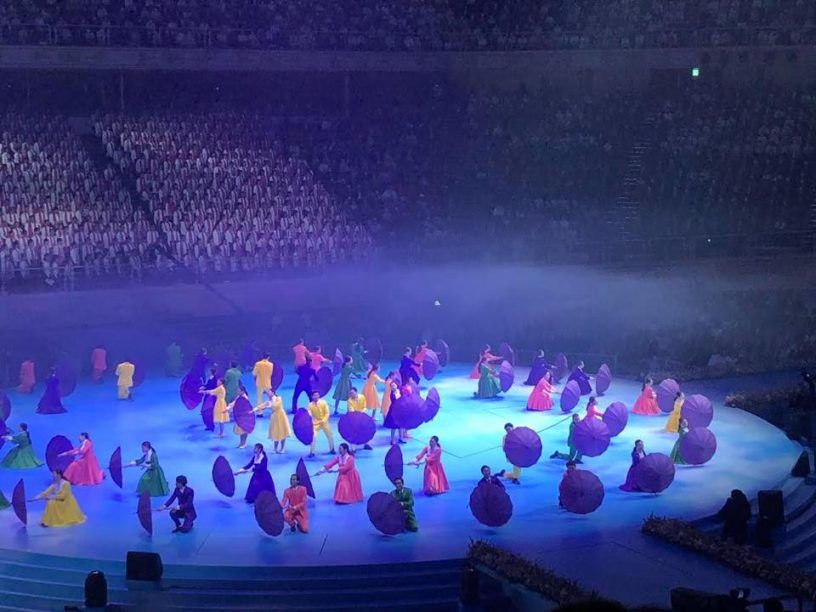 Music Presentation at the Cheongshim Peace World Center on February 6, 2020
11 February 2020
Words and Photos by
Donna May Lina, Executive Producer- Panahon TV | President Ube Media
The increasing volcanic activities in the Pacific Ring of Fire have sparked speculations and concerns that a catastrophic disaster is coming. Based on the website Volcano Discovery, almost three dozen volcanoes throughout the Ring of Fire are currently erupting or showing unrest at this time. One of them is the Mayon Volcano in Albay. These volcanoes are exhibiting ash explosions, pyroclastic flows, and lava fountains, which are dangerous to the communities and animals around them.
But these activities are normal, according to Yosuki Aoki, assistant professor of Physical Volcanology at the University of Tokyo. Aoki stressed that volcanoes typically go through active and inactive cycles.
Inextricably Intertwined
According to the University Corporation for Atmospheric Research (UCAR) Center for Science Education, volcanic activities have an impact on climate change and vice versa. As the climate continues to deteriorate mainly because of man-made activities, these two can create devastating long-term effects on our planet.
Volcanic eruptions are part of the Earth's natural processes. These happen when lava, gas, and other hot materials are thrown out of a volcano, or through its vent.
Its first stage happens when rocks inside the Earth's crust melt, thus, producing magma, which is lighter than rocks. As magma fills the chamber, pressure builds. This pressure becomes intense when the chamber is already filled with thick and sticky magma, leading to an explosive eruption.
Volcanoes also release toxic gases during eruption. While water vapor comprises the biggest portion of gases released by a volcano, other particles such as carbon dioxide, hydrochloric acid, hydrogen fluoride, sulfur dioxide, and methane are also thrown into the atmosphere. These volcanic gases are harmful to humans, animals, and other living things. Aside from causing respiratory ailments, these may also inhibit plant growth.
On the other hand, a change in climate patterns, whether global or regional, is called climate change. It is largely attributed to the significant amount of carbon dioxide and other greenhouse gases in the atmosphere, which are produced by human activities and our negligence to protect the environment.
Global Warming
Among the effects of climate change on our planet are global warming and cooling, rising sea levels, and the melting of glaciers. Global warming, which is the rise of the average global temperature in the last five decades, is caused by greenhouse gases trapped in the Earth's atmosphere, which keeps heat from escaping.
A group of researchers from the University of Leeds in England studied the relationship of glaciers and volcanoes in Iceland. They concluded that there are fewer eruptions and lava volume when the climate is cooler, and the land has a thick glacial cover.
Researchers also found that when there is a glacial retreat, the pressure between the glacial ice and surface decreases. Thus, it is much easier for magma to rise into the surface.
Another study led by British and American researchers and published in the journal, Nature, shows that massive amounts of carbon dioxide from volcanic eruptions triggered a global warming episode 66 million years ago. This event is called the Palaeocene-Eocene Thermal Maximum (PETM). Scientists described the period as the "most rapid and extreme natural global warming event" in the last 66 million years. Almost 90% of the carbon dioxide emissions were from volcanic eruptions during that time. Large quantities of carbon resulted in its concentration in the atmosphere. An average global temperature increase of 5 degrees Celsius was observed for about 150,000 years.
Global Cooling
Volcanic eruptions also contribute to global cooling. Often called as "volcanic winter", volcanic ash and sulfuric acid in the atmosphere reduce the global temperature. This is because particles block solar radiation.
In 1991, Mount Pinatubo unleashed massive eruption after an almost 600-year slumber. Ash and particles ejected into the atmosphere reached as high as 34 kilometers into the stratosphere. Thousands of civilians living within the 30-kilometer radius from the crater were evacuated days before and during the event.
During the June 15 climactic eruption, Typhoon Yunya struck the island of Luzon which brought wet ashfall to the entire island, and also affected several Asian countries such as Vietnam, Singapore, Malaysia, and Indonesia. About 15 million tons of sulfur dioxide from Pinatubo went into the stratosphere, reacting with water to create aerosol particles, thus, blocking solar radiation. The aerosols scattered across the globe, and decreased the global temperature by about 0.6 degrees Celsius in the next 15 months after the eruption.
Natural vs Man–made
The interaction between volcanic eruptions and climate is a natural process since time immemorial. The Earth has endured many effects from this interaction.
However, the main contributors to the current climate crisis are man-made activities. These factors have already surpassed the effects of natural processes that triggered past global warming and cooling events.
The negative effects of human activities on the planet may aggravate the interaction between eruptions and climate. However, we can minimize the effects of this deadly interaction if we change our habits, and show concern and care for our environment.
By Panahon TV Intern Kent Ryan Masing
From weather and the environment, to disaster preparedness and climate change, 2017 has been a year of changes and adaptation. As we welcome the New Year, let's look back at past issues which have helped shape the future.
WEATHER AND CLIMATE
PAGASA began using impact-based weather forecasting this year, wherein apart from forecasting weather conditions, effects of weather disturbances are also explained. This emphasizes the effects of a hazard rather than merely identifying it. Impact-based forecasting and warning services focus on translating meteorological and hydrological hazards into specific impacts, and the development of responses to mitigate such impacts. This year, 22 tropical cyclones visited the Philippines with the last two as the most devastating.
On December 13, the Low Pressure Area in Surigao del Sur intensified into a Tropical Depression and was named Urduja. Three days later, it made landfall in Eastern Samar, and continued to traverse Masbate, Sibuyan and Cuyo Islands and Taytay, Palawan. According to the National Disaster Risk Reduction and Management Council (NDRRMC), 1.8 million individuals were displaced by "Urduja," while 47 perished. Right after "Urduja" exited the Philippine Area of Responsibility (PAR), Tropical Depression Vinta took over. Heavy rains from the storm inundated parts of Visayas and Mindanao where flash floods and landslides occurred. On December 22 and 23, the storm hit Cateel, Davao Oriental and Balabac, Palawan respectively. 720,000 were displaced, while 163 were reported dead.
In the last quarter of the year, PAGASA warned Filipinos to prepare for a developing La Niña, a weather phenomenon characterized by above-normal rainfall, colder temperatures and stronger winds from the east. According to the Climate Information Monitoring and Prediction Section of the weather bureau, the La Niña is not expected to last beyond March 2018 but the public is still alerted against possible effects.
Abroad, Hurricane Harvey swept through Texas in August where it killed 82 people and dumped 51 inches of rain, the greatest amount ever recorded from a single storm in the continental United States. In September, Hurricane Irma left a trail of destruction, taking 69 lives and displacing 1.2 million people in the Caribbean. Hurricane Maria struck in Dominca and Puerto Rico lastmonth, causing more than 1,000 deaths. Heavy rains also crippled Bangladesh, China, Hong Kong, India and Nepal this year.
ENVIRONMENT
Efforts to protect the environment continued in 2017. In February, the former Department of Environment and Natural Resources (DENR) Secretary Gina Lopez announced the cancellation of 75 contracts of mining firms that according to her "kills the watershed and kills our lives." Three months later, Lopez's confirmation of office was rejected by the Commission on Appointments. It was followed by a series of protests, which involved blocking the DENR head office gates in Quezon City, as the group disputed the alleged control of business interests in the government.
While Lopez was dethroned, another woman with a heart for the environment was crowned. In November, our very own Karen Ibasco was named Miss Earth 2017 with her winning answer to the pageant's question: "Who or what do you think is the biggest enemy of Mother Earth and why?" Her reply was "I believe that the real problem in this world is not climate change; the real problem is us because of our ignorance and apathy. What we have to do is to start changing our ways, to start recalibrating our minds, and redirecting our steps, because together, as a global community, our micro efforts will have a macro effect to help save our home, our planet."
DISASTERS AND PREPAREDNESS
Earthquakes also remained as the country's staple disaster. The strongest among these were recorded in Tongkil in Sulu, Surigao del Norte, Batangas, Lanao del Sur, Davao Occidental and Ormoc in Leyte. The April earthquake in Mabini, Batangas recorded an Intensity 7 ground shaking and was felt in Cavite, Oriental Mindoro, Bulacan, Metro Manila, Quezon, Pampanga and Camarines Norte. Six persons were reported injured, and a state of calamity was declared in Mabini, Tingloy and Batangas City.
In November, the Philippine Institute of Volcanology and Seismology (Phivolcs) raised Alert Level 2 in Mt. Kanlaon in Negros Occidental after it showed an intrusion of magma that could lead to the volcano's eruption. To prepare the country for future earthquakes, Phivolcs held simultaneous drills across the archipelago in every quarter of the year.
Abroad, wild fires, droughts, volcanic eruptions and earthquakes also happened in 2017. In January, a magnitude 5.7 earthquake jolted Italy that resulted to 300 deaths. Almost 400 people were reported dead in a magnitude 8.2 tremor in Mexico last September. The year's deadliest earthquake stuck Iran-Iraq boarders in November, killing 452 individuals and injuring thousands. In January, Chile and Portugal witnessed the worst wildfires in their countries' histories. Blazes gutted Napa Valley, California in October, killing more than 40 people in the state's deadliest wildfire. Just weeks later, Los Angeles' highways were transformed into a hot hellscape as hills broke out in flames.
CLIMATE CHANGE
While United States President Donald Trump announced the country's withdrawal from the Paris Agreement, talks about mitigating climate change continued. In June, the leader of the world's second biggest carbon emitter said that the agreement imposed unfair environment standards in the US.
At the United Nations Climate Change Conference in November, negotiators from almost 200 countries approved a five-year work plan on "loss and damage" to formally address slow-onset impacts of climate change, non-economic losses and migration. Meanwhile, 47 of the world's poorest countries, committed to generating 100% of their energy from renewable sources as soon as possible. They also pledged to update their nationally determined contributions before 2020 and to prepare long-term strategies.
2017 brought immense challenges on a global scale. But with each trial came the need to change the way we respond to issues on weather, environment, disasters and climate change. As we face another year, we come equipped with the lessons that we learned from the past year.